Energy & Environment
Climate activists celebrate Brooklyn wind turbine plant
Debate remains over whether it could coexist with Industry City rezoning.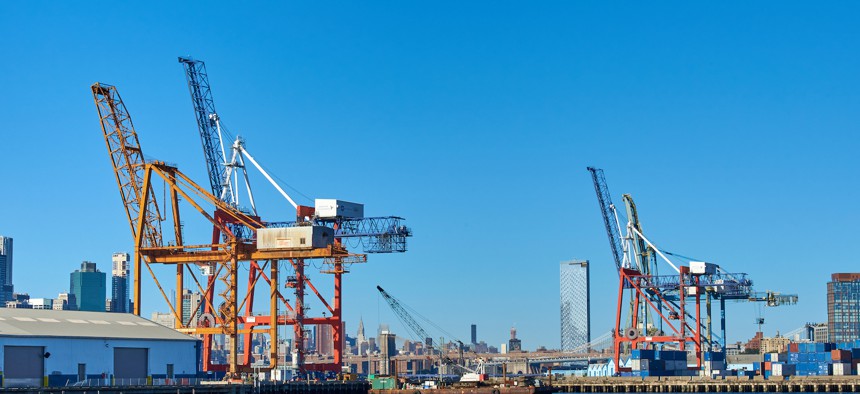 In a major victory for climate activists, New York City's largest industrial waterfront is poised to become a hub for offshore wind and renewable energy, thanks to a partnership announced last week between the New York State Energy Research and Development Authority and the Norwegian energy company Equinor. Equinor, whose manufacturing proposal also includes an upgrade project at the Port of Albany, will partner with British oil giant BP.
NYSERDA has committed to $200 million in upgrades the South Brooklyn Marine Terminalthat will be matched by private investment from Equinor and BP – a total of $400 million to improve 73 acres of mostly unused space. The port, which is slated to be completed by 2025, will serve as a wind turbine manufacturing space, an undertaking that will create at least 1,200 local jobs, according to Gov. Andrew Cuomo. The agreement constitutes the largest single procurement of renewable energy by any U.S. state, positioning New York as a leader in national efforts to reduce carbon emissions. The turbines, which will be sent to offshore wind farms off the Long Island coast, will generate 3.3 gigawatts of energy for New York. That's a year's worth of energy for some 1.8 million homes.
The plan will not only advance New York's goals in fighting climate change, but also presents an opportunity to restore waterfront manufacturing in New York City, offering a model for the rest of the city's coastline moving forward.
The South Brooklyn Marine Terminal islocated on New York Harbor, between 29th and 36th streets and below Second Avenue, on the border of Brooklyn's Greenwood Heights and Sunset Park neighborhoods. It is run by both Industry City and Red Hook Container Terminal under a lease from New York City's Economic Development Corporation. Previously an active container terminal and general cargo facility, the only major tenant today is Sims Metal Management, which operates a recycling and waste transfer facility – including, as of 2015, the city's first commercial-scale wind turbine. 
"One of the obstacles to developing offshore wind in the U.S. is, there haven't been these types of manufacturing facilities available," said Nilda Mesa, adjunct professor at the Columbia University School of International and Public Affairs and the former director of the NYC Mayor's Office of Sustainability. "And so to develop one here bodes well for the future."
In recent years the South Brooklyn waterfront has emerged as a flashpoint in debates over development and sustainability. Some progressive neighborhood activists who have long pushed for the city to invest in this section of waterfront to reduce carbon emissions and create green jobs – rather than expand retail and luxury real estate, as has been the fate of historically similar areas such as Tribeca and DUMBO – are celebrating the plan. 
"This is an example that another world really is possible," Elizabeth Yeampierre, the president of Uprose, a Sunset Park-based advocacy organization that promotes for racial and environmental justice and sustainable development, said at a press conference Thursday. "New York City is going to position itself as a leader on climate justice, and it's going to send a message to other industrial waterfront communities that have been surrounded by petrochemical industries, waste transfer stations and powerplants, they're going to show that it's not only possible to bring in infrastructure, but to reduce carbon, coal pollutants, but to hire people and pay them decent wages."
Uprose and other community groups have been at the forefront of efforts to deploy the waterfront toward New York's ambitious emission-reduction goals. With the 2019 Climate Leadership and Community Protection Act, the state aims to make 70 percent of its energy renewable by 2030 – and to improve the area's resilience to climate-related events. 
New York is behind schedule on its ambitious climate plans, but "this is a major step in the right direction," said Mesa. "It's not possible for New York state to reach its climate goals without New York City being a significant part of the equation," she added. New York City makes up 40 percent of the state's greenhouse gas emissions.
The project, Mesa added, will make the state a leader in national efforts to pursue offshore wind. "Many people say that the Northeast of the U.S. is like the Saudi Arabia of wind," she said. "And it has not been fully developed. This is an industry that is about to take off."
Tension over the waterfront's future escalated last summer after a years-long battle overthe future of Industry City, which sits adjacent to the marine terminal. A rezoning proposal, which the ownersscrapped in September, would have expanded the 35-acre complex, which previously housed heavy manufacturing but now features retail, offices, storage and restaurants. The rezoning, activists like Yeampierre argued, would have come at the expense of green industry and high-paying climate jobs to serve the working-class, immigrant communities in the area. Sunset Park is home to immigrant communities from South and Central America, as well as Brooklyn's largest Chinatown.
"Had the rezoning had gone through, it would have severely limited the supply chain and expansive impacts that offshore wind will bring to Sunset Park," said Summer Sandoval, energy democracy coordinator at Uprose. Down the line, Uprose would like to see "manufacturing and decommissioning of wind turbines somewhere on the waterfront," as opposed to having parts imported from abroad. "The long-term opportunities would have been much more difficult," she said.
Randy Peers, the president and CEO of the Brooklyn Chamber of Commerce, disagreed that Industry City's expansion would have conflicted with the Equinor-NYSERDA plan. Peers, who supported the Industry City's rezoning, said the plan "shows we can have mixed uses that could coexist and benefit the community at large."
While he celebrated last week's plan, he remains disappointed about how the rezoning played out. Given that Industry City is one of the managers of the South Brooklyn Marine Terminal, "they were clearly willing to promote clean energy all over the waterfront. Both of these things could have happened, and the community would have benefited much more." Whether Industry City will bring a new rezoning application in light of the development remains to be seen. A spokesperson for Industry City did not immediately respond to questions from City & State.
Job creation was a major sticking point in the battle over Industry City's expansion. Activists argued that the rezoning would exacerbate gentrification in an increasingly rent-burdened community and do little to help local business owners or provide blue-collar employment in a neighborhood that has beenhit hard by the pandemic.
Although the jobs created by the Equinor project will likely be higher paying than the retail and service-industry jobs Industry City promised, it is not yet clear how many will go to locals.
"We're making sure we're able to develop a mechanism that ensures local hiring, because at the end of the day, we're dealing with a corporation, and want to make sure they're going to do what they say they're going to do," said Yeampierre, noting the possibility of a community benefits agreement between local groups and Equinor. Although the plan is still nascent, Uprose is currently speaking with local unions, with the goal of "prioritizing local hires, and facilitating meaningful engagement to support a community that has been economically devastated by COVID." As part of preliminary agreements, Equinor has agreed to target 30 percent participation from New York'sMWBE Campaign, and support minority-owned businesses in the area.
"People living in the neighborhood will have more disposable income, because they'll have good jobs. It will be a ripple effect," said Mesa. With more people working in the area, there will be a new demand for small businesses, she added. "People will need a coffee shop, a grocery store, a shoe repair shop," she said. "There's a big difference between jobs created in small businesses, versus chains that come in from the outside."
At least in the short term, the pandemic's impact on tourism and real estate will require New York City to "diversify its economic base," Mesa noted, stressing that the project will create jobs even in the lead-up to its completion.
Even as activists applaud the plan, some express skepticism about the role of private partners – especially BP. "We have one of the world's largest polluters, with a 50 percent stake in the product," said Jorge Muñiz Reyes, who works with the neighborhood coalition Protect Sunset Park.
Indeed, BP – along with Exxon, Chevron, and Shell – is a top polluter; together, the four companies are responsible for more than10 percent of the world's carbon emissions since 1965. But after years of mounting pressure from climate activists, it has worked to change its image,announcing last February that it would aim to eliminate or offset all of its planet-warming emissions. Although it offered few details at the time, its targets exceeded those made by other oil giants. Critics, however, have previously questioned BP's public relations offensive as "greenwashing."
Yeampierre isn't too worried about BP's involvement. "These things are never going to happen without businesses that have a history of extraction," she said, adding that, often, that means a "history of bad behavior." None of that, she said, should detract from the goal of "moving toward renewable energy and a just transition. We want this. We know what they've done. Our responsibility is to push them to do right."