Politics
Two Bronx Democrats are on a mission to make the county party more inclusive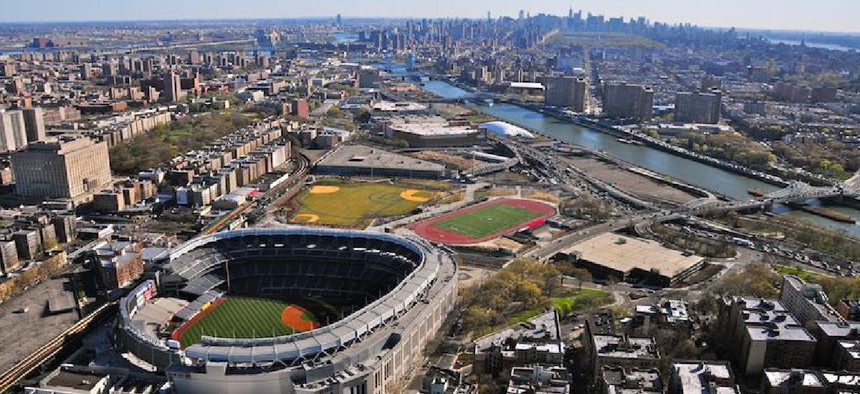 Two Bronx Democrats are on a mission. They say the county committee's insular approach leaves voters disengaged - so they have set out to recruit new members and press party leaders to make the organization more inclusive.
Their efforts come as the Bronx Democratic County Committee faces a federal lawsuit that contains similar critiques – as well as far more serious accusations. The case alleges that the Bronx Democratic County Committee, an organization of elected representatives that oversees Democratic affairs in the borough, improperly placed people on the committee without their knowledge, effectively transforming the body into an "authoritarian farce" stacked with those loyal to party leaders.
Based on their experience as county committee members, Michael Beltzer, a Soundview resident who has worked on political campaigns, and Samelys Lopez, a Bedford Park resident who previously served as second vice chairwoman of her community board, said the organization does not always welcome newcomers and the ideas they bring. They said the county committee runs its meetings as a scripted, perfunctory affair, where most members seem unaware of the scope of their power. County committees have immense sway over who holds office: they may pick a candidate when a special election is called without enough time to hold a primary, a process that has propelled about a third of state elected officials into office. Given this influence, Beltzer and Lopez said they are determined to educate Bronxites on about the county committee, recruit more members and cultivate a culture of inclusivity and engagement.
The pair want to work with party leaders. Nonetheless, Beltzer has encountered resistance. He said he was kicked out of the county committee's holiday party when he attempted to share his goals with the new county committee chairwoman, Assemblywoman Latoya Joyner.
"We ran the campaigns by ourselves, so we learned from the top to the bottom of the campaign," said Beltzer, who volunteered on former New York City Comptroller John Liu's citywide campaigns, has joined the Bronx Young Democrats and other political clubs, but has been viewed as a political outsider by some on the county committee. "I basically have seen all the way to the inside and all the way to the outside," he said. "These people don't scare me."
Bronx Democratic County Committee Executive Director Anthony Perez disagreed with the couple's depiction of the organization, and suggested they may be reacting to their losses. This summer, Beltzer and Lopez unsuccessfully ran for district leader, an unpaid post that involves overseeing Democratic affairs in an Assembly district along with a district leader of the opposite gender and county committee members. The county committee members represent the small election districts Assembly seats are carved into when assigning people to polling locations. Beltzer and Lopez wound up winning county committee seats.
"The Bronx County Democratic Party has spoken with clarity regarding its continued confidence in and respect for the Bronx residents' political participation and engagement," Perez said in a statement. "The demeaning mischaracterizations of two disgruntled and unsuccessful candidates regarding, among other things, the intelligence of the 1,635 elected County Committee members, are insulting and false."
Weeks before the 2014 primaries, Beltzer reached out to Marcos Crespo, his Assemblyman, because he was interested in the male district leader position Crespo held and continues to hold. Beltzer said Crespo declined to help him, but said they could revisit the matter in 2016 – a prospect Beltzer was open to.
In the interim, Beltzer spoke to party officials about the Open Seat Project, which helped get more people involved with the Manhattan Democratic Party. The Manhattan Young Democrats encouraged residents to petition for vacant county committee seats and then finished the often technical process of organizing and filing candidates' paperwork. In New York, candidates for party posts must show they are a viable candidate by collecting enough signatures from registered Democrats in the election district they want to represent.
Beltzer said he sat down with Perez, who expressed interest in the Open Seat Project, but wanted to work out a way for Assembly members to continue selecting who appeared on their slate. When he followed up with Perez, Beltzer said the executive director claimed he was gathering paperwork about party seats. Beltzer said he informed Perez he had the party call, a public document that lists available party positions ahead of a primary, and Perez responded by saying Beltzer was threatening him. Beltzer said the then-county committee chairman, Assemblyman Jeffrey Dinowitz, did not express interest in the Open Seat Project, but offered to speak with anyone interested in party positions.
As the 2016 primaries approached, Beltzer said it became clear Crespo was not going to include him on his candidate slate. So Beltzer decided to run for district leader and county committee on his own. This inspired six others to seek county committee seats on Beltzer's petitions, and helped spur his girlfriend, Lopez, to run for district leader and county committee, as well as another individual who wound up with judicial delegate and county committee seats.

Lopez said her male district leader, Assemblyman José Rivera, previously encouraged her to think about running for a state Democratic committeewoman seat. She set up a meeting to inform him that she decided to pursue the female district leader position in 2016 and remain "completely independent." Lopez said she invited a friend to the meeting who was interested in pursuing the male district leader position Rivera holds. Her friend wound up dropping his bid for district leader, and accepting Rivera's offer to run for judicial delegate on Rivera's slate. Lopez said this shows that Bronxites should feel empowered to put themselves out there as candidates, and that some elected officials are ready to work with them.

While petitioning, the couple said they came across many who were confused about what the Bronx Democratic County Committee does and were reluctant to sign petition paperwork. Some voters complained that they only saw politicians when they wanted their votes. Others were confused about whether the signature constituted a vote. And a few took action by calling their elected representatives, who according to Beltzer, told these people they could not independently seek party positions, but must rely on party members for an in. The duo argued the Bronx Democratic Party could improve by educating constituents about the organization and encouraging newcomers, in part, because competition compels candidates to engage with constituents, prioritize their concerns and perform knowing people are able to hold them accountable.
"[Assembly members] are in Albany for quite a significant amount of time, so then, do you think it makes sense for the Assembly person to also be the district leader, to also be the judicial delegate, to also be the state committee person," Lopez said of several Bronx elected officials who also hold party posts. "It would make sense to empower the community to know that they can run for these positions, so that the community, in the Assembly person's absence, can know who to turn to and there can be that continuity of governance while they're away in Albany."
The county committee is not currently treating participation as a priority, the couple said. Lopez and Beltzer had the only contested county committee races in the borough, so they were waiting for required notices telling them they had won county committee seats and were invited to the party's organizational meeting. They ultimately found them slipped under their doors with incomplete or inaccurate postal addresses days before the September meeting. The federal lawsuit alleges that the Bronx Democratic Party intentionally messed up county committee members' addresses as part of an elaborate scheme to inflate its ranks by running people for county committee without their permission, but also preventing them from finding out about it and embracing the role, thus limiting the party to a cadre of loyalists.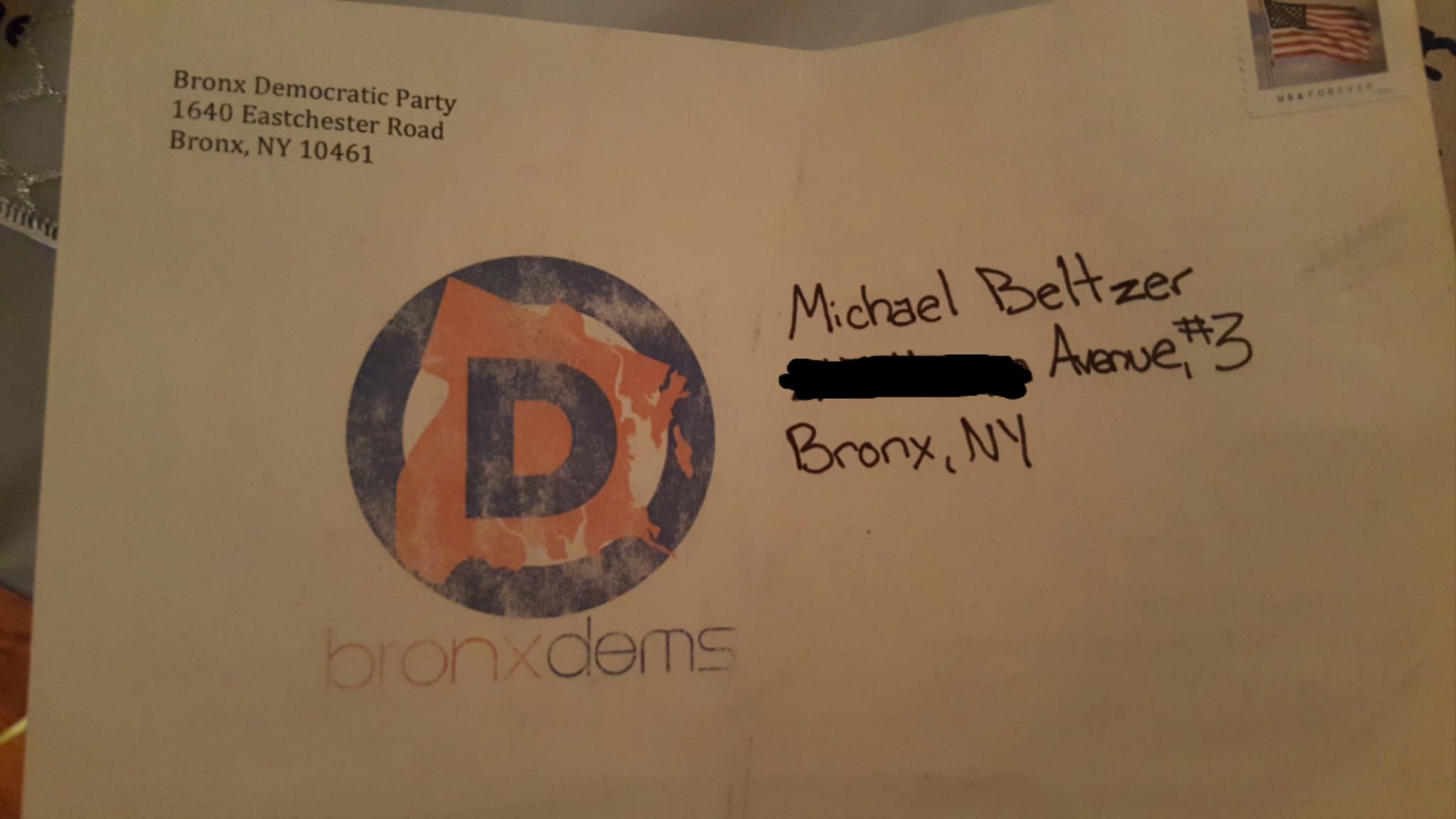 Michael Beltzer said he received a required notice telling him he was a county committee member and could attend the organization's meeting slipped under his door. His address on the envelope had the wrong apartment number and did not include a ZIP code. (

Michael Beltzer)
Beltzer said he asked people arriving to the meeting at Eastwood Manor if they knew why they were there and encouraged them to learn more about their role by asking for a copy of the party rules. He and Lopez handed them sheets describing what the county committee is and its powers. County leaders told Beltzer he would not be let back inside the venue, Beltzer said. When he began to head inside, Beltzer said a security guard told him he needed to ask about letting Beltzer back in.
"Then Mr. Perez comes over and he does this," Beltzer said, while mimicking the party's executive director folding his arms across his chest. "He goes, 'It's OK.' … I'm allowed to be in there. It's this whole psychological thing because I guess most people would be like, 'Oh, I guess I can't come in,' and then leave."
Inside, Beltzer said the meeting seemed to be run off a script, where decisions had already been made, and the entire room of county committee members simply said "yay" to every matter put to a verbal vote. He said "nay" to a few requests relating to meeting procedures, and said attendees laughed. At one point, Beltzer said he stood up and asked when the rules committee had last met. The room fell silent and some expressed shock that he had inserted himself into the proceedings, according to Beltzer. Party officials told Beltzer they would get back to him.
As the meeting ended, Beltzer said he took a box containing copies of the organization's rules and passed them out. If she was not familiar with the rules, Lopez said she may not have stayed to watch the executive committee and judicial delegate meetings in another area. Officials initially told her she was not allowed to be there, but let her stay when she informed them the rules allowed county committee members to observe the proceedings. Lopez said executive committee members described why they were supporting various people for leadership positions, and the judicial delegates heard about candidates' background and experience before endorsing them.
Lopez said there should be more dialogue at the county committee, particularly about what the party wants to focus on for the next two years. She and Beltzer said they hope to steer the county committee in a more participatory direction by educating Bronxites about the organization and recruiting as many candidates as possible in 2018, which she described as part of a nationwide movement striving to make politics less top-down and more grassroots-driven that was evident in the support for U.S. Sen. Bernie Sanders' presidential campaign.
"We need to get away from this mentality of, 'Well, we're going to support the candidate whose turn it is,' versus, 'Let's support the candidate that the people want,'" said Lopez, who said her political activism grew out of her experience growing up in the South Bronx and relying on the homeless shelter system. "As we saw in this presidential election, that doesn't work anymore."
This story originally inaccurately described what positions a friend of Samelys Lopez's wound up winning. The story also inaccurately described Lopez's work on her community board.

Bronx Democratic County Committee Document by City & State NY on Scribd