Primary challenger thinks Joe Crowley is vulnerable on the left
Alexandria Ocasio-Cortez is making some unsupported claims in her own campaign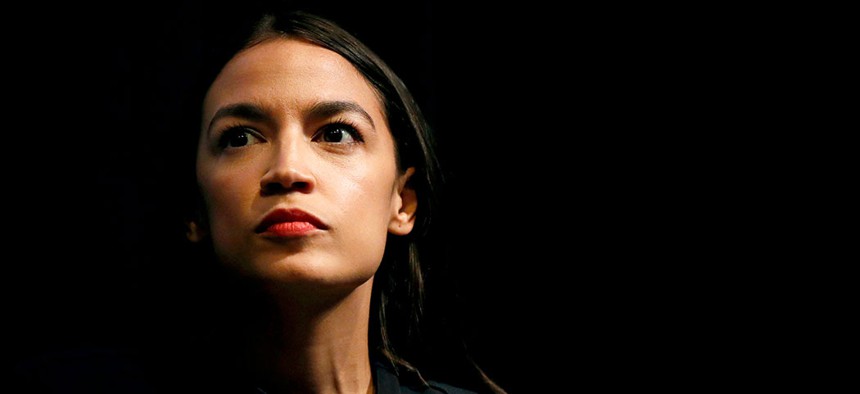 Many politicos in New York and in Washington, D.C. believe that Rep. Joe Crowley, the Queens-bred chairman of the House Democratic Caucus, will be his party's next leader in the House of Representatives. Before he gets there, though, he must win re-election. And while his Queens and Bronx district is safely Democratic, for the first time since 2004, Crowley has a primary challenger appearing on the ballot.
Crowley, the former chairman of the New Democrat Coalition, a group of moderate members of Congress, is being challenged from the left by 28-year-old Alexandria Ocasio-Cortez. The growing grass-roots momentum around Ocasio-Cortez's campaign shows that Crowley – the archetypal political insider who also runs the Queens Democratic Party – must contend with progressive unrest in his own backyard.
"Nobody thought we were going to get on the ballot in NY-14, and I think that's one of the reasons why the establishment ignored our campaign for so long, perhaps to an extent that they wish they hadn't right now," Ocasio-Cortez said in an interview with City & State. "I was laughed at until I got on the ballot, and when I got on the ballot they stopped laughing."
Ocasio-Cortez is a bilingual Bronx native of Puerto Rican descent, while Crowley is twice her age and often associated with the Irish-American community.
To say that Ocasio-Cortez is an underdog would be putting it gently. Crowley has been a congressman since 1999 and is considered one of the most politically influential people in New York City. He has around $1.6 million in his campaign coffers, while Ocasio-Cortez's campaign says she has raised over $200,000. However, her campaign argues those donations demonstrate broad-based support because they came from 9,000 donors making over 15,000 individual contributions.
Ocasio-Cortez, a first-time candidate, cut her teeth as an organizer for Sen. Bernie Sanders' presidential campaign, where she may have learned the importance of small-dollar donations and optimism regarding a long-shot candidacy. She also supports much of Sanders' former platform, including Medicare for All, and contemporary left-wing demands like abolishing U.S. Immigrations and Customs Enforcement.
If the real purpose of an insurgent Democratic primary challenge is to force the incumbent to move leftward, Ocasio-Cortez is already claiming success. She told The Intercept that Crowley's co-sponsoring Medicare for All legislation shortly after she launched her campaign was proof that he was moving to shore up the progressive base. A spokesperson for Crowley's campaign denied this to The Intercept. (Many congressional Democrats without primary challengers, in response to congressional and state-level Republican efforts to undermine Obamacare, have recently embraced single payer healthcare.)
She does not limit her aggressive attacks to policy matters: Ocasio-Cortez reiterated the idea that her primary candidacy had influenced Crowley to City & State. "His camp is in a full-blown panic right now," she said, adding that she was shocked when Crowley agreed to a live, televised debate on NY1 on June 15.
Crowley's campaign dismissed this characterization. Given Crowley's significant campaign war chest and raft of endorsements from unions and elected officials and his long winning streak, it is unlikely that Crowley is actually panicking – or even terribly anxious.
Ocasio-Cortez argues that Crowley's establishment support masks a growing alienation from his district. "He thought that he had name ID in his own backyard, but he doesn't live in NY-14," Ocasio-Cortez said, referring to New York Post article from 2011 reporting that Crowley lived in in northern Virginia.
Crowley asserted at that time that he lived in Woodside, Queens, although his children were enrolled in school in Virginia. Vijay Chaudhati, a spokesman for Crowley for Congress, also said Crowley lives in Queens "and has deep support within the community," noting the congressman's backing from a number of local organizations.
Despite Crowley's deft incorporation of the concerns of diverse immigrant constituencies in his district – he has sponsored legislation to prevent religious discrimination against Sikhs, for example – Ocasio-Cortez says her campaign is better at multi-ethnic outreach. Her campaign has literature in English, Spanish, Bengali and Mandarin, she noted. "To my knowledge, (Crowley) has really - aside from a tweet or a Facebook post every once in a while - he doesn't have campaign literature in any language other than English." Chaudhati proved this is false by providing City & State with some of the campaign's bilingual (English and Spanish) literature.
Lack of multilingual campaign literature is not the only unusual and unsubstantiated allegation Ocasio-Cortez has thrown at Crowley. In an interview with City & State, she claimed that unnamed sources warned her to install poll watchers on Election Day to prevent tampering with election machines. Asked to provide support for this contention, she said "breadcrumbs" of evidence were seen in the appointment of poll coordinators, which she believes "are appointed by the local party apparatus." New York election law dictates that election coordinators be appointed by the county Board of Elections, with equal members of each party, although county chairs recommend a list of names. Crowley's campaign vehemently denied any wrongdoing. "This is a Trump-esque claim designed to undermine faith and trust in our electoral system. It is incredibly irresponsible and if she is going to claim this, Ms. Ocasio-Cortez needs to provide actual proof," Chaudhati said.
Outlandish accusations aside, Ocasio-Cortez portrays her candidacy as needed to disrupt a clubby local political culture. "In a system where everyone waits their turn, and the people at the very top are all buddies with each other, the idea that you're going to get a turn is an illusion," Ocasio-Cortez said.