New York State
Suraj Patel is taking on Carolyn Maloney, and the rest of his party
In a microcosm of Democratic divisions, Suraj Patel is taking on Carolyn Maloney, and the rest of his party.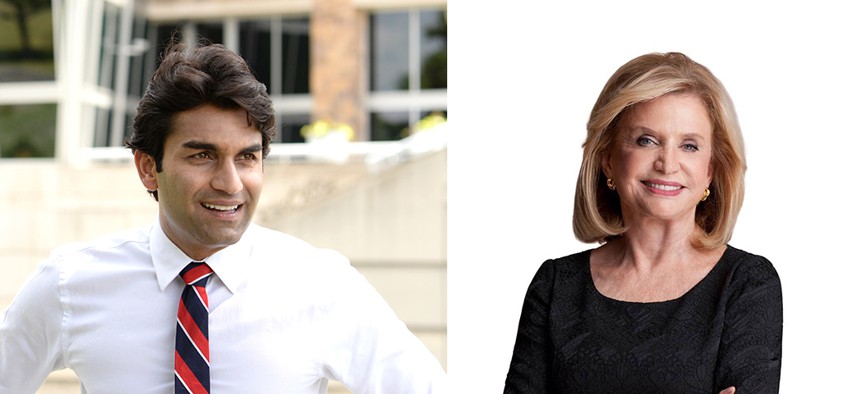 The most attention-grabbing congressional primary in New York this year is Republican Rep. Dan Donovan's challenge from his predecessor, convicted felon Rep. Michael Grimm. However, there is another House primary in New York City, on the other side of the aisle, shaping up to be a fight between party establishment and a partisan insurgency.
On the East Side of Manhattan, 34-year-old Suraj Patel is challenging Rep. Carolyn Maloney in the June 26 Democratic primary. Patel, a former Obama campaign staffer and progressive activist, has raised an impressive sum for a first-time candidate, raking in over $500,000 in the final quarter of 2017 and the first quarter of 2018.
Conventional wisdom holds Patel will not defeat Maloney, but it is notable that anyone is challenging Maloney, a 25-year incumbent with strong progressive record in one of the country's most liberal cities. And unlike her last primary challenger of any note, Reshma Saujani, Patel is challenging her from the left as well as on generational grounds. (Saujani, who had worked at three different hedge funds, ran as a pro-Wall Street Democrat challenging Maloney from the right. Despite Saujani's knack for garnering friendly press coverage, Maloney beat her resoundingly.)
The Patel–Saujani primary is a microcosm of divisions within the Democratic Party, in New York and nationally. The bitter presidential primary battle of 2016 has been echoed in the unusually polarizing race for the Democratic National Committee chairmanship and the 2018 primaries, in which more left-leaning Democrats – often younger and from more diverse backgrounds – are challenging the mainstream elected officials of the Clinton generation.
Maloney, who was first elected in 1992, represents New York's 12th Congressional District, which includes portions of Manhattan's east side, and segments of Queens and Brooklyn along the East River. The last time Maloney faced a serious primary challenger was in 2010, when she whalloped Saujani with 81 percent of the vote. Saujani, like Patel, was a young lawyer and the child of Indian immigrants who was able to raise significant funds. However, Maloney had the support of virtually all elected Democrats, including President Barack Obama. Saujani is backing Maloney in the primary this year.
Patel argues it is time to shake the congresswoman – and the district – out of complacency. In 2016, only 8 percent of eligible voters in New York turned out in the congressional primary. Patel believes that he can win by increasing turnout and creating a new electorate. "What if we engage everybody? Because our assumption is people don't vote, not because they don't care, but because they don't know," Patel said in an interview with City & State in his Greenwich Village office. (Just as Saujani, like Maloney, embodied the Upper East Side, Patel and his campaign office epitomize the Village today: affluent and professional rather than artsy or scruffy, but younger, more left-leaning and tech-oriented than Uptown.)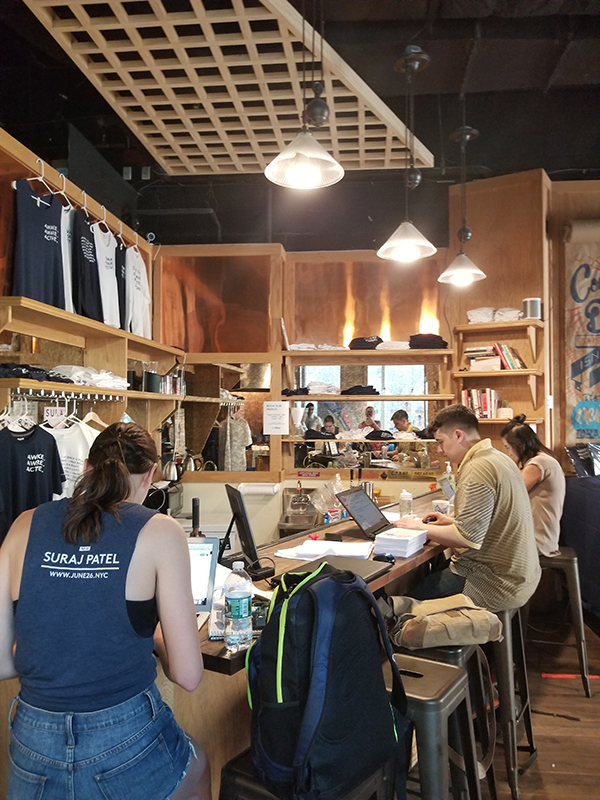 Patel has the square-jawed looks of a movie politician, and speaks with a polish that is apparent in every aspect of his smooth campaign operation. His campaign office is a converted bar, filled with twenty-something staffers and interns holding MacBooks and wearing campaign swag. At 3 p.m., a staffer offered up water, soda or beer.
Patel's slick campaign website is similarly tailored to a younger crowd. It has a clever layout, with several opportunities to click on videos or register to volunteer. One of the pages on the site is titled #NewElectorate. Patel, who previously worked on the Obama campaign, is clearly trying to replicate the former president's model of encouraging new voters to turn out.
Patel's argument for challenging Maloney is that she is not doing enough to push Congress to the left. (Progressive Punch, which analyzes politicians' voting records, finds Maloney the 69th most progressive member of Congress, who has voted in line with progressive priorities 96 percent of the time this term, so Patel makes the argument about leadership rather than attacking her for voting differently than he would have.)
Patel supports progressive initiatives such as defunding U.S. Immigrations and Customs Enforcement and legalizing recreational marijuana. While these might seem like pie-in-the-sky proposals, he thinks that injecting these ideas into the conversation will push Congress to consider them. He said his leadership would be different from Maloney's by "being vocal, infusing Congress and the actual agenda with new ideas and new policies."
"People like the establishment, like Carolyn Maloney, will move to a band aid solution for a symptom of problems," Patel said. "We've failed to inspire here."
However, he and Maloney share a lot of the same policy views. Patel's website includes a call for better infrastructure, better health care and putting consumers first. Maloney championed each of these things.
In an interview, Maloney pointed to her Credit Card Holders' Bill of Rights, which provided further protections for consumers. Maloney also authored the Debbie Smith Act, which provides funding to conduct DNA analysis to decrease the backlog of DNA evidence in rape cases. She also spoke about what she has done for New York, from getting federal funding for the Second Avenue Subway to sponsoring the 9/11 Health and Compensation Reauthorization Act. "I'm very proud of the work I've done," Maloney said. "No one works harder."
Maloney, one of the wealthiest members in Congress, is facing a challenger with similar financial backing. Patel raised significantly more money than Maloney in the final quarter of 2017, and still more in the first quarter of 2018.
Much of Patel's support comes from Indiana, where he grew up, and where his family owns a motel business. Patel was quick to note that like any candidate, he first asked for support from friends and family, and not every donor with the last name "Patel" was related to him. He also argued that some people making donations from out of state were inspired by his progressive message.
"Because of the digitization and the less relevance of borders and district lines, it may be that a progressive in Alabama has nowhere to go," and would therefore donate to a congressional campaign in New York, Patel said. (One wonders how many progressives in Alabama have so much money to spare that they would donate to a primary challenger against a heavily-favored liberal incumbent Democrat in an affluent district in New York, unless they were somehow personally connected to the candidate.) He also pointed out that much of Maloney's contributions came from political action committees and that he refuses to accept money from PACs.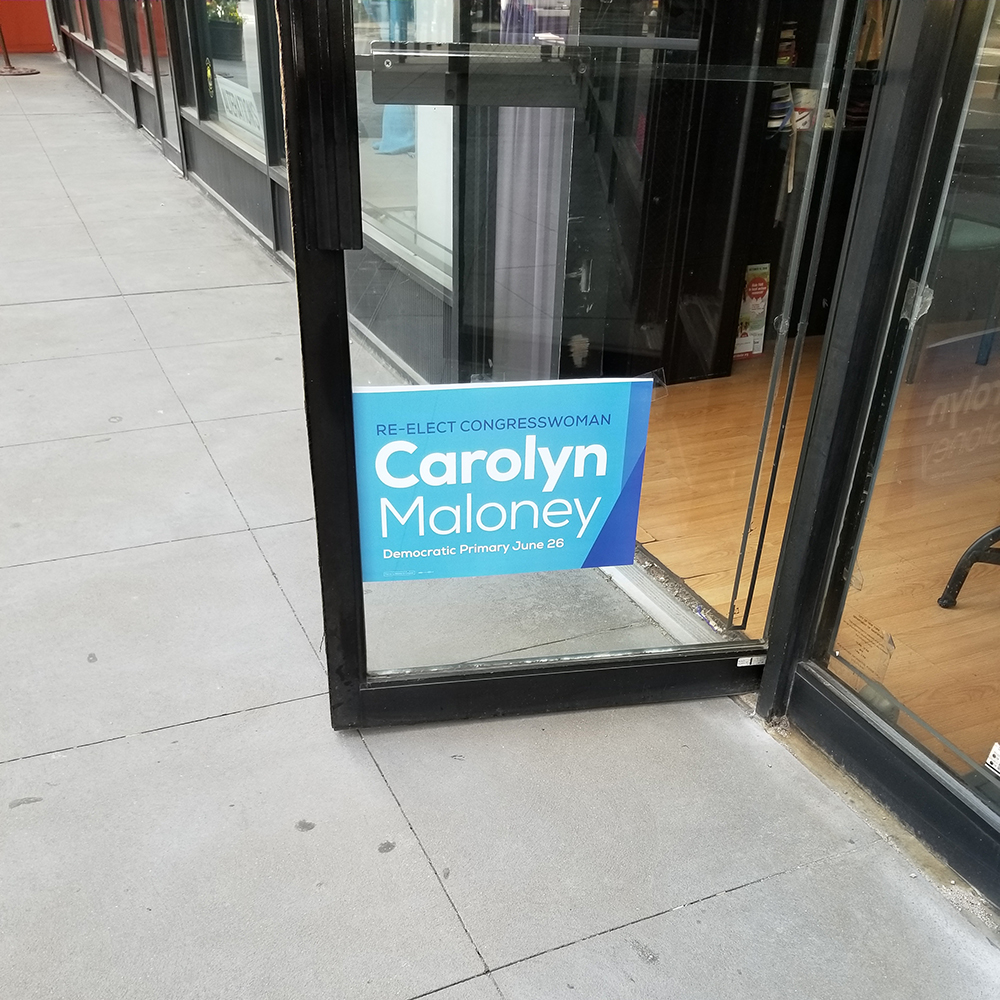 When asked about this, Maloney said that she has worked for campaign finance reform for her entire career. Like Patel, she is a fierce opponent of Citizens United, the U.S. Supreme Court decision that eased campaign finance regulations. Maloney has been endorsed by the advocacy group End Citizens United.
Patel argues that all of Maloney's endorsements – from women's groups to a slew of elected officials – show a top-down style of campaigning and an unwillingness to actually interact with voters. Patel joked that he was rolling out endorsements of bodega owners. However, his campaign is hardly lacking for connections. He said he has 25 staffers, and his team includes longtime political operative Lis Smith, who is also doing communications for Gov. Andrew Cuomo's reelection campaign.
Maloney represents the status quo, but New Yorkers may be comfortable with keeping a lawmaker with a history of popular accomplishments in office, even with a well-funded, young and idealistic alternative. "Run on your record! Run on what you've done, not what you say you're going to do," Maloney said. "I have a record to run on."
Powered By
NEXT STORY: The problem with Zephyr Teachout's prospective attorney general campaign