New York City
Crowley sends "worst NYC lawmaker" to debate in his place
Rep. Joe Crowley sent Annabel Palma, ranked as one of New York City's worst councilmembers in 2016 by City & State, to debate Alexandria Ocasio-Cortez in his place.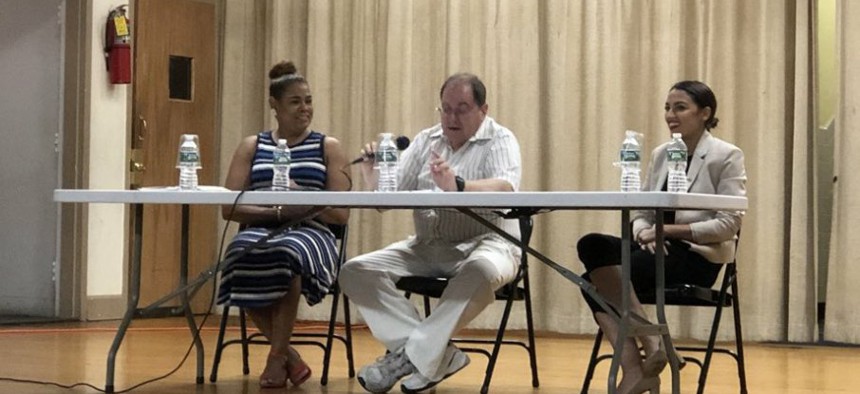 At a congressional primary debate between Rep. Joseph Crowley and his Democratic challenger Alexandria Ocasio-Cortez, there was a notable absence: Crowley.
The debate, hosted by The Parkchester Times in the Bronx and moderated by reporter Robert Press, instead featured a surrogate on the part of Crowley. Debating Ocasio-Cortez in his place was former New York City Councilwoman Annabel Palma.
Palma, who was term-limited out of office at the end of 2017, now serves as the deputy commissioner of strategic initiatives at the city Department of Social Services. She was ranked by City & State as one of the five worst city councilmembers in 2016.
The analysis examined factors including attendance, number of bills introduced, number of bills passed and constituent response time. Palma had the third-worst attendance, showing up to City Hall 70.5 percent of the time in 2016. She also only introduced one bill and only had one piece of legislation enacted. However, she did rank well when it came to responding to her constituents, clocking in at 17 hours and 7 minutes, which was the 13th best response time out of the 51 council members.
Palma told City & State that Crowley has long been her friend, partner and congressman and the pair have worked together to serve her community. So, when he asked her to step in for her the day before the debate, she was happy to help. Regarding her ranking by City & State, Palma said that she is proud of the work she has done for her community. Noting that she served 14 years on the City Council, Palma said that if her constituents were unhappy with her performance, they would not have continued to elect her.
Crowley campaign spokesperson Vijay Chaudhuri said in a statement to City & State that Palma was chosen because she is "a phenomenal local leader in the Bronx," where the debate was taking place. He said that she, like Crowley, is a "champion for working families and knows the real struggles our Bronx neighbors face every day."
According to journalist Robert Press, who moderated the debate, Palma began discussing her record as a New York City councilwoman. Press said he had to remind her that she was there to represent Crowley and discuss congressional issues. Palma told City & State that she focused on her joint work with Crowley while she was in the City Council and what she witnessed him doing for her community.
Ocasio-Cortez seemed displeased by Crowley's absence and his choice of surrogate, tweeting that "in a bizarre twist," he had sent "a woman with a slight resemblance to me" to participate in the debate. Palma and Ocasio-Cortez are both Latina. Crowley is a white man of Irish descent. Palma and Ocasio-Cortez both hail from the Bronx portion of the district, whereas Crowley is from Queens. Ocasio-Cortez is running to Crowley's left and hoping to beat him among the less white, more left-leaning Bronx voters.
In a statement emailed to City & State, Ocasio-Cortez wrote, "it was hard to deal with the shock and hurt felt by voters by the congressman's absence," noting that he had posted pictures to social media of an event he attended in Queens during the time of the debate. (Crowley is also the Queens County Democratic Party chairman, a position that Ocasio-Cortez argues presents a conflict of interest with his role as congressman because of the county party's influence over the primary election's execution.)
Ocasio-Cortez said the community of Parkchester "has not felt Rep. Crowley's presence in our community for years" last night was a continuation of that "neglect."
While the debate was taking place, Assemblyman Francisco Moya tweeted, thanking Crowley for attending an East-Elmhurst Corona Civic Association meeting. Crowley can be seen sitting in the front in an accompanying picture.
Chaudhuri added that Crowley wanted to attend the debate, which he made clear to the organizers, but it had been scheduled without consulting the congressman. He said the organizers "refused" to reschedule when informed that Crowley had a conflict that would prevent him from attending.
Press said that the date of the debate, which had originally been scheduled for June 21, had been rescheduled by an unnamed community engagement person only two weeks ago. Press said that while he hoped Crowley would attend, he understood the congressman had other prior obligations. Press also said that he has seen members of Congress send surrogates to events before, though he said he would have picked Crowley's Bronx district representative Thomas Messina.
Crowley and Ocasio-Cortez participated in their first and only televised debate on June 15. Crowley defended his track record as both a congressman and Queens County Democratic chairman, while Ocasio-Cortez accused him of being a party boss and said she better represents the people of color in the district.
Powered By
NEXT STORY: Why nothing is happening in Albany