New York City
DOI to investigate 'city's failure' on water tanks
Councilman Torres to trigger official investigation of the city's rooftop drinking water tanks, while he and Levine craft legislative response.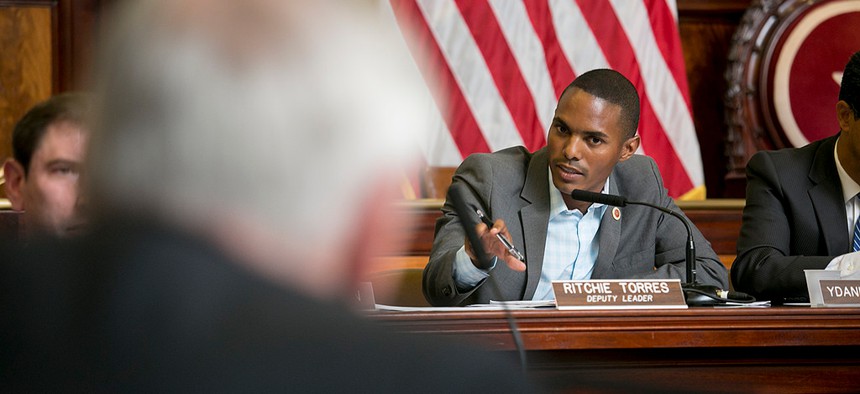 Powerful members of the New York City Council are calling for an official investigation of the city's rooftop drinking water tanks and have already proposed nine new laws to regulate them after a City & State investigation showed widespread neglect and worrisome cases of contamination in the mostly wooden reservoirs – often the last place potable water is held before it drains into apartment sinks and restaurant faucets below.
Millions of New York City's residents and visitors drink water stored in the barrel-like tanks. But City & State's reporting showed that as many as two-thirds of building owners with water tanks do not clean and maintain their tanks. EPA scientists and independent experts fear the neglected tanks may be the source of disease outbreaks and criticized current tank inspections and water testing as inadequate.
Oversight and enforcement of the sanitary conditions inside the water tanks is lax. Even some city-controlled buildings have not been inspecting and maintaining their tanks in accordance with the law. Clean bills of health issued by one city agency appeared to contradict plainly visible problems with one tank that has been slowly rotting away for years.
Legislators are taking action after both Council Speaker Corey Johnson and City Councilman Ritchie Torres reacted with "horror" at the condition of the water tanks, including reports of pigeons, rodents and cockroaches in the rooftop drinking water reservoirs.
Torres, the chairman of the Committee on Oversight and Investigation, told City & State that he is formally requesting that the New York City Department of Investigation examine "the city's failure both as a regulator and an owner." DOI previously said it "is aware of the matter and declines further comment."
Torres previously excoriated health officials as "complacent about the widespread failure to maintain water tanks and accurately report on the condition of water tanks" and "content to live in an alternate universe" where bacteria has no bearing on water quality. He has now submitted a list of six proposed laws for council lawyers to draft, plus a new proposal on Wednesday for the city to conduct random bacteriological tests of city drinking water quality inside water tanks throughout the year, while reporting back with publicly available information. "So we have a sample of what's floating in our water," Torres explained.
City Councilman Mark Levine, who chairs the Council's Committee on Health, is also proposing legislation to tighten licensing requirements for drinking water tank inspectors and mulling a legislative fix to mandate that water tank inspection observations are done before the tanks are cleaned and disinfected. Currently, it is common practice for tank cleaners to bleach and sanitize a tank before recording conditions inside, which experts have said makes the observations useless for understanding public health risks posed by unsanitary conditions in the tanks.
Levine's office has submitted a proposal for consideration by council lawyers that would require tank inspectors to note conditions inside the water tanks before evidence of contamination is erased.
Levine aims to tighten regulations for who is permitted to inspect the rooftop tanks with the stated goal of protecting the health and safety of city dwellers, based on input from the Plumbing Foundation City of New York, a nonprofit that represents plumbers' interests and promotes public health. The organization has offered drafted legislation and is "working very closely" with Levine to amend laws governing water tanks to require formal licensing for water tank inspectors.
A pitch document from the foundation offers a scathing appraisal of existing city standards, writing that current laws are so vague as to who can inspect and maintain the water tanks that "there is absolutely no criteria for who can conduct inspections of water tanks anywhere" in city law. The document also says the Department of Health and Mental Hygiene "has no 'real' standards" for who can do the work, which "has dangerous implications for the health and safety of NYC residents."
The document adds that the "detrimental consequences of authorizing an inexperienced person" to maintain water tanks "is inherently dangerous to the quality of NYC's drinking water" and can lead to unsanitary conditions "which can make people ill or far worse, lead to loss of life."
"You and I, tomorrow, can do water tanks under the current code," Terence O'Brien, director of the Plumbing Foundation, told City & State. "There's no standard by which people actually have to be trained."
In its proposal, the organization is advocating for "clear and specific requirements" for those who inspect and clean water tanks, either a master plumbers license or a pesticide applicators license, as well as training to protect workers from dangerous falls from the rooftop tanks.
While the council's bill-drafting office draws up proposals, experts outside the advocacy circuit have offered an even broader array of suggested changes.
Experts consulted by City & State during its investigation recommended reforms that would require an overhaul of the current regulations and oversight, including stricter enforcement, more frequent water quality testing, more exacting inspection requirements, and an examination and re-evaluation of the structural design of water tanks to keep rodents and birds out of New Yorkers' drinking water.
EPA scientists consulted by City & State recommended that New York City health officials consult Chapter 10 of their detailed "How to Conduct a Sanitary Survey of Drinking Water Systems," which explains that drinking water tanks are inherently "the most vulnerable part of the distribution system," because it is a place where water meets the air in the tank, and openings like vents, overflow valves and access hatches create built-in opportunities for disease-carrying animals to get inside.
EPA scientists stressed that New York City's rooftop tanks were particularly at risk and noted that tanks with any cracks or holes could allow all kinds of wildlife inside. "Using a wooden structure on top of a building is asking for a vulnerable situation," a EPA toxicologist said.
In their experience, the EPA scientists said, wooden water tanks are rare and peculiar to New York – elsewhere, tanks are made of concrete or metal. For that reason, the city's rooftop tanks require further study to establish the best methods for maintaining them.
"We don't see wooden tanks. It's an entirely different environment that we don't have experience with," an EPA environmental scientist and water tank expert said. "These are unique tanks. We don't know what's embedded underwater in the wood. We're finding out what's in the sediment. We don't know what type of bacterial colonies are in the airspace between the water level and the wood ceiling. So, it would be worthy of study."
A key recommendation from the EPA is the use of ultra-fine mesh screens allowing only half-millimeter wide openings in the tank. "To keep rodents, birds, bats, snakes and insects, and any diseases they may be harboring, there must be no hole larger than that afforded by a #24 mesh screen or 0.027 inches," the EPA guide notes. The aim is to eliminate entrances for even the smallest creatures, including spiders, flies, ticks, mosquitoes and biting midges.
Another deficiency were the rooftop hatches, they said, which should be perfectly water-tight. Currently, the hatches are built out of plywood and weather stripping like the rest of the conical water tank roofs.
Given the relative ease with which animals can get into the city's water tanks, there was broad agreement among independent and EPA experts for the need to improve the methods and frequency of bacteriological water testing in the tanks. They universally assailed the now common practice of testing the water only after the tank has been cleaned and disinfected.
"If you're asking people to self-report and to do a cleaning of a tank and they're taking the sample for E. coli only after it's been cleaned, that doesn't tell you anything about the seasonal variation," said Dr. Jeffrey Griffiths, a professor of public health at Tufts University and a former chairman of the EPA Science Advisory Board's Drinking Water Committee. "It doesn't tell you about the adequacy of what's going on across the year." Griffiths said a test should at least be done before the tank is cleaned and then again afterwards. Some water systems, he noted, test quarterly on predetermined dates to avoid "shenanigans" from tank owners trying to test during times when they are least likely to have problems with water quality in the tanks.
"It's like a small water system," the EPA tank expert said. "I would think it would be more protective if the samples were done monthly."
More rigorous enforcement of any of these new rules would also be required, experts agreed.
Water tank builders, meanwhile, expressed frustration with the fragmentary and piecemeal laws that govern how building owners must care for the drinking water tanks. The city health code requires a tank inspection and a report filed with a clean water sample. Separately, the city plumbing code requires that the tanks be cleaned and washed with chlorine on a yearly basis.
"There's two different laws," explained David Hochhauser of Isseks Brothers Inc, a tank company. "With the Department of Health, the intention is right and what they are doing is good, but theoretically you could just test the water every year and as long as it came back good, never clean the tank."
The most vexing problem for the "tank men," as they're often called, is when tanks fall into disrepair and building owners refuse to pay to patch holes in the tank.
"Often we'll see a cover that's missing or a hatch door that's open," Hochhauser said. "Well, that's a perfect entry for insect or something to fly into the water supply. At that end, the vigilance isn't quite on the same level as the cleaning because it requires more dollars to repair. They'd rather spend it on the lobby where you can see it than on the water tank where everybody's drinking it."
Steven Silver, an executive at American Pipe and Tank, another tank company, said property owners fail to repair holes in the tanks because of the additional cost, in spite of the potential for animals to get inside and contaminate the water supply. The company often waits to file inspection reports until after they can fix the tank, but sometimes building owners will never call back and just file the report themselves, reporting that there were no issues with the structural integrity of the tank.
While the council is actively pursuing legislative remedies, at least one city agency has not taken immediate action to fix one of its own water tanks. City & State's investigation, published last month, highlighted a dilapidated wooden drinking water tank atop city sanitation department offices at 137 Centre St. – and this week, its condition appeared unchanged. A shredded blue tarp still flutters above its rotten rooftop.
A spokesperson for the Department of Citywide Administrative Services, which maintains that water tank, said the agency was "evaluating the condition of the water tank."
Powered By
NEXT STORY: Updated: The race for attorney general takes shape