New York City
Key races to watch in New York's congressional primaries
Tracking the most competitive races in New York's first of two primaries in 2018.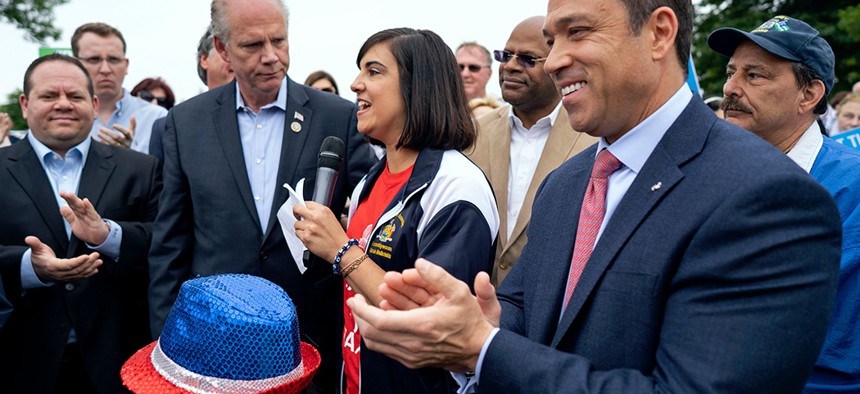 New York's congressional primary, the first of the state's two primary election days, will set some early election trends and answer a few of the pressing midterm questions: Will Democrats be riding a blue wave? Will any incumbents fall before the general election? Who is even running in my district? In some districts, winning the primary is tantamount to winning the election, especially with so many uncontested races. It may be the last day of school for all New York City public school students, but it's the start of class for each party's elected candidates. To help you make the grade, here is a look at the key races to watch in today's primaries:
District 11
The incumbent: Rep. Dan Donovan (R)
The Republican challenger: Michael Grimm
The Democratic challengers: Michael DeVito, Zach Emig, Radhakrishna Mohan, Max Rose, Omar Vaid
Donovan is being challenged by the charismatic Grimm, the former congressman who resigned and was sent to prison for tax fraud, opening up the seat to Donovan in the first place. Grimm argues that he will have a closer relationship with President Donald Trump while Donovan is banking on his endorsement from Trump, who recorded robocalls on the eve of the election, in a last-minute hail Mary for his floundering campaign. (Trump fears that Grimm might be more likely to lose the potentially vulnerable seat.)
On the Democratic side, Rose is likely to prevail over his opponents. He has garnered national media attention for his grassroots campaign, and is outraising all other candidates, including Donovan and Grimm.
 
District 19
The incumbent: Rep. John Faso (R)
The Democratic challengers: Jeffrey Beals, David Clegg, Erin Collier, Antonio Delgado, Brian Flynn, Gareth Rhodes, Patrick Ryan
Seven Democrats are vying to challenge Faso, who is considered one of the most vulnerable Republicans in the state. There's no consensus frontrunner, although Delgado has raised the most money. Rhodes, a former staffer to Gov. Andrew Cuomo, has won endorsements from unions and The New York Times. As City & State reported, the lone woman in the race, Collier, has lagged in fundraising but "has deep ties to the district and has enjoyed some national coverage from Teen Vogue and People magazine as well as the support of Emily's List."
 
District 2
The incumbent: Rep. Peter King (R)
The Democratic challengers: DuWayne Gregory, Liuba Grechen Shirley
Although longtime lawmaker King is unlikely to lose in November, the primary to challenge him is one to watch, because it has divided the county. Gregory, a Suffolk County legislator, has the support of the chair of the Suffolk County Democratic Party, the Working Families' Party and the Women's Equality Party. However, Shirley is significantly out-raising him, and has received support on the grassroots level and on a national scale, with a shout-out from Hillary Clinton.
 
District 14
The incumbent: Rep. Joe Crowley (D)
The Democratic challenger: Alexandria Ocasio-Cortez
The primary between Crowley and Ocasio-Cortez has gotten increasingly nasty. Crowley is a longtime congressman and a Queens institution, as well as potential future House minority leader. Ocasio-Cortez is a young organizer who believes that Crowley is not progressive enough, and has made inroads among the Latino community. It's unlikely that Ocasio-Cortez will defeat Crowley, but if she wins a significant vote share it could show that the incumbent is less popular than expected and it may hamper his future on Capitol Hill.
 
District 9
The incumbent: Rep. Yvette Clarke (D)
The Democratic challenger: Adem Bunkeddeko
Clarke has served in Congress for over ten years, but is being challenged by Bunkeddeko, a young political organizer. As City & State reported, "Bunkeddeko has argued that Clarke is ineffective, failing to pass even one piece of legislation she sponsored." This has convinced The New York Times editorial board, which endorsed him this month.
 
District 12
The incumbent: Rep. Carolyn Maloney (D)
The Democratic challenger: Suraj Patel
Telegenic, millennial-friendly hotel executive Patel is trying to unseat longtime incumbent Maloney, arguing that she is not progressive enough to justify her continued presence in Congress after 20 years. Patel has used unusual canvassing measures, including appealing to voters on dating apps, but he has garnered support from many younger voters. Both candidates have raised over $1 million.
 
District 21
The incumbent: Elise Stefanik
The Democratic challengers: Tedra Cobb, Emily Martz, Patrick Nelson, Dylan Ratigan, Katie Wilson
Although Stefanik's district is solidly Republican, the primary race to challenge her is still intriguing. The frontrunner seems to be Tedra Cobb, at least in terms of fundraising. Ratigan is a former MSNBC host who refuses to say whether he would have supported Hillary Clinton over Trump. Wilson has received the endorsement of the Working Families Party.
 
Honorable mentions
District 1 – Several Democrats are lining up to face Republican Rep. Lee Zeldin, including Perry Gershon, Kate Browning, Vivian Viloria-Fisher, David Pechefsky and Elaine DiMasi.
District 16 – Democratic incumbent Rep. Eliot Engel faces a challenge from three other Democrats, including Jonathan Lewis, who has put at least $650,000 into his own campaign.
District 24 – GOP Rep. John Katko will either face Dana Balter, who has been endorsed by county Democrats, or Juanita Perez-Williams, who entered the race late but has more momentum.
Powered By
NEXT STORY: Who is running for Congress in New York?