New York City
Candidate kicked off the ballot? It all happens in this room.
When candidates challenge each other's petitions to get on the ballot, who does the vetting? City & State goes behind the scenes at the New York City Board of Elections office in Lower Manhattan to see how it all plays out.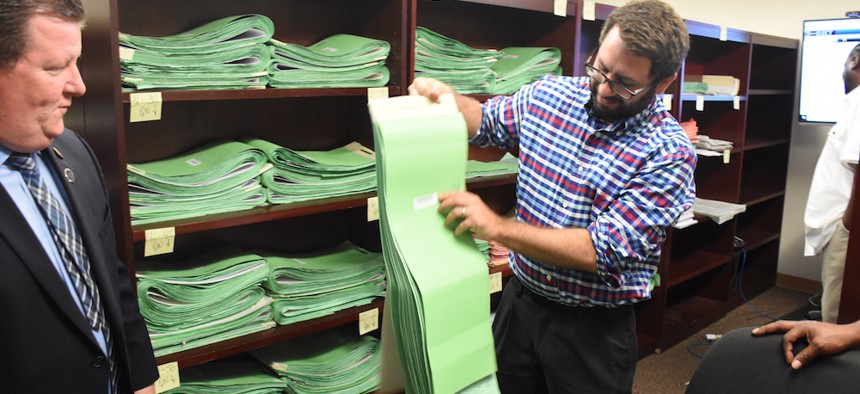 In a bland office building in Lower Manhattan, a couple dozen New Yorkers are sitting, bored, waiting for an opportunity to defend our democracy.
They are in the office of the New York City Board of Elections, in a room that, most of the time, serves as the BOE's boardroom. For a few weeks every year, it becomes the petition hub for the city, the room through which all designating petitions for elections flow – and where all those petitions are challenged by opponents.
The BOE employees have been spending long hours in the room over the past week, overseeing the process where campaign staffers pore over pages upon pages of petitions, looking for errors, inconsistencies and invalid signatures. Sometimes its busy, sometimes it's not – like at 11:15 a.m. on Wednesday, July 18, when City & State stopped by for a visit.
But, should someone want to come in contesting signatures, they are there. "We're accommodating as we can be with the hours," said staffer Stephen Thompson, giving a brief tour of the office. "We're open until midnight this entire week. We were open until midnight Thursday, Friday last week. We were open Saturday and Sunday this past weekend. We don't limit this to 9-to-5."
Designating petitions had to be delivered to the Board of Elections between July 9 and 12 last week. Turning them in early gives campaigns a little extra time to correct minor errors that the BOE may notice, but turning them in late gives campaigns a little more time to collect signatures and to get their files in order before handing in the petitions. And getting everything in order is serious business.
The process for getting a candidate's name on the ballot for the Sept. 13 primary election is bound by strict rules, so numerous and complicated that most candidates have to hire a lawyer to guide them through, dotting the i's and crossing the t's. But one thing most candidates have to do is convince a large number of people to sign on to a designating petition. A signature isn't a vote, or an endorsement – it's just an acknowledgement that the signee thinks the candidate deserves to have their name on the ballot. But signatures are generally limited to enrolled members of the candidate's political party, and nobody can sign petitions for two candidates in the same race. Candidates that don't collect enough valid signatures, or that make other serious errors on the petitions, can even get kicked off the ballot. And competitors looking for an easier chance at victory police each other hard.
So campaign staffers working for campaigns across the five boroughs come to the boardroom at 42 Broadway to cross-check the signatures on petitions to voter rolls, making sure the voters are valid and the John Hancock on the petition matches their one in the registration.
The couple dozen staffers in the boardroom facilitate this process, watching closely to prevent any funny business. There are levels of security. Only red pencils are allowed in the room, allowing campaign staffers to highlight and circle possible errors without altering information. And instead of nonpartisan, the BOE is aggressively bipartisan, in that staffing has to be an equal mix of Republicans and Democrats. This may give Republicans a statistical leg-up in getting BOE jobs in a city where registered Democrats outnumber Republicans almost seven-to-one, but it's not the BOE's choice – it's all part of state election law.
This bipartisanship is taken to its logical conclusion in the "library," where petitions are held behind a door with two locks. A Republican employee keeps one key, and a Democrat keeps the other. No Watergate break-ins here – Executive Director Michael Ryan told City & State there hadn't been any security problems in his five years on the job: "The staff takes it very seriously."
Most of the year, the records room serves as the commissioners'' conference room for the BOE, but during petitioning, it becomes a bank vault, with stacks of signed petitions piled onto bookcases. The room is surprisingly low-tech, with handwritten post-it notes designating district and borough for paper petition books of varying sizes and colors. Tradition, though no longer statute, demands green for Democrats, "cherry" red for Republicans and white for third parties. The one modern touch are two big screens that direct the workers inside the room – always at least one Republican and one Democrat – as to which petition books are being requested by the staffers outside in the main boardroom.  
Campaigns have two weeks from the last day petitions are due to file complaints with the Board of Elections, meaning this process goes on within the BOE until July 26. The Board then has make its determinations and finalize the state and local primary ballot by August 8 – five weeks before Election Day on Sept. 13.
It's a whirlwind time at the BOE, with staffers regularly working until midnight from June until the general election results are certified in November. But Ryan said his staffers deserve credit for always getting it done.
"We have to be ready on Election Day. We don't get to say, come back tomorrow, we're not ready," he said. "We have to be ready to put the election on, and these are the folks that do it."