Andrew Cuomo
The real reason Cuomo and James are calling to change double jeopardy law
Despite Gov. Andrew Cuomo and Public Advocate Letitia James' calls for action, the state Senate won't do anything to confront Trump on Paul Manafort. They're doing it to win the primaries.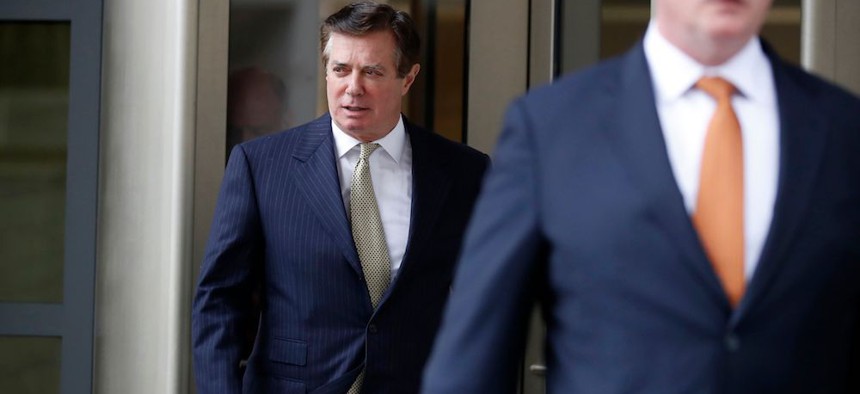 New York City Public Advocate and state attorney general frontrunner Letitia James called on Monday for the state Legislature to hold a special session to reform state law so that President Donald Trump's associates can be held accountable for crimes they may have committed, even if they're pardoned by the president.
James and Attorney General Barbara Underwood have both previously said the Legislature should, in Underwood's words, "close New York's double-jeopardy loophole." On Thursday morning, Gov. Andrew Cuomo joined them, issuing a statement that read, in part, "New York must have the ability to stand up against the abuse of power. I call on the State Legislature to amend current State law to close the double jeopardy loophole and ensure that these wrongdoers cannot escape justice."
While James and Cuomo would say they are standing up for the rule of law, a cynic might argue their current statements are as much about burnishing their anti-Trump credentials in advance of the Sept. 13 primaries.
The problem they are hoping to address is that under New York's Criminal Procedure Law, a federal conviction or guilty plea triggers "jeopardy," meaning that a second prosecution for the same crime under state or local law would be unconstitutional "double jeopardy."
As Underwood's April letter to the governor and state legislative leaders advocating for the law to be changed explains:
"New York's law provides exceptions when a court nullifies a prior criminal proceeding (such as when an appeals court vacates a conviction), or even when a federal court overturns a federal conviction because the prosecution failed to establish an element of the crime that is not an element of the New York crime. But there is no parallel exception for when the President effectively nullifies a federal criminal prosecution via pardon. Thus, if a federal defendant pleads guilty to a federal crime, or if a jury is sworn in a federal criminal trial against that defendant, and then the President pardons that individual, this New York statute could be invoked to argue that a subsequent state prosecution is barred. Simply put, a defendant pardoned by the President for a serious federal crime could be freed from all accountability under federal and state criminal law, even though the President has no authority under the U.S. Constitution to pardon state crimes."
Given that Trump already has pardoned political allies, such as former Maricopa County, Arizona, Sheriff Joe Arpaio and conservative pundit Dinesh D'Souza, with no particular legal justification, Underwood, James et al. fear that he will do the same for others, like his just-convicted former campaign chairman Paul Manafort. Since many of the crimes committed or allegedly committed by the Trump campaign and Trump Organization – including Manafort's and former Trump personal attorney Michael Cohen's – occurred in New York, the state is seen as a crucial backstop to prevent Trump and his cronies from escaping legal penalty by firing Special Counsel Robert Mueller and pardoning anyone Mueller indicted as a result of his investigation.
So the legal and policy reasoning behind James and Cuomo's statements is clear. The only thing that doesn't make sense is the idea that Republican state senators would pass legislation to hold Trump, his family members or staffers legally accountable. Given Trump's high approval ratings among Republican voters and the reluctance of New York's Republican elected officials to confront Trump or even discuss the possibility that he is guilty of any crimes, one can assume the state Senate won't move a muscle to close the double jeopardy loophole.
State Senate Majority Leader John Flanagan did not respond to a request for comment. Michael Whyland, a spokesman for Assembly Speaker Carl Heastie told City & State in an emailed statement: The actions of this administration and words out of Donald Trump's own mouth are deeply concerning. We will look at any legislation that would serve to curb such abuses while maintaining important criminal justice protections for all citizens." 
And there is even less chance of such a law passing in a special session. As State of Politics noted on Monday, "Republicans could simply gavel in and out of the session and not take up the bill."
So why are Cuomo and James acting as if such a thing were possible? The idealistic answer would be that they are simply articulating what should happen, regardless of the political realities. But politics are undoubtedly part of their calculation. Both are facing left-wing opponents, Cynthia Nixon and Zephyr Teachout, respectively, who say they will be more aggressive in standing up to Trump.
Elections may indeed determine whether Trump's colleagues can be prosecuted in New York. But those elections will be for the state Senate.
Jeff Coltin contributed reporting.