Andrew Cuomo
Cuomo statements that haven't held up
A series of recent comments by Gov. Andrew Cuomo have been contradicted by reporting.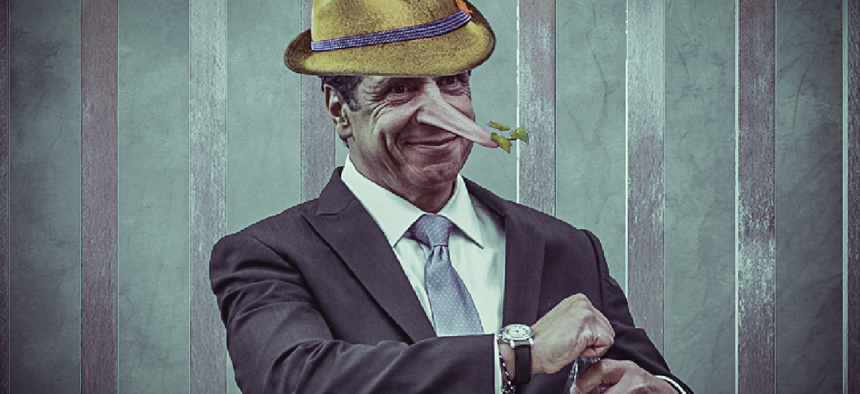 In recent months, Gov. Andrew Cuomo has repeatedly come under media scrutiny for making statements that were contradicted by facts that later emerged or by his own subsequent statements. The Albany Times Union's Wednesday revelation that, contrary to the governor's previous denial, someone connected to Cuomo's campaign did communicate with a health care company about $400,000 worth of suspicious campaign donations, is just the latest instance.
Earlier this year, Cuomo disavowed involvement in a controversial campaign mailer, a bungled bridge opening, and whether or not he controls the New York City subway. Sometimes, Cuomo's initial claims have been at odds with the facts. Other times, Cuomo has seemingly contradicted past statements. Overall, his tendency seems to be distancing himself from the actions of staffers and agencies under his control, which clashes with the hands-on, engaged executive image the governor often portrays for voters.
Cuomo's political opponents say he has a demonstrated tendency to fib, but his supporters are willing to give him the benefit of the doubt. Jessica Proud a spokeswoman for the New York Republican Party, told City & State that the governor is "a serial liar" who has "no credibility when he says he had no involvement or awareness" of scandals like the mailer.
"We know this wasn't the exciting election season everyone was hoping for," Cuomo spokeswoman Abbey Collins said in an email. "But it doesn't excuse these absurd and desperate attacks."
Cuomo is far from the only politician to be caught changing their presentation of facts, from the president to state Senate candidates. Even some Republicans find him no less honest than is typical for his profession. Placing these recent controversies in the context of other politicians, former George Pataki campaign manager and GOP political consultant Tom Doherty said, "They all BS us about a lot of things."
Here is a guide to four issues that have dogged Cuomo during his reelection run in which critics say he has lied, he says he didn't and what the known facts are:
Crystal Run
A Sept. 25 story in Times Union reported that the Cuomo campaign admitted that it had been in contact with Crystal Run Healthcare about $400,000 in suspicious contributions. Cuomo had previously told the newspaper's editorial board "no" when asked if his campaign ever got a call from the company about potential problems with the donations? Cuomo also cast doubt on Rep. Sean Patrick Maloney's claim about being contacted by the company about $35,000 in donations, which Maloney said he then gave to the U.S. Treasury. "How much do you want to bet the Crystal Run people never called Maloney and said that?" Cuomo said.
Cuomo's campaign has said that he and spokeswoman Abbey Collins, who was present at the meeting with the Times Union, had not been briefed on the matter by outside counsel who had been in contact with Crystal Run.
While there is no publicly available evidence that Cuomo was aware of the campaign's contract with Crystal Run, his claim that he didn't know the relevant facts suggests that if he was being scrupulously truthful, he should not have issued such an unequivocal statement. If he hadn't been briefed on the matter, why was he so sure in denying his campaign's involvement in it, even going so far as to suggest that Maloney was lying about a similar situation? Since a lie requires knowledge that the statement is false, his comments on the matter were not necessarily a lie, but what he told the Times Union originally was clearly untrue.
Gov. Mario M. Cuomo Bridge
Cuomo said it was "nonsensical" to claim that he would rush the construction of the Gov. Mario M. Cuomo Bridge so that it could open before the Sept. 13 primary. Nonetheless, the new bridge was shut down after its initial opening because of safety concerns about the structural integrity of the adjacent Tappan Zee Bridge. "We didn't make the decision on the opening of the new span. The contractor did," Cuomo said in one news conference. But then The New York Times reported that people in Cuomo's administration were involved in setting Aug. 24 as the opening date for the bridge.
A July 18 letter from the state official overseeing the project, Jamey Barbas of the New York Thruway Authority, to the contractor building the bridge shows her involvement in setting the date. She also offered "premium additional costs" and immunity from responsibility for any traffic accidents associated with completing the bridge work more quickly. But Cuomo sees it a different way:
"This black helicopter conspiracy theory of timing the bridge opening is wholly disproven on the facts, as the contractual date of Aug. 15 was set a year ago before any thought of a Democratic primary ever existed in any rational mind," Thruway Authority Director Matt Driscoll said in an email. "If the project had been rushed, they would have forced the opening to happen on the contractually agreed to date of Aug. 15."
Cuomo, of course, is not not apprised of every action of every state agency. So, it's difficult to determine what exactly he personally knew and when. If Cuomo wasn't aware of Barbas' letter, then he may not have been deliberately lying when he dismissed the suggestion that political pressure from his administration played a role in opening the bridge prematurely. But that would indicate that he may have spoken before consulting with all the relevant officials and gathering all the facts.
2018 primary campaign mailer
Cuomo has a reputation as a micromanager. He's been known to pick the type of tiles for subway walls. When he ran for governor in 2010, The New York Times wryly noted that he's both the No. 1 and No. 2 people in his campaign. Yet, when it came to a controversial mailer sent by the state Democratic Party, that accused Cynthia Nixon of being anti-Semitic in the final days of this year's primary campaign, Cuomo pleaded ignorance.
The Cuomo campaign's explanation of the matter evolved as a series of reports undermined Cuomo's denial. First, the campaign let state party Executive Director Geoff Berman say that it was solely the state party's responsibility. "I didn't know about the mailer," Cuomo said at a Sept. 9 press conference. Two days later however, it emerged that the New York Post had received a pitch on Nixon's views on Jewish issues from a Cuomo campaign email. That same day, the campaign revealed that an unidentified "individual helping the campaign on constituency outreach" was the source of the mailer.
The next day, it came out that Lawrence Schwartz, a former secretary to the governor, was involved. He approved the mailer on the campaign's behalf, Cuomo's camp said, but he only looked at one side of the mailer, not the side that claimed Nixon was "silent on the rise of anti-Semitism." Cuomo's people stuck to this story even after the Post reported that several top aides had been copied on an email that discussed the mailer.
There is reasonable doubt that Cuomo himself knew about the mailer before it was sent and he has consistently stated that he did not agree with its contents. There is evidence that people close to the governor might have known about the mailer, but that does not prove by itself that Cuomo lied.
New York City subways
At times, Cuomo has put on a hard hat and posed for photos as the governor who can make things happen in the subway system. When times are good, Cuomo takes credit, like when the Second Avenue Subway opened last year: "You know who runs the M.T.A.?" Cuomo said in December of 2016, Politico reported. "The governor has the majority of members. The mayor has members, the county executive has members, but the governor has the majority of members. And if a governor wanted to step up and be responsible, he or she could be. And what I said is, 'I'm going to step up and take responsibility.'"
When it comes to the subway's unreliable service, though, Cuomo has denied that runs the MTA or stepped up to take responsibility for it. He has downplayed his control, like when he said during an interview on "The Capitol Pressroom" that he did not have legal control of the board. During his primary debate with Cynthia Nixon, she accused him of lying after he said: "The subway system is owned by New York City." When a blizzard came to New York City in 2015, Cuomo announced the first closure in the system's history because of snow. He declared a state of emergency in the system last year. But in June 2017, Cuomo said he needed to appoint additional board members because the MTA lacked a clear line of authority: "Who's in charge? Who knows! Maybe the county executive, maybe the president, maybe the governor, maybe the mayor."
Peter Ajemian, a spokesperson for the governor, told City & State: "The MTA is flawed from inception and was purposefully designed to avoid accountability. ... A camel is a horse designed by committee, and the MTA is a train service run by committee."
Some of these claims hold up under examination better than others. It is technically true that board members can legally buck the governor's preferences in casting their votes. But the governor's appointees usually vote in accordance with his preferences. And it's misleading to say the subway system is owned by New York City, which the MTA technically leases from the city, when Cuomo has more power over the stations, the trains, MTA appointments and its budget. It was Cuomo, for example, who appointed Andy Byford to oversee the New York City Transit Authority, the MTA division that runs the subways.
There has been no definitive evidence that Cuomo knowingly made false statements. But Cuomo has shown that past comments don't preclude future pivots, especially when he can blame underlings for problems.
Correction: An earlier version of this post incorrectly attributed a statement by Thruway Authority Executive Director Matt Driscoll to a spokesperson.
Powered By
NEXT STORY: Kavanaugh and Ford speak, Crystal Run scandal, WFP decisions