New York State
Updated: The lopsided endorsements for AG
Public Advocate Letitia James leads the pack of attorney general candidates in endorsements, while Zephyr Teachout is gaining support from progressive politicians and causes.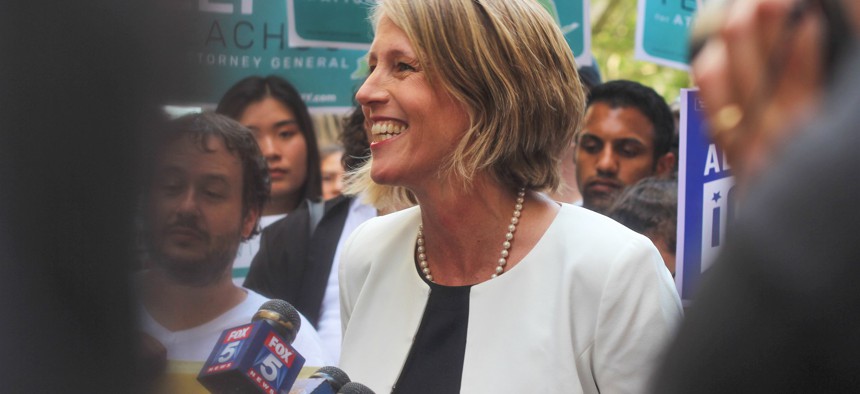 Endorsements aren't everything, but in the Democratic primary race for state attorney general, the distribution of endorsements is very lopsided. New York City Public Advocate Letitia James leads the pack in endorsements, having obtained the support of the state Democratic Party and various elected officials.
But Zephyr Teachout is gaining support from progressive politicians, clubs, causes and organizations – including New York City Councilman Jimmy Van Bramer, who recently withdrew his support for James.
Meanwhile, Leecia Eve is shoring up her support in the Buffalo area. Rep. Sean Patrick Maloney has fallen far behind, but he has an impressive campaign war chest that may help him offset his disadvantage in endorsements.
City & State reached out to all four campaigns and received an updated list of endorsements for three of the candidates but did not immediately get a response from Maloney's campaign.
RELATED: Zephyr Teachout has a plausible path to victory
 
Letitia James
Public figures:
Gov. Andrew Cuomo
Lt. Gov. Kathy Hochul
Rep. Yvette Clarke
Rep. Joe Crowley
Rep. Eliot Engel
Rep. Adriano Espaillat
Rep. Hakeem Jeffries
Rep. Carolyn Maloney
Rep. Gregory Meeks
Rep. Grace Meng
Rep. Jose Serrano
Rep. Nydia Velázquez
State Senate Democratic Leader Andrea Stewart-Cousins
State Sen. Joseph Addabbo, Jr.
State Sen. Jamaal Bailey
State Sen. Brian Benjamin
State Sen. John Brooks
State Sen. Leroy Comrie
State Sen. Michael Gianaris
State Sen. Brad Hoylman
State Sen. Todd Kaminsky
State Sen. Shelley Mayer
State Sen. Kevin Parker
State Sen. Roxanne Persaud
State Sen. Gustavo Rivera
State Sen. James Sanders, Jr.
State Sen. Luis Sepulveda
State Sen. Jose M. Serrano
Assembly Speaker Carl Heastie
Assembly Majority Leader Joseph D. Morelle
Deputy Assembly Speaker Earlene Hooper
Assemblyman Jeffrion Aubry
Assemblyman Rodneyse Bichotte
Assemblyman Michael Blake
Assemblyman Ed Braunstein
Assemblyman Marcos Crespo
Assemblyman Michael Cusick
Assemblyman Steven Cymbrowitz
Assemblyman Michael DenDekker
Assemblywoman Maritza Davila
Assemblywoman Carmen De La Rosa
Assemblyman Anthony D'Urso
Assemblyman Harvey Epstein
Assemblyman Andrew Hevesi
Assemblywoman Alicia Hyndman
Assemblywoman Deborah Glick
Assemblyman Richard Gottfried
Assemblywoman Pamela Hunter
Assemblywoman Kimberly Jean-Pierre
Assemblyman Chuck Lavine
Assemblyman Joe Lentol
Assemblyman Michael Miller
Assemblyman Walter Mosley
Assemblyman Yuh-Line Niou
Assemblywoman Catherine Nolan
Assemblyman Daniel O'Donnell
Assemblywoman Amy Paulin
Assemblyman Nick Perry
Assemblywoman Stacey Pheffer-Amato
Assemblywoman Crystal People-Stokes
Assemblyman Gary Pretlow
Assemblyman Dan Quart
Assemblyman Phil Ramos
Assemblywoman Diana Richardson
Assemblyman Robert Rodriguez
Assemblyman Daniel Rosenthal
Assemblywoman Linda Rosenthal
Assemblywoman Nily Rozic
Assemblywoman Rebecca Seawright
Assemblyman Michaelle Solages
Assemblyman Jo Anne Simon
Assemblyman Al Taylor
Assemblyman Clyde Vanel
Assemblywoman Latrice Walker
Assemblywoman Helene Weinstein
Assemblyman David Weprin
Assemblyman Jamie Williams
Assemblywoman Tremaine Wright
New York City Comptroller Scott Stringer
New York City Council Speaker Corey Johnson
Bronx Borough President Ruben Diaz, Jr.
Brooklyn Borough President Eric Adams
Queens Borough President Melinda Katz
New York City Council Majority Leader Laurie Cumbo
New York City Councilwoman Adrienne Adams
New York City Councilwoman Alicka Ampry-Samuel
New York City Councilwoman Diana Ayala
New York City Councilman Justin Brannan
New York City Councilwoman Margaret Chin
New York City Councilman Costa Constantinides
New York City Councilman Robert Cornegy
New York City Councilman Chaim Deutsch
New York City Councilman Daniel Dromm
New York City Councilman Rafael Espinal
New York City Councilman Barry Grodenchik
New York City Councilman Ben Kallos
New York City Councilman Andrew King
New York City Councilwoman Karen Koslowitz
New York City Councilman Rory Lancman
New York City Councilman Brad Lander
New York City Councilman Stephen Levin
New York City Councilman Mark Levine
New York City Councilman I. Daneek Miller
New York City Councilman Bill Perkins
New York City Councilman Keith Powers
New York City Councilman Antonio Reynoso
New York City Councilman Donovan Richards
New York City Councilwoman Carlina Rivera
New York City Councilman Ydanis Rodriguez
New York City Councilwoman Helen Rosenthal
New York City Councilman Rafael Salamanca
New York City Councilman Mark Treyger
New York City Councilman Paul Vallone
Albany Mayor Kathy Sheehan
Albany Chief City Auditor Susan Rizzo
Albany City Treasurer Darius Shahinfar
Albany Common Council President Corey Ellis
Buffalo Mayor Byron Brown
Buffalo Common Council President Darius Pridgen
Nassau County Executive Laura Curran
Nassau County Comptroller Jack Schnirman
Nassau County Legislator Siela Bynoe
Nassau County Legislator Debra Mule
Nassau County Legislator Delia DeRiggi-Whitton
Nassau County Legislator Ellen Birnbaum
North Hempstead Town Supervisor Judi Bosworth
Suffolk County Executive Steve Bellone
Rochester Mayor Lovely Warren
Monroe County Clerk Adam Bello
Monroe County Democratic Committee Chairwoman Jamie Romeo
Town of Irondequoit Supervisor David Seeley
Schenectady Mayor Gary McCarthy
Schenectady County Legislature Majority Leader Gary Hughes
Schenectady County Legislator Philip Fields
Schenectady County Legislator Richard Ruzzo
Schenectady County Legislator Rory Fluman
Schenectady City Council Majority Leader John Polimeni
Schenectady City Councilmember Marion Porterfield
Yonkers Mayor Mike Spano
White Plains Mayor Tom Roach
Westchester Legislator Catherine Parker
Westchester Legislator Benjamin Boykin
Westchester Legislator Alfreda Williams
Westchester Legislator Terry Clemens
Westchester Legislator Lyndon Williams
Westchester Legislator Christopher Johnson
Westchester Legislator Mike Kaplowitz
Mount Vernon City Council Speaker Lisa Copeland
New Rochelle Council Member Jared Rice
Organizations:
1199SEIU
32BJ SEIU
AFL-CIO (New York State)
Building and Construction Trades Council of Greater NY
CSA
CWA District One
CWA Local 1180
International Union of Operating Engineers 
DC 37
LiUNA-NY
New York State Nurses Association (NYSNA)
New York City and Vicinity District Council of Carpenters
New York State Iron Workers District Council
New York State United Teachers (NYSUT)
RWDSU
TWU Local 100
UAW Region 9
UFCW Local 2013
Unite Here Local 100
EMILY's List
Higher Heights
Kids PAC
Tenants PAC
Moms Demand Action Gun Sense Candidate Distinction
National Association of Social Workers - NYC
38th Assembly District Regular Democratic Club Part A
Anoroc Democratic Club
Ansonia Independent Democrats
Barack Obama Democratic Club
Bay Ridge Democrats
Ben Franklin Reform Democratic Club
Black Democrats of Westchester County
Brooklyn Young Democrats
Community Free Democrats
Douglas King Regular Democratic Club
Downtown Independent Democrats
Eleanor Roosevelt Democratic Club
Elmer H. Blackburne Regular Democratic Club
Fred Wilson Democratic Club
Gay & Lesbian Independent Democrats (GLID)
Geraldine A. Ferraro Democratic Club
Good Government Regular Democratic Club
Grand Street Democrats
Guy R. Brewer Democratic Club
Hell's Kitchen Democratic Club
Independent Neighborhood Democrats
Jefferson Democratic Club
Jim Owles Liberal Democratic Club
Kissena Democratic Club
Lambda Independent Democrats of Brooklyn
Lesbian and Gay Democratic Club of Queens
Lexington Democratic Club
Moynihan Democratic Club
Multicultural Democratic Club of Flushing
New Visions Democratic Club
Powhatan and Pocahontas Democratic Club
Samuel J. Tilden Democratic Club
Sojourner Truth Democratic Club
Stonewall Democratic Club of NYC
Taminent Regular Democratic Club
Thurgood Marshall Regular Democratic Club
United for Progress Democratic Club
United Democratic Organization
Village Independent Democrats
Zephyr Teachout
Public figures:
Democratic gubernatorial candidate Cynthia Nixon
State Sen. Liz Krueger
Assemblyman Phil Steck
Assemblyman Tom Abinanti
Alexandria Ocasio-Cortez, candidate for New York Congressional District 14
Jessica Ramos, candidate for state Senate
Alessandra Biaggi, candidate for state Senate
Rachel May, candidate for state Senate
Julie Goldberg, candidate for state Senate
Robert Jackson, candidate for state Senate
Jasi Robinson, candidate for state Senate
Julia Salazar, candidate for state Senate
Former state Sen. Terry Gipson
Rep. Ro Khanna (D-California)
Rep. John Sarbanes (D-Maryland)
Rep. Pramila Jayapal (D-Washington)
Zenaida Mendez, former president of NOW-NY
Heather Stewart, Empire State Indivisible
Roberta Kaplan, LGBT rights leader, legal powerhouse
Lawrence Lessig, Harvard Law Professor
Harvard University Professor Laurence H. Tribe
Ithaca Mayor Svante Myrick
New York City Councilman Jimmy Van Bramer
Joseph Stiglitz, Nobel laureate economist
New York City first lady Chirlane McCray
Shaun King, columnist and civil rights activist
Organizations:
People for Bernie
Central Brooklyn Independent Democrats
Dutchess County Young Democrats
East River Democratic Club
Four Freedoms Democrats
Three Parks Independent Democrats
Indivisible Brooklyn
Indivisible NY-24
Millennials for Revolution
Muslim Democratic Club of New York
New Kings Democrats
New York Communities for Change (NYCC)
New York Progressive Action Network (NYPAN)
NoIDC
North Brooklyn Progressives
Our Revolution
The Digital Left
The Nation
The New York Times
New York Daily News
The Progressive Change Campaign Committee
Indivisible Harlem
Make the Road Action
Citizens Union
 
Leecia Eve
Organizations:
Cattaraugus County Democratic Committee
Erie County Democrats
Wyoming County Democratic Committee
Arturo Schomburg Democratic Club
Queens Tribune
Albany Times Union
CWA Local 1168 (Buffalo)
 
Sean Patrick Maloney
New England Regional Council of Carpenters
LGBT Victory Fund
Correction: An earlier version of this story inadvertently left out the organizations endorsing Letitia James.
Powered By
NEXT STORY: Updated: Cuomo and Nixon are piling up endorsements