Andrew Cuomo
One year of New York aid to Puerto Rico
The state's support for the storm-battered territory, by the numbers.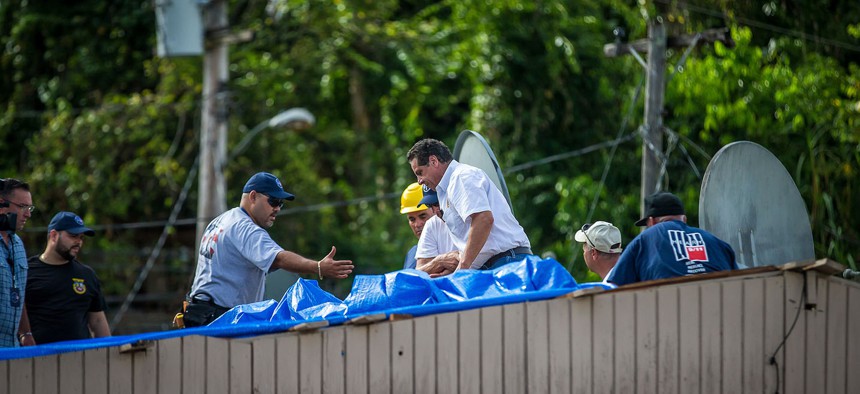 Over a million people living in New York state identify as Puerto Rican, so last year when Hurricane Maria tore through the U.S. territory, the devastation hit close to home. Shortly after, Gov. Andrew Cuomo launched the Empire State Relief and Recovery Effort to "put the full weight of New York's resources behind the Puerto Rican people."
Here's the support New York has provided to Puerto Rico since then, by the numbers.
4,400 pallets of supplies
The Cuomo administration's most immediate response was to ship pallets of relief supplies like food, water, personal hygiene items, first-aid kits, batteries and flashlights. Though initially a challenge, delivering the pallets became easier once President Donald Trump temporarily waived the Merchant Marine Act of 1920, also known as the Jones Act, and allowed for non-U.S. ships to transport the donations.
1,000 personnel
New York also deployed personnel to provide on-the-ground assistance with law enforcement, medical response and the rebuilding of houses and infrastructure. The New Yorkers helping in Puerto Rico included utility workers and power experts as well as members of the New York Army National Guard and New York State Police.
650 student volunteers
(who spent 41,000 hours restoring and rebuilding homes)
Over the summer, student volunteers from SUNY and CUNY spent 10 weeks renovating houses as part of the NY Stands with Puerto Rico Recovery and Rebuilding Initiative. They originally began with the goal of repairing 150 houses, but they left having restored 178. That summer, both universities also extended in-state tuition to students displaced by Hurricane Maria and Hurricane Irma.
$13 million
In June, Cuomo established funding to create new housing and employment opportunities for people who evacuated Puerto Rico and came to New York. The state Office of Temporary and Disability Assistance launched a $1 million program to get the evacuees into affordable housing and the state Department of Labor agreed to provide up to $10 million worth of job training and placement. In July, Cuomo announced that he was committing an additional $2 million to support nonprofits working with Hurricane Maria victims in New York City, Rochester and The Capital Region.
While New York has provided $13 million in aid and thousands of volunteers and supply packages, the island is nowhere close to being back to normal. A report Puerto Rico Gov. Ricardo Rosselló submitted to Congress concluded that Puerto Rico needs $139 billion to fully recover from Hurricane Maria.
Powered By
NEXT STORY: Chris Collins' office entryway campaign