New York City
Why Michael Bloomberg keeps helping Republicans
Bloomberg is a Democrat again, but he's still supporting GOP lawmakers in vulnerable districts.
Michael Bloomberg has been affiliated with both major political parties and at least one minor party, but his recent registration as a Democrat is fueling talk of a possible presidential bid in 2020. In an effort to help Democrats win control of the House of Representatives – and, presumably, to bolster his bona fides with the party's liberal base – the former New York City mayor is spending tens of millions of dollars to help Democratic congressional candidates. As the midterms near, however, Bloomberg has thrown his financial support behind two Republican incumbents in competitive congressional races.
This year, Bloomberg donated $5,400 to Rep. Dan Donovan's re-election campaign – the maximum amount for individual donors is $2,700 for each the primary and the general election. In June, he hosted a fundraiser for Rep. Peter King at his home in New York City, where co-hosts were asked to raise $10,000 for the congressman. Both King and Donovan are facing energetic Democratic challenges in potential swing districts.
At a time when both parties are pulled towards their extremes, and partisan affiliation has become more and more important to voters, Bloomberg's ongoing support for Republicans may have consequences in a potential Democratic presidential primary.
But Bloomberg's supporters say he should be given a pass by Democratic voters for his backing of King and Donovan, because it is an outgrowth of his work with them when he was mayor.
Although Bloomberg was registered as an independent until October – and he still opposes the left on some issues, such as bank regulation and aggressive policing – he is progressive on most social issues, including gun control, climate change, immigration and abortion rights. Helping King and Donovan, and by extension helping their party potentially retain control of the House of Representatives, is hardly an effective way of promoting those causes. Both congressmen are only slightly more moderate than the average Republican member of Congress, especially when taking their politically diverse districts into consideration. Both have sometimes embraced President Donald Trump, despite the nativism that has made Trump anathema to the cosmopolitan former mayor. Liberals might also note that a Democratic House majority would take certain measures to hold Trump accountable for alleged corruption and possible collusion with foreign powers, such as launching investigations and obtaining Trump's tax returns, which House Republicans have declined to do thus far.

Bloomberg's assistance to Donovan and King is a habit of longstanding and he has occasionally supported other mainstream or moderate Republicans in the past. Bloomberg also made a donation to Donovan for his 2016 campaign. In 2014, Bloomberg also donated to Susan Collins, the Republican senator from Maine, and in 2010, he donated to Richard Luger, the former Republican senator from Indiana.
Bloomberg also shares Donovan and King's more conservative instincts on certain issues, especially those pertaining to security. While he was mayor, and even since then, Bloomberg has clashed with liberal Democrats on policing, for example. While stop-and-frisk disproportionately affects black and brown men, Bloomberg remains steadfast in his support of the policy, crediting it with getting guns out of people's hands. Donovan, who served as Richmond County District Attorney before his election to Congress, came under fire after the death of Eric Garner in 2013 for failing to indict the cop who placed Garner in an illegal chokehold.
Donovan and Bloomberg's cooperation goes back to when Donovan served as chief of staff to Staten Island Borough President Guy Molinari and he helped Bloomberg navigate the Republican Party during his first campaign for mayor.
"When Dan Donovan was district attorney, he worked with us to get illegal guns off the streets, to fight drug abuse and to fight domestic violence," said Stu Loeser, Bloomberg's former press secretary. Loeser also noted that Donovan helped organize other district attorneys when Bloomberg started Mayors Against Illegal Guns.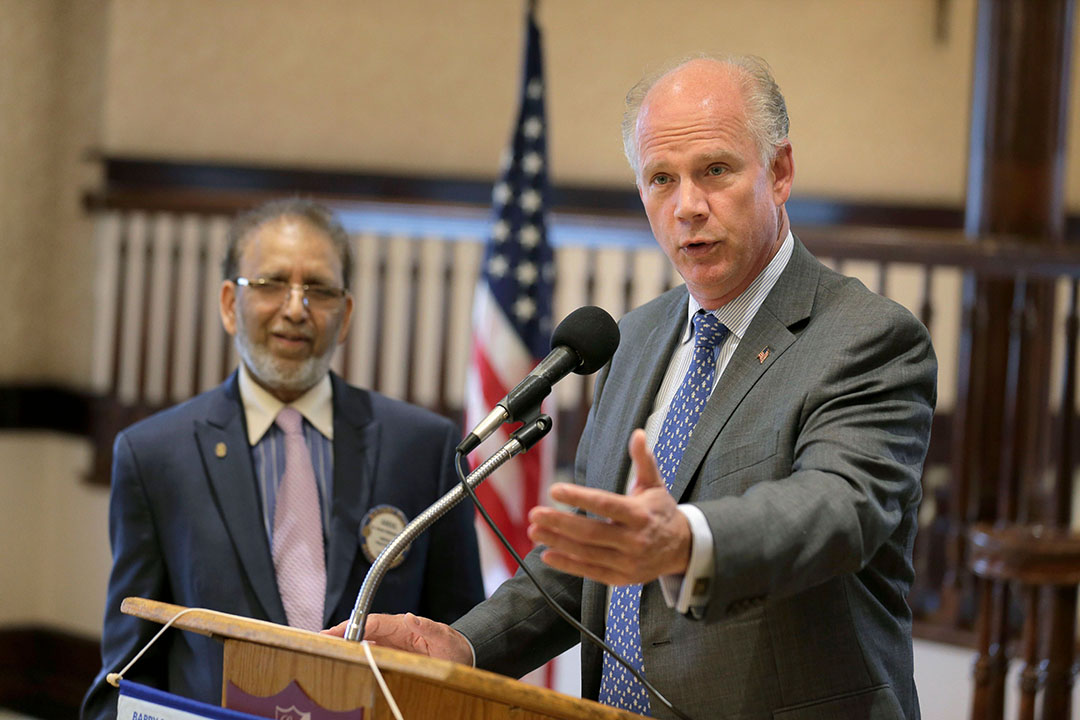 Bloomberg went on to endorse Donovan for state attorney general in 2010 and donate generously to that effort. Donovan's unsuccessful campaign that year was largely run by former top Bloomberg aides such as Bradley Tusk. "Look, some people might be upset, but the fact is, Michael Bloomberg is very loyal," said political consultant Hank Sheinkopf. "These are people he's had long-term relationships with, and why shouldn't they continue?"
King's ties to Bloomberg also reach far back. In 2010, King joined forces with the then-mayor of New York City and many Democrats in New York's congressional delegation to pass the James Zadroga 9/11 Health Bill, which lacked Republican support in Congress.
"These are people who stood by him when he brought the city back to life after 9/11," Sheinkopf said. "We didn't know if this city would survive as we knew it. Peter King was in Congress at the time, and he stood by the city and stood by the Bloomberg administration."
Bloomberg's supporters are quick to note the former mayor's sense of loyalty, even when it may harm his larger goals. "When he works closely with someone, Mike's really not going to turn his back on somebody, despite all of our efforts to put them in the minority," Loeser said.
Many Democratic voters won't necessarily appreciate his loyalty to members of his old party. Bloomberg's party affiliation has always been a thorny subject. He was a registered Democrat until 2001, when he switched to the Republican Party to run for mayor. He won a second term as a Republican in 2005, and he left the Republican Party in 2007, winning a third term in 2009 as an independent who was still the Republican nominee, as well as the candidate of the Independence Party. While Bloomberg spoke at the 2004 Republican National Convention in New York City, he stayed neutral in the 2008 presidential election and backed the Democrats in 2012 and 2016 – including giving a sharply anti-Trump speech at the 2016 Democratic convention.
So, while Bloomberg's connections to Donovan and King reach back to when he was a Republican, Bloomberg's actions on their behalf this year may raise more eyebrows – especially given the GOP's ongoing shift rightward, Bloomberg's more recent political activities and his potential future ambitions. "Donating to two of the seven Republicans running in flippable congressional seats is extremely problematic," said Monica Klein, spokeswoman for King's Democratic challenger, Liuba Grechen Shirley. "Liuba is running a grassroots campaign focused on low-dollar donors, so having someone give tens of thousands of dollars to her opponent – that could have a real negative effect."
Bill Lipton, New York state director of the Working Families Party, echoed the call for stronger resistance to the Republican Party but credited Bloomberg for what he's contributed to Democrats. "His support for Democrats, which is super-substantial, is really important and positive at this moment of crisis for our country," Lipton said. "I think that his support for the Republicans is a mistake."
Some suggest, however, that Bloomberg may not have much support to lose in the Democratic Party's liberal base anyway, and his strategy will be to appeal to moderates, including independents who can vote in many states' primaries and caucuses. "Do I think it will hurt him from the far-left Democrats? Possibly," said Betsy Gotbaum, former New York City public advocate. "But he might be hurt anyway by them because he's a wealthy center (politician)."
As Norman Siegel, former director of the New York Civil Liberties Union said, these donations will probably matter to some, not make a difference to others, and may actually help Bloomberg with moderates. "Because there's so much division between the Democrats and Republicans, it's possible for someone like Michael Bloomberg to make the case that we need to move away from the divisiveness of the Trump era," Siegel said. "He's someone who can, and has demonstrated, that he can work with people across the aisle."
But even some relatively moderate Democrats might wonder if backing Republicans who are diametrically opposed to Bloomberg and his new party's positions on major moral issues shows a lack of commitment to core Democratic values.
Take abortion, which could be outlawed by Congress if the Supreme Court overturns Roe v. Wade. Bloomberg has called the ability to terminate an unwanted pregnancy a fundamental right, while Donovan and King voted for a bill to make it a crime to perform an abortion after 20 weeks and they hold Planned Parenthood ratings of 7 percent and 0 percent out of 100, respectively.
Immigration is another topic on which Donovan and King have sided with their party's socially conservative wing. Both voted for a bill that would limit legal immigration and fund a border wall, while Bloomberg has said that Trump's stance on immigration is "insane" and noted that the country was built by immigrants.
Likewise, King and Donovan diverge from Bloomberg on climate change – the congressman voted to oppose a carbon tax and hold 16 and 17 percent scores from the League of Conservation Voters, respectively. Bloomberg, meanwhile, has made the environment a central issue and was named the UN Secretary-General's Special Envoy for Climate Action.
Bloomberg has been a harsh critic of Trump, but his favorite Republicans are more positive towards the self-described "nationalist" president. Donovan has carried the president's endorsement proudly this cycle. While King hasn't always been a constant Trump supporter and has pushed for transparency on the Russia probe, he's grown fonder of the president.
If Bloomberg runs for president, his camp will try to persuade Democrats that his assistance to Donovan and King says nothing about the sincerity of his opposing views to theirs, only his love for New York. "It's fair to say that Mike disagrees with a lot of both of these guys' views and disagrees with a lot of the votes they've taken, but he has always said he'll stand up for people who stand up for New York," Loeser said.
But for others, even including some Bloomberg allies, it might reinforce the impression of the former mayor as an opportunist rather than a committed liberal. "He's not going to like that I say this, but in many ways, he's like Donald Trump," King told The Atlanticwhen Bloomberg re-registered as a Democrat. "Donald Trump didn't really run as a Republican; he used the Republican Party to run. Mike's just using the Democrats to run."
Powered By
NEXT STORY: The largest donors to New York candidates