Andrew Cuomo
All the governor's Republicans
Cuomo's recent hiring of a former IDC staffer is not the first time he has hired someone from across the aisle.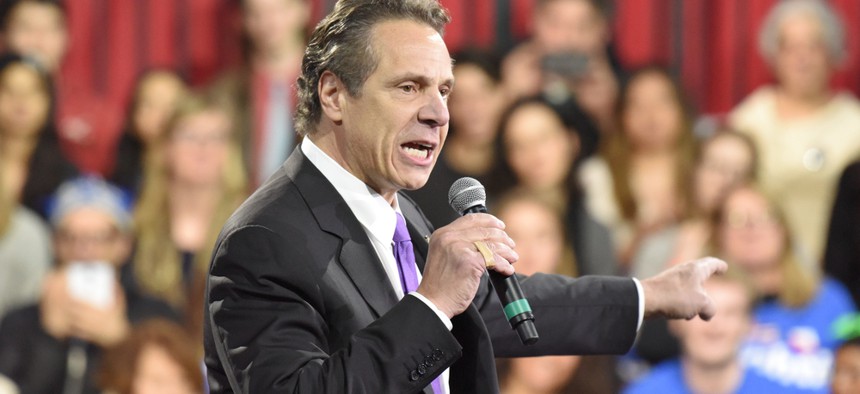 The Daily News recently reported that Gov. Andrew Cuomo had hired Dana Carotenuto Rico, the former chief of staff to the now-defunct Independent Democratic Conference, as deputy secretary for legislative affairs and policy. The choice is interesting, considering where another former top IDC staffer wound up: Candice Giove, the conference's former director of communications, now works for the state Senate Republican conference as deputy communications director.
Carotenuto Rico started out as a staffer for state Sen. Jeff Klein soon after she graduated college and rose through the ranks in his office. When Klein formed the IDC in 2009, she began working as the conference's policy director, and was soon promoted to chief of staff.
Cuomo's decision to hire someone who most recently worked for a conference that shared power with the Republicans until April may raise some eyebrows in his party, but it's hardly the first time he has hired someone from outside the mainline Democratic Party. In fact, several Republican staffers have made their way into the executive chamber over the years.
In 2017, Cuomo hired Maria Comella to be his chief of staff, a role she has since left. Before joining the Cuomo administration, she had worked for many Republican elected officials. Her most recent gig before joining Cuomo was as communications director for New Jersey Gov. Chris Christie, both in his capacity as governor and during his presidential campaign. Comella had also previously worked for Rudy Giuliani's presidential campaign, the 2004 presidential ticket of George W. Bush and Dick Cheney, and the 2002 gubernatorial campaign of George Pataki. Her hiring by Cuomo appears to be the first time Comella has worked for a Democrat, a decision that may have in part been tied to her decision to support Hillary Clinton over Donald Trump in the 2016 election.
Also in 2017, Cuomo hired Robert Gibbon as assistant counsel to the governor for transportation. Gibbon had previously worked as senior counsel to the Republican majority in the state Senate. His hiring was later one of several by the Cuomo administration that came under scrutiny by the FBI for questionable payrolling.
In 2016, Cuomo had brought Scott Sandman on board as the communication director at the state Office for People with Developmental Disabilities. Sandman had previously spent over a decade working in the administration of former Gov. Pataki, including as senior speechwriter. Prior to his tenure with Pataki, Sandman worked for a Republican state Sen. Michael Nozzolio. Sandman's stint in the Cuomo administration is absent from his LinkedIn profile.
Earlier the same year, Cuomo hired Kelly Cummings to be his deputy chief of staff and a senior adviser, a role she still serves in. Immediately before joining the Cuomo administration, Cummings had worked as the director of communications for the state Senate Republicans. She had also served the conference as director of policy development and previously worked for Republican state Sen. Charles Fuschillo.
Cuomo's budget czar Robert Mujica also comes from a Republican background, with a caveat. He worked as secretary to the state Senate Finance Committee for nearly 20 years, including the short-lived period of Democratic control in 2009 and 2010, and the role itself is not inherently partisan as the committee is made up of members from both sides the aisle. Mujica did, however, work as the deputy chief of staff for the Republican conference directly before Cuomo hired him in 2015, in addition to his role with the Finance Committee.
Additionally, Cuomo hired Susan Del Percio, a well-known Republican political strategist, as a special adviser in 2014. She left a year later to return to private consulting.
Of course, there is nothing wrong with bipartisanship. Cuomo came into office pledging to govern in a moderate and bipartisan manner and only recently has adopted a more partisan tone and progressive positioning in response to primary challenges from the left and the polarizing presidency of Donald Trump. But for the progressive activists in his party, many of whom distrust the governor and long suspected him of having privately blessed the IDC's alliance with the GOP, the ongoing presence of Republican and IDC staffers may reinforce the perception of Cuomo as a triangulating centrist.  
When asked about Carotenuto Rico and past Republican employees, Caitlin Girouard, a spokeswoman for Cuomo, told City & State the governor hires "the best and the brightest," adding it is the reason he has been successful in realizing a progressive agenda.
Nonetheless, Cuomo clearly has no qualms bringing on people who some in his party may object to, and Carotenuto Rico would simply be another face in a series of such staffers.
Clarification: Candice Giove's official title with the state Senate Republicans is deputy communications director.
Powered By
NEXT STORY: Grilling Amazon and sentencing corruption