Port Authority
Grilling Amazon and sentencing corruption
Rounding up the week's political news.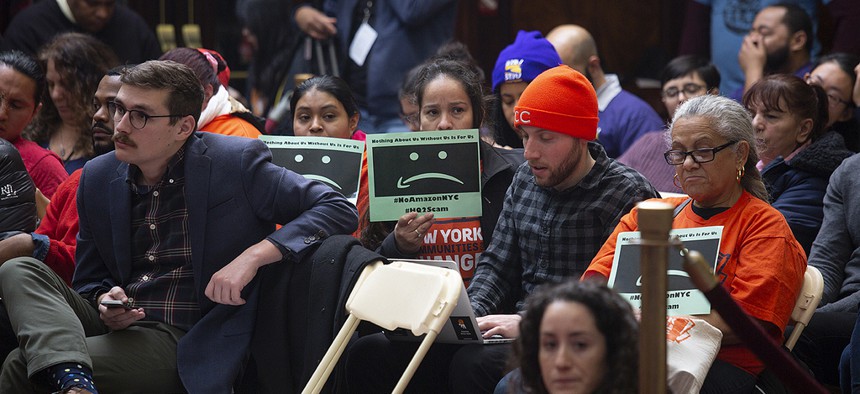 For the length of the holiday season, drivers will not enter New York City through the Holland Tunnel. Instead, they will find themselves passing through the Holla▲d Tonnel. For some unknown reason, the Port Authority of New York and New Jersey decided to affix two out of the three holiday decorations in the worst places possible. And people are pretty mad about it, with a viral campaign riling up the internet to get the decorations changed. In response, the Port Authority will allow the public to decide where the decorations will be hung.
Amazon feeling the heat
Amazon was in the hot seat Wednesday at a New York City Council hearing. Company executives endured several hours of City Council members airing their grievances about the terms of a secret agreement with the city and state as well as Amazon's broader business practices. Earlier in the week, workers at a Staten Island Amazon fulfillment center went public with a campaign to unionize, saying that the company treats them like robots. Although City Council members had plenty of ammunition already, they gained more when the city released its Amazon pitch documents, which included an offer to use eminent domain on behalf of the company.
Cohen, Kaloyeros sentenced
It was a banner week for corruption sentencings in New York. Michael Cohen, President Donald Trump's former lawyer, was sentenced to three years in prison for his role in for illegally buying the silence of two women during Trump's presidential campaign. During the sentencing, Cohen expressed relief to be free from Trump, saying he had felt it was his "duty to clean up his dirty deeds." In an unrelated federal corruption trial in Manhattan, a judge sentenced SUNY Polytechnic Institute founder Alain Kaloyeros to three and a half years in prison for helping orchestrate the Buffalo Billion bid-rigging scandal.
No sitting here
Jazmine Headley, the woman who had her baby ripped from her arms while being arrested at a New York City benefits office, had the charges against her dismissed and has been released from Rikers Island. Members of the New York City Council criticized Mayor Bill de Blasio for his response on the matter – it took him over a day after the video emerged to make a statement, and when he did, it was in the form of a tweet. It was not until Wednesday that de Blasio publicly spoke about Headley, apologizing for her treatment, but did not put any blame on the arresting NYPD officers.
MTA in the red
The Metropolitan Transportation Authority board passed its $17 billion budget despite the uncertainty remaining about a potential fare hike at a board vote in March. That leaves a $400 million revenue hole that depends on increasing fares and/or reducing costs – changes that are still up in the air. In addition, the board also projected a $1 billion deficit by 2022 without any changes to the status quo.
Powered By
NEXT STORY: City Hall: The movie