New York State
Cuomo's 2019 budget address, by the numbers
Breaking down Andrew Cuomo's 2019 budget address by what he wants to spend on education, health care, subways and more.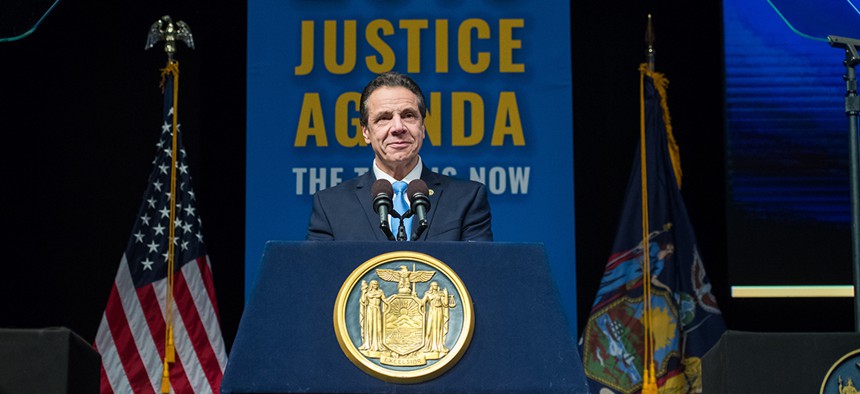 Gov. Andrew Cuomo snuck some flourishes into his combined State of the State and budget address – like a surprise quote highlighting Pope Francis' implied support for the Child Victims Act – but at its heart, the event was a budget wonk speaking in front of a PowerPoint. Here are some of the most consequential numbers from Tuesday's presentation.
$175.2 billion
The state budget's top line is edging ever upward (excelsior!) thanks to a thriving economy. It would be about a 2 percent increase from last year's budget, and is roughly on par with the national budget of the Kingdom of Denmark.
$3.1 billion
That's the state's budget gap, the difference between expected revenues and expenditures, which Cuomo attributed to federal policies. Last year's was even bigger at $4.4 billion, but the state managed to balance the budget by the time the budget passed. Still, fiscal watchdogs like the Citizens Budget Commission have routinely asked for a little more fiscal restraint from the executive.
50/50
Cuomo threw unequivocal support behind a congestion pricing plan that would use the estimated $15 billion in revenue raised by motorists entering Manhattan below 60th Street to fund upgrades to the city's busses and subways. But congestion pricing alone wouldn't be enough to fund the subways, he said, and proposed a 50/50 split for the remainder between the state and New York City. Subway funding has been an ongoing fight between Cuomo and New York City Mayor Bill de Blasio, but the mayor has signalled he'll be more receptive this year.
$27.7 billion
The total education spending in the budget, an increase of $1 billion from last year's budget. Cuomo continued to place the blame on longstanding inequities on local school districts, saying that even though the state gave 70 percent of education funding to poorer districts, "the districts didn't distribute the aid equitably to the poorer schools." He proposed a law to ensure the poorest schools get adequate funding.
Three years
Cuomo is doing a favor to de Blasio, his political enemy, by supporting an extension of mayoral control of New York City schools for three years. Extension had been an annual headache for de Blasio, despite widespread agreement that the current system is preferable to any alternatives.
3.6 percent
That's the governor's proposed increase in health care spending, which is typically one of the most expensive budget lines. He called for the state Legislature to codify provisions of the federal Affordable Care Act into state law, but didn't propose a single-payer health care system in the state at all, despite the hopes of its supporters.
$300 million
The governor released details for his long-awaited plan to legalize recreational cannabis use, estimating that it would bring in $300 million in taxes – but only after a years-long ramp up. Cuomo framed it both as a criminal justice issue, saying he wanted to "stop the disproportionate impact on communities of color," and an economic issue, saying legalization would need to create economic opportunities for "poor people and those who paid the price, and not for rich corporations who will come in to make a buck."
2 percent
Cuomo also called for making permanent the state's 2 percent cap on increases in property taxes, an issue that won him support from upstate New Yorkers and Republicans earlier in his tenure. With Democrats controlling both houses of the Legislature, it's red meat for suburbanites, who face some of the highest property bills in the nation. Notably, state Senate Majority Leader Andrea Stewart-Cousins, a Democrat who represents a district in Westchester County, has also supported the proposal, which could bolster members of her conference outside of New York City. 
10 days
Cuomo called New York "a leader on gun safety" but proposed even stricter laws. One would extend the waiting period on firearm purchases from three days to 10. And the "red flag law" would allow doctors to issue temporary "extreme risk protection orders" barring those with a high risk of violence from possessing guns. Cuomo's brief bus tour last summer wasn't enough to pass it into law.
3.9 percent
The statewide unemployment rate, down from a modern high of 8.9 percent in 2009. Cuomo cited it as part of a long-list of accomplishments from his first two terms, adding that "we matched that agenda for social progress with economic progress."