Andrew Cuomo
Takeaways from Gov. Andrew Cuomo's 2019 inaugural address
Gov. Andrew Cuomo gave his inaugural address on Ellis Island on Tuesday evening. Here are four takeaways from the speech, including the governor's focus on the president, his own prospects of running for president, and – of course – his latest video presentation.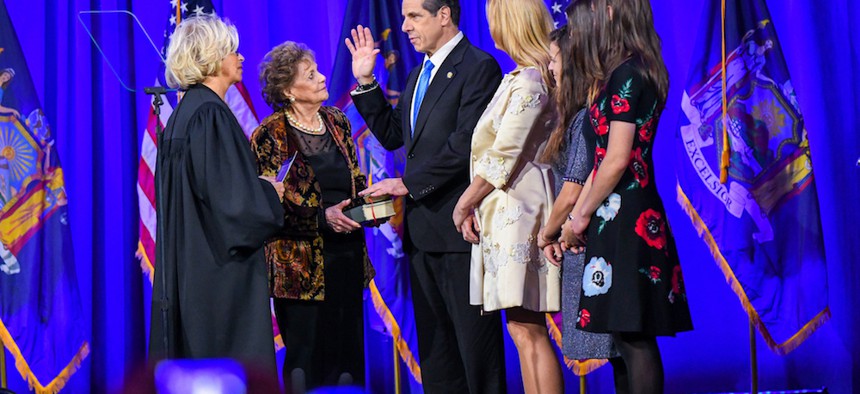 For his third inauguration, Gov. Andrew Cuomo did not choose a simple ceremony at the state Capitol, like he did in 2011, or the steel and glass of One World Trade Center, where he was sworn in for a second term four years later. This time around, Cuomo opted for Ellis Island – one of the most iconic symbols of American multiculturalism.
Invoking the history of the famous immigration center, Cuomo presented himself on Jan. 1 as a can-do, progressive champion against President Donald Trump at a time when the national government is partially shut down over funding for a wall on the southern border. While Cuomo did not mention the president by name in a 30-minute speech on Jan. 1, he made it clear who he thought was the primary driver of a "great social depression" sweeping across the country.
"America's only threat is from within," Cuomo said. "It is the growing division amongst us."
The three-term governor – who spoke after Attorney General Letitia James, Lt. Gov. Kathy Hochul and state Comptroller Tom DiNapoli were also sworn in – made his inaugural speech more about national rather than state issues, especially in how it relates to Trump. Whether Cuomo honors a campaign pledge to not run for president in 2020, his willingness to make good on the "most progressive agenda this state has ever seen, period" could determine not only his own future political fortunes but also the success of the state Democratic Party, which now has its strongest hold on state government in decades.
Here are some takeaways from Cuomo's address.
It was all about Trump except in name.
Cuomo made passing mention of hot-button state issues including bail reform, marijuana legalization, abortion rights and gun control, but his speech focused on the national zeitgeist rather than policy nuances. Anti-Semitism, nativism and bigotry are on the rise, Cuomo said. "It may surprise you but I don't fault our federal government for causing the underlying fear and frustration." he said. "But I fault them for something worse – for a failure of leadership and government malfeasance. For manipulating and using the fear and deepening the divisions for their own political purpose."
Cuomo was not alone in presenting himself as a counterbalance to the federal government. James – who became the first African-American New York state attorney general and the first woman elected to the post – also hinted at who she saw as the source of growing intolerance without explicitly naming Trump. "The rights and dignities of everyday people are being trampled by the most powerful among us," James said.
While she made opposition to Trump a part of her winning campaign for attorney general, she could be limited in how she acts upon it, especially following concerns that pursuing a "personal vendetta" against the president could influence the outcome of numerous lawsuits against him. While Cuomo does not face such a limit, he limited his mention of the name "Trump" by noting in his speech, with just a hint of irony, that a German migrant named Friedrich Trump could not have possibly imagined when he passed through Ellis Island that his new country would one day elect his a grandson as president. The mention of Trump's nationality could also be interpreted as a minor dig at the president, who has incorrectly asserted in the past that Friedrich Trump came from Sweden.
The venue choice could not have worked out better for Cuomo.
When Cuomo announced on Dec. 4 that Ellis Island would be the site of his third inauguration, it was obvious that the choice was aimed at contrasting himself with Trump with a power symbol of immigrants' contributions to the country. What Cuomo did not know then was that by the end of the month, Trump's nativism would once again move to the forefront of national politics after his demands for border wall funding led to a shutdown of a quarter of the federal government. The affected agencies included the U.S. Department of the Interior, which oversees Ellis Island through the National Park Service. Cuomo stepped in to broker a deal with the Park Service to use state funding to keep Ellis Island and the Statue of Liberty open during the shutdown. Cuomo then brought up this deal as he began his speech. The setting was an ideal place to invoke American ideals of Democratic inclusion and Cuomo used it for all "this hallowed Great Hall" was worth in the speech. "Ellis Island is real and true and the promise made here lives," he said. But tucked beneath the idealism was the pragmatism that has defined much of Cuomo's tenure as governor. "New Yorkers are smart. They know there is no magic wand," he said. "My father used to say, 'We don't need ideas that sound good, but rather ideas that are good and sound.'"
Cuomo lets the video do the talking
Seven giant screens came alive with Cuomo's words before he ever took the stage on Jan. 1. Whether it was Rep. Nita Lowey, former New York City Mayor David Dinkins, former Rep. Charlie Rangel, or his own father former Gov. Mario Cuomo, the suggestion was clear: Andrew Cuomo has not changed over the last 20 years. The video was vintage Cuomo, with clips showing him speaking on issues such as homelessness, criminal justice reform and more recent efforts to provide free college tuition for the middle class. Whether it was as the U.S. secretary of housing and urban development, state attorney general or governor, Cuomo has taken on the big issues even they were not easy or popular – or so the video would have you believe.
Whether or not all of its claims were true, the six-minute video offered a glimpse of Cuomo as he would like to be seen in 2019: a progressive champion who will do what it takes to promote social and economic equality. For a governor who came into office eight years ago by promoting an image as a fiscally-minded centrist, the change was dramatic – though the video would suggest otherwise.
Cuomo for president?
Despite ongoing speculation about his 2020 plans, Cuomo has appeared to paint himself in a corner politically. He vowed during his reelection campaign that only death itself would stop him from finishing his third term as governor. But he is not the first politician to promise he would not run for president and would likely have some political cover if he violated his vow – especially if fellow New Yorker Sen. Kirsten Gillibrand ultimately throws her hat in the ring. At age 61, Cuomo is a little older than his father was when he entertained a run for president. The potential candidacies of U.S. Sen. Bernie Sanders and former Vice President Joe Biden suggest that there is more acceptance now of older people running for president, compared to the past. Even if he does not run in 2020, Andrew Cuomo could have another opportunity to run for president after his third term as governor.
The upcoming Democratic primary is wide open and more than a dozen candidates could enter the race. Donald Trump could still make a formidable opponent considering that he has raised more than $100 million for his reelection, assuming that he weathers numerous ongoing scandals and investigations. Cuomo demonstrated in his own reelection how a politician can leverage a large war chest to overcome political scandal to win another term. If the Democratic primary begins to look too tough, Cuomo might decide that it's not worth the trouble if he could run at a more opportune time.
Cuomo might have promised last year that he would not run for president in 2020, but he has never said that he categorically would not pursue higher office. The Democratic field might be less competitive in later elections – especially if Cuomo is able to distance himself from the Buffalo Billion and Crystal Run scandals from 2018. A successful third term as governor could be what he would need to make that happen.
Powered By
NEXT STORY: New York political predictions for 2019