New York City
Fact-checking the NYC public advocate debate
Fact-checking the NYC public advocate debate, including assertions by Jumaane Williams, Melissa Mark-Viverito, Nomiki Konst and others.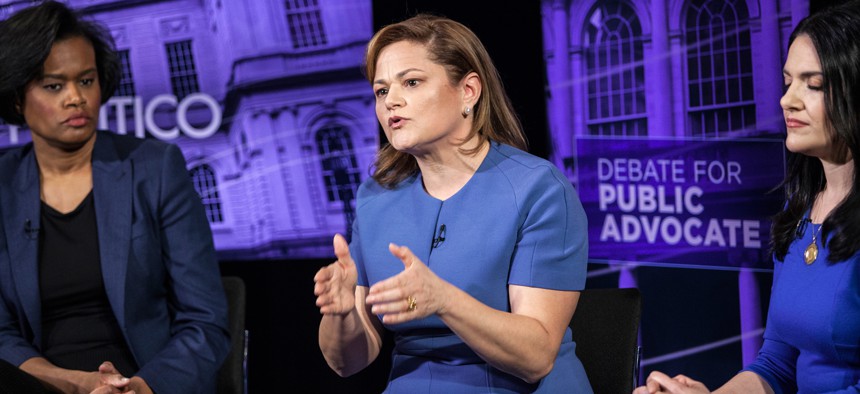 A crowded field of candidates for New York City public advocate launched an array of attacks and counter-attacks during the first official debate on Wednesday, some of which were true and some of which were misleading.
To hold the candidates accountable, we fact-checked some of the claims – several of them targeting New York City Councilman Jumaane Williams and former Council Speaker Melissa Mark-Viverito, two of the frontrunners in the race. Here's what we found.
Claim: Jumaane Williams has been opposed to "marriage equality."

Debate response: Williams did not directly respond to nor deny this assertion, which came from Assemblyman Michael Blake. Williams' answer focused on another part of Blake's question regarding his stance on abortion.
Fact check: When Williams ran for council speaker in 2013, his personal belief that marriage should be "between a man and a woman" was among the socially conservative positions he held at the time. "I personally believe the definition of marriage is between a male and a female, but that has nothing to do with my belief that government has to recognize everybody's relationships as equal," Williams told Politico in 2013.
In October 2017, when running for the same position, he expressed an evolution on this stance – on abortion and gay marriage – in a letter to his City Council colleagues. "Let me be as clear as I can. I support marriage equality for our brothers and sisters in the LGBTQIA communities. I support a woman's right to have access to a safe, legal abortion," Williams said in the letter.
Williams abstained in 2014 from a vote on a bill that would allow New York's transgender residents to change the sex listed on their birth certificate. However, this doesn't directly relate to the issue of whether Williams supports same-sex marriage. Williams has since apologized for declining to vote, citing his lack of "due diligence" on the substance of the bill at the time.
Claim: Jumaane Williams has opposed a "woman's right to choose."

Debate response: Williams said he never voted against a woman's right to abortion. "I can say fervently that I have been consistent, not only in supporting a woman's right to access safe and legal abortion, but fighting for it," Williams said during the debate in response to a question from former City Council Speaker Melissa Mark-Viverito. "Any time this has come up in the City Council, I've always stood with women."
Responding to a similar question from Assemblyman Michael Blake, Williams said, "The fact of the matter is that I was not opposed to a woman's right to access safe and legal abortions, and no where can (anyone) point to where it says that I was."
Williams' camp circulated a fact-sheet following the debate detailing the councilman's record on "women and gender," including his efforts to fight gender-based discrimination in the workplace and domestic violence. The sheet also cites his 100 percent Planned Parenthood of New York City Action Fund rating.
Fact check: Despite Williams' consistent advocacy for women's issues, in the past he has declined to unequivocally state his support for abortion rights. In 2013, Williams told Politico, "You have to check off a box of pro-choice and you have to check off a box of pro-life and I don't know that I'm comfortable in any of those boxes. I am personally not in favor of abortion."
Williams expressed a different view in 2017, in the same letter to his colleagues about his evolution on same-sex marriage. "Let me be as clear as I can," he wrote. "I support marriage equality for our brothers and sisters in the LGBTQIA communities. I support a woman's right to have access to a safe, legal abortion."
Claim: Jumaane Williams' campaign has been a "sanctuary for men who are predators."

Debate response: Williams didn't directly respond to this accusation from Mark-Viverito during the debate. Instead, he spoke about his long-time support of women's rights. (His fact-sheet concerning his record on "women and gender" is, presumably, a response to this as well.)
Fact check: Mark-Viverito's statement refers to three cases of alleged misconduct related to men who have worked on, or publicly endorsed, Williams' campaign.
Tatek Ewart, treasurer for Williams 2009 and 2013 City Council campaigns, was fined $5,000 and "targeted for firing" by the Department of Education for allegations that he sent inappropriate poems to a high school student, according to the Daily News. Ewart said he never told Williams about the fine. However, he reportedly stayed on Williams' staff for several months after it was reported by at least three news outlets.
Williams removed state Sen. Kevin Parker, who represents a Brooklyn district, from his campaign co-chair after he tweeted "Kill yourself!" at a female Senate staffer. Parker has faced assault charges and other accusations of violence prior to this incident. In 2009, he was found guilty of a misdemeanor after damaging the camera of a newspaper photographer. The controversial senator remains on Williams' list of endorsements on his campaign website.
Bronx Councilman Andy King faced an ethics inquiry in 2017 after a female staffer accused him of making inappropriate comments to her. In 2015, a former City Council staffer accused King of sexual harassment and retaliation, claiming she was fired after she rebuffed his advances. King was found to have broken the council's anti-harassment rules. King is also listed on Williams' page of endorsements on his campaign website, but has never worked on the campaign in an official capacity.
Claim: NYCHA is a "creature of the state."

Debate response: Former Council Speaker Melissa Mark-Viverito suggested that the state Legislature has more of a say over the troubled New York City Housing Authority than the New York City Council, which she led for four years. She argued that Assemblyman Michael Blake should do something since the state has authority over NYCHA.
"Both the MTA and NYCHA are creatures of the state and I have not seen leadership from those state legislators on this platform," she said. In a comment directed at Blake, she added, "What has the state done? You have authority over NYCHA. What have you done? You don't have anything."
Fact check: The state has been historically left out of NYCHA conversations, including the agreement reached on Jan. 31 between the federal government and the city intended to correct years of NYCHA mismanagement. Though some elected officials have been calling for the state to take more responsibility, it's the mayor who appoints the board's seven members. Former City Councilman Ken Fisher, now an attorney at Cozen O'Connor, said Mark-Viverito is correct from a legal point of view, but not from a practical one. From another perspective, the federal government plays more of a role than the city or the state. "It's he who has the gold who makes the rule," Fisher said. "In this case it's HUD and Congress, not the City Council or the state Legislature."
Claim: Jumaane Williams takes real estate money.

Debate response: Candidate Nomiki Konst took aim at City Councilman Jumaane Williams, asserting that he was being hypocritical on housing issues. "We've had an entire City Council here, including Councilman Williams here who says he's a tenants' rights activist who took thousands of dollars from the biggest pay-to-play real estate developer, the Ratner family … after pledging not to and has still not given it back. Who's continuing to take real estate money in this race after pledging not to."
Williams replied: "Every single person on this stage has received money from someone associated with real estate. That's just the truth."
Konst shot back: "That's not true, not at all. Fact check it."
Fact check: Williams agreed last year to a New York Communities for Change pledge not to take money from real estate PACs, principals or landlords, while also promising to return $35,000 in illegal corporate campaign contributions he'd taken. But his publicly available campaign filings through late October showed that he had not actually returned $15,000 of the over-the-limit contributions. Last fall, Williams also accepted donations from well-connected real estate giant Forest City Ratner and two family members of Bruce Ratner. A press release on his website posted late last month states that he did return more than $2,250 in contributions to real estate interests that violated NYCC's pledge.
According to the New York City Campaign Finance Board, Williams has accepted contributions from a number of individuals who work in real estate throughout the election cycle for public advocate - though these donations are different from the major New York City-based developers targeted in the pledge. At the same time, Konst's insistence that she has never accepted any real estate money is technically untrue, according to New York City Campaign Finance Board records that show that Konst has accepted money from individuals who work in the real estate industry.
Claim: Melissa Mark-Viverito cut funding to the Center for Puerto Rican Studies.

Debate response: New York City Councilman Ydanis Rodriguez noted that former Council Speaker Melissa Mark-Viverito's last budget as speaker cut funding to the City University of New York's Center for Puerto Rican Studies, known as "Centro." Mark-Viverito said it was about "more equitable distribution of funds," and the decrease to Centro allowed the City Council to better fund institutes for Mexican and Haitian studies.
Fact check: Centro had received nearly $1 million in city funds from the fiscal year 2015, 2016 and 2017 budgets. But as the New York Post first reported, Centro received just $500,000 the year after its director Edwin Melendez refused to support controversial Mark-Viverito ally Oscar López Rivera being honored in the annual Puerto Rican Day Parade. Mark-Viverito, who was born and raised in Puerto Rico, has responded before that any personal disagreements with Melendez "had nothing to do with" the decrease in funding. But she left out the fact that, unlike Centro, CUNY's Dominican Studies Institute didn't see its budget cut in 2018.
Claim: The entrance exam for the city's elite high schools favors wealthy families.

Debate response: Mayor Bill de Blasio has called for eliminating the Specialized High School Admissions Test, which is used to determine which students get attend one of the city's elite public high schools. Nomiki Konst said she is opposed to the exam, known as the SHSAT. "There's been a lot of research on who does well on these tests, and the truth is this is a socioeconomic problem. Families who have more resources usually, unfortunately, do better on these tests, because it requires a tremendous amount of preparation," Konst said, adding: "It favors families who have means."
Yet a debate moderator said, "I think that that's not technically true."
Fact check: The Konst campaign defended the candidate's assertion, saying that she "stands firmly behind her statement at last night's debate that financial resources and parent's wealth is a strong factor in determining how students perform on standardized tests."
It is true that research has found a correlation between SAT scores and family income – a point that has been made more broadly by education advocates like Diane Ravitch, who wrote in 2016 that standardized tests "are best at measuring family income. Well-off students usually score in the top half of results; students from poor homes usually score in the bottom."
A recent New York Times analysis of the city's elite high schools found that middle schools "with the highest numbers of offers are mostly in some of New York's wealthiest neighborhoods, like the Upper West Side in Manhattan and Park Slope in Brooklyn." And the New York City Department of Education noted that the percentage of students in poverty at the specialized high schools is lower than the percentage of students in poverty citywide.
However, there appears to be no definitive evidence that students from wealthier families do better on the SHSAT, if only for the fact that such numbers have not been calculated. "I question the assertion about the test results reflecting a socioeconomic problem given the results of the test," Larry Cary, the board president of the Brooklyn Tech Alumni Foundation and a vocal defender of the SHSAT exam, said in an email. "I don't believe we have information about the poverty level of applicants and who scores high enough to get an offer, but we do have data about the poverty levels of students who accept the offer of admission. While the poverty rate of the students attending the specialized schools is lower than the overall poverty rate of NYC the fact remains that 50 percent of the students qualify for free and subsidized lunch, which is substantial and belies the notion that rich kids get in and poor kids do not."
Claim: Melissa Mark-Viverito wanted Amazon to come to New York City.

Debate response: A debate moderator noted that then-Council Speaker Melissa Mark-Viverito signed onto a letter in the fall of 2017 urging Amazon to site a second headquarters in New York City. Like several other candidates in the debate, Mark-Viverito blasted Amazon's secret negotiations, efforts by Gov. Andrew Cuomo and Mayor Bill de Blasio to avoid the standard land use review process and the multibillion-dollar subsidies offered to the company – but she went a step further in saying that she "doesn't think Amazon should be here."
So why did she sign the letter if she doesn't actually want Amazon to come?
"The letter is because it would have gone through public review and the local communities and the local council member and the local elected would have had an opportunity to weigh in," Mark-Viverito said. "We could have had public hearings, we could have exposed everything regarding Amazon, the people could have made the decision, and the local council member, who we know is opposed to the project as it stands, would have probably gone against it."
Fact check: In the now-infamous letter to Amazon Chairman and CEO Jeff Bezos, Mark-Viverito joined a large contingent of New York City elected officials who wrote, "We, as a united body of elected officials, urge Amazon to make New York City the home of its second corporate headquarters." Mark-Viverito's stance is inconsistent, meaning she either has changed her mind or she is contradicting herself.
Powered By
NEXT STORY: What to know about NYC's $92.2 billion budget