New York State
Five takeaways from Albany's sexual harassment hearing
State lawmakers question the federal and state standards in place.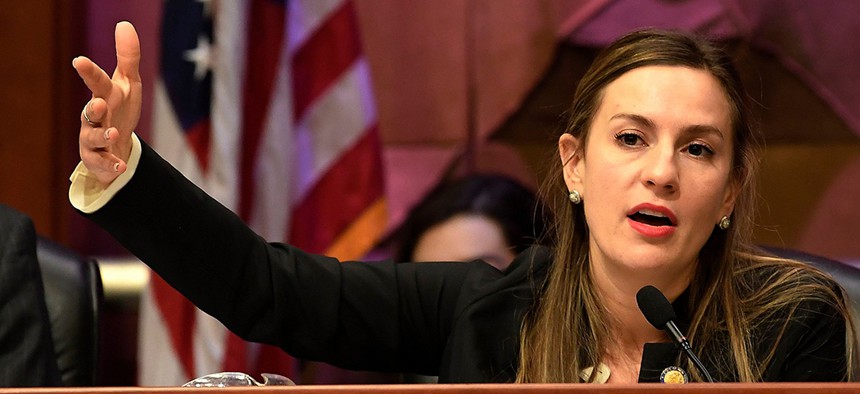 For the first time in over a quarter century, the state Legislature held a joint hearing on sexual harassment in the workplace. State lawmakers from both houses heard testimony on Wednesday from state Labor Commissioner Roberta Reardon and Kevin Barry, the New York district director of EEOC, followed by several women who described personal experiences of being subjected to sexual harassment in Albany. With dozens of speakers lined up to testify, the hours-long hearing continued late into the evening on Wednesday.
"What is the goal? It's simple. Every New Yorker should be able to go to work without fear of being mistreated or harassed on the job," state Sen. Alessandra Biaggi, who presided over the hearing, said early on. "And if they are subjected to harassment, every New Yorker should know how and to whom to report and be confident their allegations will be treated seriously, effectively, and promptly."
Here are five takeaways from Wednesday's historic hearing.
---
How long has it been since state lawmakers held such a hearing?
The last time the New York legislature hearing on sexual harassment in the workplace was 1992 – when Biaggi was six years old.
1992: Albany's last public hearing on sex harassment

2001: Assembly speaker defends an aide from rape accusations (he later will plead guilty)

2018: a woman accuses a state senator of assault

Tomorrow: a new hearing

How Albany has and hasn't changed:https://t.co/kfv9yzyw6u

— Vivian Wang (@vwang3) February 12, 2019
On Wednesday, the first-term state senator opened the hearing and welcomed the difficult discussion of sexual harassment in the workplace, including in Albany. One broader factor behind the Legislature holding a hearing on sexual harassment is the increasing attention on misconduct driven by the #MeToo movement. Another factor is the rise of state Senate Majority Leader Andrea Stewart-Cousins, the first women to lead a majority conference in the state Capitol. She came into the leadership position pledging to hold a hearing on the matter – and the Assembly joined in as well. The Sexual Harassment Working Group – the seven former state legislative staffers who brought allegations against several lawmakers and another state official – had also campaigned for such a hearing. Another champion of the effort said that the hearing was just the start.
Legislative hearing on sexual harassment about to start -- finally. As has rightly been said, this is not the culmination, it is only the beginning. Watch live here: https://t.co/PLAZ9vYCpk

— Senator Liz Krueger (@LizKrueger) February 13, 2019
---
Stories of survival
By far the most compelling testimonies came from members of the Sexual Harassment Working Group, the group formed in March of 2018 and made up of former staffers who say their claims of misconduct were mishandled.
"I was never in a position where I felt like I could turn down his (advances)," Chloe Rivera said in her testimony, referring to former Assemblyman Vito Lopez, who was her boss at the time. "I was stuck in what felt like an endless cycle of sexual harassment."
Elizabeth Crothers, another member of the Sexual Harassment Working Group, recounted the Assembly's response to her allegation of rape against Michael Boxley, who was a top staffer to then-Assembly Speaker Sheldon Silver.
"We are delusional if we think an institution lacking to protect its own workers is worth protecting," Crothers said. Crothers accused Boxley of a sexual assault in 2001, and the Assembly investigated but made no conclusion in the case.
Wed' s hearing is18 yrs ago *to the day* that fmr Spkr Silver publicly defended his Chief Counsel who assaulted me. Now, a public hrg; until this past yr, I didn't think it possible. Thank you to fellow Sexual Harassment Wrkg Grp members. @ZephyrTeachout #harassmentfreealbany https://t.co/qVaSsWOiOq

— Elizabeth Crothers (@ElizaCrothers4) February 11, 2019
Assemblywoman Michele Titus, who co-chaired the hearing as chair of the Governmental Operations Committee, asked that the women keep anonymous the names of the lawmakers – a request they did not comply with.
Despite Titus' initial request that survivors omit the names of their harassers, the Sexual Harassment Working Group is not editing their testimony to protect them

— Alexis Grenell (@agrenell) February 13, 2019
---
What is the current legal standard in defining sexual harassment?
At the federal level, the U.S. Equal Employment Opportunity Commission states that the law does not necessarily prohibit isolated incidents, such as unwanted sexual advances or verbal or physical harassment of a sexual nature.
"Although the law doesn't prohibit simple teasing, offhand comments, or isolated incidents that are not very serious, harassment is illegal when it is so frequent or severe that it creates a hostile or offensive work environment or when it results in an adverse employment decision (such as the victim being fired or demoted)," the EEOC states on its website.
The EEOC also states that harassment becomes unlawful when the conduct is "severe or pervasive enough" that a reasonable person finds it hostile, intimidating, or offensive.
The EEOC also does a credibility assessment when alleged victims come forward. When questioned about the EEOC's role during the hearing, New York District Director Kevin Berry said, "If there's no evidence to support it, there's nothing we can do" – which spurred frustrated responses from several observers.
In response to Senator @jessicaramos' questions regarding sexual harassment claims that may not meet the "pervasive" standard for claims, NY's @USEEOC Director testified: "There's nothing we can do."

I disagree. We need to change the standard to allow more victims to report.

— Julia Salazar (@JuliaCarmel__) February 13, 2019
The application of the "severe or pervasive" standard means judges are left to decide if 1 or more instances of groping, grinding, or nonconsensual kiss may meet the standard. She quotes a recent case which said "a hand on the thigh, a pinch on the buttocks" may not suffice.

— Harassment Free Albany (@harassment_free) February 13, 2019
At the state level, New York's Department of Labor requires every employer to have a sexual harassment prevent policy in place and suggests a model policy for employers to follow. They have also created a minimum standard for employers, including providing complaint forms and adopting a procedure for a timely and confidential investigation. The minimum standards also outline protections for employees against retaliation after lodging a complaint.
Isn't there a hotline to report sexual harassment?
Assemblyman Charles Lavine suggested to Reardon during her testimony that employees should have a hotline or helpline that makes it easier to file a complaint. Currently, the state Department of Labor only offers a list of "where to find support." But the website does not tell the victim which department is best for any particular situation.
Efforts to make it easier to submit a complaint could increase the number of victims reporting incidents of sexual harassment. "According to the Equal Employment Opportunity Commission, the EEOC, between 87 and 94 percent of sexual harassment victims do not file complaints," Biaggi said in her written opening statement. "For those who do come forward, it takes tremendous courage and tremendous bravery and it is because of those actions that we are even here today."
---
Reaction around the state
"I am very proud that New York is the most aggressive state in the country on women's rights," Gov. Andrew Cuomo said at an unrelated press conference on Wednesday. "Anything else we can do on sexual harassment we will do. I am very eager to sign any legislation that furthers that cause."
Former gubernatorial candidate and "Sex and the City" actress Cynthia Nixon took a jab at all-male leadership in the state that explored the issue last year – a dynamic that has shifted with the elevation of Stewart-Cousins to the role of Senate majority leader.
Last year, sexual harassment policy was being made by 4 men in a room, including one acused of sexual assault.

Today brave survivors are leading and defining policy in hearings led by a survivor. #HarassementFreeNY https://t.co/3VljtinIUv

— Cynthia Nixon (@CynthiaNixon) February 13, 2019
Former New York City Council Speaker Melissa Mark-Viverito, who is one of the leading candidates for public advocate candidate who has recounted her own experience as a survivor of sexual abuse, tweeted, "Enough is enough."
As a survivor, I applaud the lawmakers and activists who made today's hearing on sexual harassment in Albany happen. It's 2019. Enough is enough. We deserve better in our workplaces, schools, and government! #HarassmentFreeNY #HarassmentFreeAlbany

— Melissa Mark-Viverito (@MMViverito) February 13, 2019
Correction: An earlier version of this post incorrectly stated that Michael Boxley was a top staffer to Assembly Speaker Carl Heastie. Boxley served under then-Assembly Speaker Sheldon Silver.