New York State
Making sense of the legislative pecking order
Here's what you need to know about the multiple legislative positions in New York.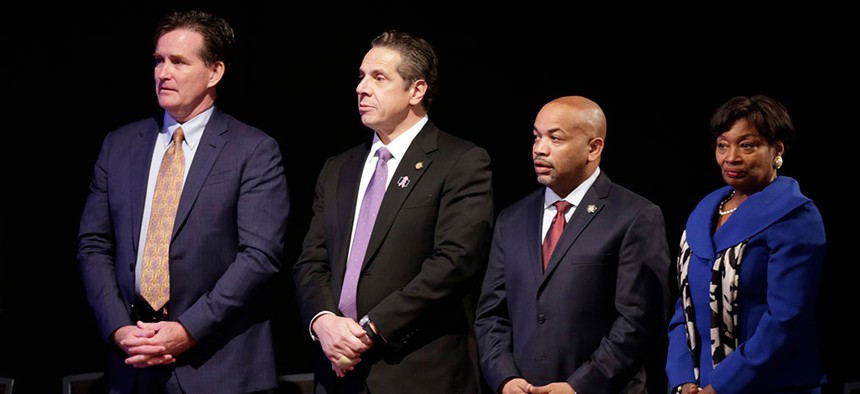 Three people matter the most in New York state politics: Gov. Andrew Cuomo, Assembly Speaker Carl Heastie and state Senate Majority Leader Andrea Stewart-Cousins. Collectively, they lead two out of the three branches of state government and have more influence than anyone else on what bills pass in Albany and what is – and is not – included in the state budget.
However, there is a key difference between the governor and the legislative leaders. While the governor is the undisputed leader of his branch once he is elected by voters, Heastie and Stewart-Cousins have two constituencies to worry about. There are the people in their respective districts of course, but they also must contend with the priorities of the 144 other Democratic legislators who elected them as leaders – 106 in the Assembly and 38 in the Senate.
To manage such large conferences, they need help in managing their members, and how they do that can go a long ways towards safeguarding their leadership positions over the long-term. "The old 'three men in a room' was a good and vivid metaphor," said Bruce Gyory, an adjunct professor of political science at the University of Albany. "But it missed the historical test that it was always key for a leader to go back to conference and have the conference back him."
Heastie and Stewart-Cousins appoint a slate of legislative underlings who help them manage their respective conferences – whether to help them formulate policy, lead floor operations, or oversee outreach to state and federal government. The leadership structures are largely the same among the majority and minority conferences in both houses of the Legislature, and they all serve two big purposes, experts say: making sure the conferences are running smoothly and that their leaders are not straying too far from the sentiments of the members they represent.
Besides Stewart-Cousins and Heastie, the state Senate majority has 17 conference leaders, while the Assembly majority has 20. Some of these roles are high-profile, while others more subtle in their influence. "Within each house there's a certain pecking order of these titles," Gyory said. "And leaders historically have used them either to reward people that are close to them or show respect for key constituencies whether geographically or ideological."
One example of this is Deputy Senate Majority Leader Michael Gianaris, who played a key role in strategizing Democrats' takeover of the state Senate. Another is Assembly Majority Leader Crystal Peoples-Stokes of Buffalo, who offers the downstate-heavy Assembly majority a bit of balance. They are the No. 2 leaders, but hardly the only ones who take vocal roles when their chambers are in session.
Both houses also have deputy and assistant leaders to help the higher-ups manage the both the internal and external politics of their conferences. In the Assembly this includes Deputy Speaker Catherine Nolan, Assistant Speaker Félix W. Ortiz, Deputy Majority Leader Phil Ramos and Assistant Majority Leader David Gantt. "They also render advice to the Speaker and facilitate communications within the Conference on the Speaker's behalf," said Assembly Democratic spokeswoman Kerri Biché.
But does the difference between a "deputy" and an "assistant" mean anything? "I don't think those little hierarchies have any consequences," said former Assemblyman Richard Brodsky. In the Senate, these leaders have specific portfolios. State Sen. Leroy Comrie – the deputy majority leader for state/federal relations – oversees outreach to state and federal government "to convey the sentiments of the majority conference and identify opportunities for collaboration with the goal of deepening relationships when possible," a spokesman said. State Sen. Monica Martinez serves as the assistant majority leader on intergovernmental affairs, while state Sen. Todd Kaminsky is the liaison to the executive branch. State Sen. Shelley Mayer – who spent six years in the Assembly – takes the lead on relations with the lower house as deputy majority leader for Senate/Assembly relations.
Whenever leadership needs to make sure their members know what they're thinking, they might turn to state Sen. Velmanette Montgomery, the majority conference secretary, who makes sure that senators know when leadership wants to communicate with them. In the Assembly, the conference secretary also helps in administering conference meetings by "maintaining any list of speakers seeking recognition to participate in conference discussions, maintaining order, and assisting in the proper operations of the conference," said Biché. It falls to the conference chair and deputy vice chairs to preside over conference meetings, she added.
Although the top four legislative leaders – Heastie, Stewart-Cousins, Gianaris and Peoples-Stokes – sometimes lead their conferences on the floors of the Assembly and Senate, they sometimes have to be elsewhere. That means someone else has to manage floor proceedings, oversee legislative debate or lead their conferences for "the time being" – or pro tempore as its known in Latin. That etymology also explains why Stewart-Cousins is officially the "temporary president" of the Senate whenever the chamber president – Lt. Gov. Kathy Hochul – is not around.
Whips also have an integral part in keeping the business of each chamber moving because "you can't have one person go around to 110 people asking how they're going to vote," said Brodsky. It comes down to the whips and their assistants to make sure that legislators are in their seats when key votes come up – and that conference leaders already know how they are going to vote.
"You have a substantive reason to have a conversation with every single one of your colleagues," said state Sen. Kevin Parker, the Senate majority whip. "It's always interesting whether you agree with them or not you get a bird's eye view of both the individual perspective, but also the wider perspective of the whole conference." His assistant whip, state Sen. John Liu, who is also a pilot, is even willing to fly members across the state in an airplane and is not above "scouring restrooms in the Capitol Building" in order to make sure senators are where they the leadership needs them to be, spokeswoman Heather Stewart said.
Sometimes a controversial issue – say congestion pricing – splits a conference. That could mean that the matter is referred to the conference steering committee. What do they do? "I asked the same question when it was offered to me," said Assemblyman John T. McDonald III, the vice chair of the Majority Steering Committee. The committee has a reputation inside the conference as the place where bills go to die, but in a sense its real job is to find out how to keep it alive, according to Assemblywoman Barbara Lifton, chair of the Steering Committee. The intent is to assemble a representative sample of the conference at-large in order to gather perspectives and see whether or not the majority can figure out a way forward on an issue. "You can't possibly have everyone speak among so many members," Lifton said of the conference. "We're a mini-conference if you will … Our goal is to do a deeper dive and study these issues before us."
Both chambers also have leaders who help to oversee conference "operations." State Sen. Brad Hoylman, assistant majority leader on conference operations, said this means he helps "formulate a policy agenda for the conference." State Sen. Gustavo Rivera, however, said that he was unaware that he was appointed to the role of assistant majority leader on house operations at a time when he said he spends "95 percent" of his time on health care issues as chairman of the Health Committee. He compared his other post to being a "shepherd" who assists the majority whip in making sure "people are in the room." People who oversee operations also have a say in allocating staffing levels and determining which members are vulnerable in their reelection campaigns. Say an assemblyman gets elected to a local office in the middle of the year. It falls to the operations leaders to determine what happens to his Assembly staff, Brodsky said.
Despite the importance of such positions, it is common for legislators to be unaware of a leadership appointment, according to Brodsky. "At the beginning of the year, that is not uncommon," he said. "If you're talking about three months in, that's a problem." That is because the leadership structure of the majority conferences is essential to making government work. The sheer number of legislators mean that Heastie, Stewart-Cousins and their predecessors have to lean on colleagues to make sure that they are representing the interests of their conferences while getting things done.
To an outsider, it might seem that many of these leadership posts do not make a big difference in the grand scheme of things. But they often do all the little things that keep the Legislature running, despite the longstanding skepticism that constituents sometimes have towards their elected leaders. "Only some societies have legislative bodies that function … it's why we're envied," Brodsky said. Yes, state government can be dysfunctional and corrupt at times, but "it is by and large a functional system," he added.
The three people in a room may get the final say in budget negotiations, but the legislative leaders stray at their own peril from the consensus of their chambers they lead. Sometimes they can enforce their will on members, but other times that can be a dangerous proposition if they want to retain the confidence of their members. "The notion of members being told what to do is baloney," said Brodsky. "It's absolute baloney. There are times when the speaker comes back with a deal that he is negotiating with the governor and the members say 'no.' It's not often, but it happens."
Powered By
NEXT STORY: The history of women's representation in New York