New York City
Louis joins growing Haitian-American population in politics
Farah Louis is just the latest in a string of Haitian-Americans to win elected office in New York, as Haitian-American political power spreads across the state.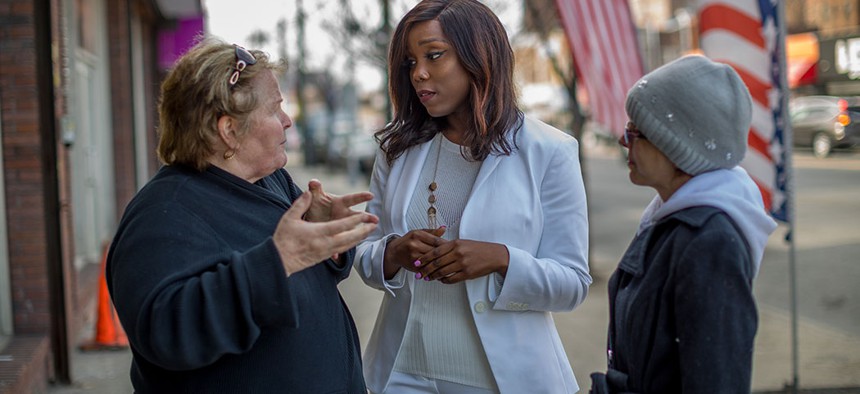 In the special election to fill the New York City Council seat left vacant by Public Advocate Jumaane Williams, former Williams staffer Farah Louis emerged victorious, proving that she didn't need the endorsement of her former boss to win. But Louis' election also suggested that the political power of Haitian-Americans is steadily growing in New York.
A handful of Haitian-Americans – most of them first or second-generation Americans – have been elected to office in recent years. In 2012, Michaelle Solages was elected to represent New York's 22nd Assembly District in Long Island, becoming the first Haitian-American to join the state Legislature. Others quickly followed suit, including Assemblywomen Kimberly Jean-Pierre from Babylon, on Long Island, and Rodneyse Bichotte from Flatbush, Brooklyn, Assemblyman Clyde Vanel from southeast Queens, and Assemblywoman Mathylde Frontus from Coney Island in Brooklyn, who last year became the fifth Haitian-American elected to the Assembly. In the New York City Council, Louis will join fellow Haitian-American Mathieu Eugene of Central Brooklyn.
Erica Dumas, a vice president at the government-focused public affairs firm Mercury, who worked on Louis' campaign, said that the political rise of Haitian-Americans across the state is only just beginning. Dumas, who was born in Haiti and moved to the United States when she was very young, said that Haitian-Americans have long been involved in politics, but it's only fairly recently that they're starting to hold political office themselves. "For so long, we have been working with different administrations more behind-the-scenes and leading the strategies, running the campaign strategies," Dumas said. "Now, it's time for us to sort of be the leaders at the forefront of a lot of these conversations that are going on, especially in New York City."
The Haitian-American community in New York City has traditionally been concentrated in Brooklyn, with most of New York City's population of Haitian immigrants residing there (more than 61,000 foreign-born Haitians lived in Brooklyn in 2011). After Florida, New York state as a whole has the second largest population of Haitian-Americans, with over 195,000 recorded in 2013.
As the current crop of elected officials prove, Haitian-American political power is spreading across the state. In 2014, Jean-Pierre replaced Robert Sweeney in the state's 11th Assembly District on Long Island, and a Haitian-American named Carrié Solages serves as a Nassau County legislator. Within New York City, the community is moving beyond Brooklyn, as evidenced by former Manhattan Deputy Borough President Rosemonde Pierre-Louis and Queens officials such as Vanel.
Francois Pierre-Louis, an associate professor of political science at Queens College, City University of New York, said that as Haitian-Americans move to the suburbs and other parts of the state, their political power begins to spread there as well. "We have a large Haitian-American (community) in Spring Valley, in Nyack, in Nassau County," he said, referring to towns in Rockland County, and the suburban Long Island county.
Pierre-Louis attributed some of the community's growing political power to the fact that the children and grandchildren of Haitian immigrants are reaching voting age and registering to vote. "I think it's a trend that is on the rise, because you have an increased number of Haitian-Americans that have become citizens," he said. "You also have new generations, the second generation, rising up, and then you also have the fact that they are registering as Democrats, or some of them as Republicans." All Haitian-American elected officials in New York are Democrats, though in Florida and other locales outside the state, the population can be a little more politically diverse. A former congresswoman from Utah, Mia Love, was not only Haitian-American but was the first black Republican woman elected to Congress.
That rise, Pierre-Louis says, should also be attributed to the kind of chain reaction that occurs when one person from your community is elected and shows you what is possible. "For so many years, the Haitian community has been defended by African-Americans like Jumaane Williams, in the past, Major Owens," he said. "But right now, since the election of Mathieu Eugene, and the election of several other Haitian-Americans in the suburbs, especially in New York state, Haitians have gotten more confident. Instead of relying on allies to represent them, they can do it themselves." (Williams is Caribbean-American; his parents are from Grenada.)
Dumas also reasons that a growing desire to get into politics stems from frustration over comments and actions taken by President Donald Trump. In 2017, the Trump administration announced that temporary protected status for Haitian immigrants would end this year, and last year, the president referred to Haiti as a "shithole country," adding, inaccurately, that all Haitians "have AIDS."
"I definitely think that the Trump administration and the insults to people of color, his racist remarks, have definitely sparked something in the community," Dumas said. "A lot of Haitian-Americans, first-generation Americans in the diaspora, have been galvanized by the entire administration to sort of start leading not only strategies behind the campaigns, but also running for office ourselves."
For Louis, however, victory in the 45th City Council district was built not only on support from the Haitian-American community, including Bichotte, but from a coalition of support with Orthodox Jewish voters in the area, too. While Louis failed to secure Williams' endorsement, she did carry the support of City Council members Chaim Deutsch and Kalman Yeger, who helped to turn out votes from the Orthodox Jewish community. Dumas said she thinks these coalitions built on shared experiences among racial and religious minorities will be important as the Haitian-American community continues to build political power. "I think we're both coming together as communities to fight against discrimination and discuss the issues that matter the most, especially to communities in Brooklyn," she said.
Moving forward, the ability of the community to continue to extend beyond its established enclaves will be key, Dumas said. But even where there are larger Haitian-American communities, there is still work to be done. "One of the things that I've been sort of pushing folks to do is to run for office wherever they're at, whether they're in the Bronx – there's a large community in the Bronx – but we've never been in the forefront of these issues, on policy issues, we've never been as vocal," she said. "I think now is the time, as we see this momentum with Farah and so many others, I'm getting these calls now on how to do some coalition building in different neighborhoods and work with different groups on getting ourselves out there and speaking on issues that matter to us."
Correction: An earlier version of this post incorrectly said that New York City Councilman I. Daneek Miller is Haitian-American. An earlier version of this post also said Assemblywoman Michaelle Solages is from Hempstead. She is from Elmont. This post has also been updated to include Assemblywoman Mathylde Frontus, who is also Haitian-American.