New York City
Independent group airing pro-Cabán TV ad this weekend
A group of Brooklyn progressives with ties to the Tiffany Cabán campaign are running a pro-Cabán television ad. Melinda Katz's campaign said it's illegal coordination.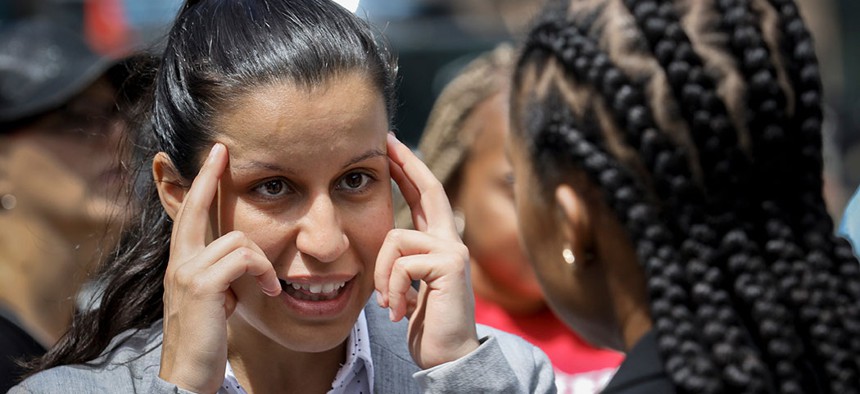 This story has been updated to incorporate the Katz campaign's accusation that the ad may constitute illegal coordination between the Cabán campaign and Better Prosecutors for New York.
In the race for Queens district attorney, Tiffany Cabán is getting a lot of outside support. She earned endorsements this week from two leading presidential candidates, U.S. Sens. Elizabeth Warren and Bernie Sanders. Major out-of-state donors are coming to her aid, with her three biggest individual funders hailing from Massachusetts or California. And now, a group of Brooklyn progressives have launched an independent expenditure committee seeded with $35,000 to run a pro-Cabán television ad the weekend before the June 25 election.
The group Better Prosecutors for New York registered with the state Board of Elections on Monday, and is running a 30-second TV ad on more than a dozen cable channels in Queens this weekend. The ad will also run during the evening broadcast of a New York Mets baseball game on Monday, the day before the Democratic primary election.
The ad is targeted at Melinda Katz, the Queens borough president and perceived front-runner in the race. In it, two women, who describe themselves as "Queens moms" are sitting in a living room. One asks the camera why Katz is running for district attorney when "she has no criminal justice experience."
"Republicans and real estate interests are paying for her campaign," the woman continues. "Can we even trust her to prosecute them?" the other responds. "We're voting for Tiffany Cabán," the first one says.
At the end, there's a simple title card: "This Tuesday vote for anyone else for Queens district attorney."
The committee and the ad is the brainchild of Nick Rizzo, a Democratic district leader in Greenpoint, Brooklyn, and a fixture in New York progressive politics, and Jeremy Friedman, a fellow Brooklyn progressive and community organizer.
Rizzo told City & State that he and the two women that appear in the ad are members of the Democratic Socialists of America, a group that has endorsed Cabán. But Better Prosecutors for New York is unaffiliated with DSA, and as an independent expenditure committee, isn't legally allowed to coordinate with the Cabán campaign.
Grant Fox, a spokesman for Katz, accused the committee of coordination with the Cabán campaign. "Tiffany just needs to come clean. If she expects the voters to believe that she's not breaking the law, she needs to explain how three of her operatives, all on their own, suddenly found $35,000 dollars, hired a shady consulting firm linked to her supporters, and made a TV commercial entirely aligned with her campaign's needs without it being coordination," Fox said in a statement emailed to City & State.
Fox clarified that the consulting firm he was referring to was Politech, which Better Prosecutors for New York paid $19,000 on Thursday.
One of the mothers featured in the ad is Miriam Bensman, a major volunteer for Cabán who the Daily News reported has been in text conversations with the candidate herself. The other is Susan Kang, a DSA member who has been previously quoted in the media as a Cabán supporter.
State law strictly limits interaction between campaigns and independent expenditure committees, and Jerry Goldfeder, an election lawyer who was previously working for Lancman, told City & State that the ad may run afoul of the law. "It appears that people intimately involved in the campaign are also intimately involved with the so-called independent expenditure," he said. "That is a real problem."
Likewise, state Board of Elections spokesman John Conklin said that the ad provided "a strong argument for coordination that would be the basis of a complaint for the Division of Election Law Enforcement."
But Alex Camarda, senior policy advisor with good government group Reinvent Albany wasn't so sure, telling City & State that volunteers working for a campaign and participating in the ad would not be illegal coordination on its own. Camarda believed it would only be illegal if there direct planning of the ad by the campaign, or if volunteers relayed information between the two entities.
Rizzo denied any wrongdoing, saying no one in the Cabán campaign knew about the ad. "I deny coordination absolutely, and we were very careful about this." The Katz campaign is desperate to cast aspersions, he said, "because it's a good ad."
The committee has just one reported donation so far, a $35,000 contribution from Michael Hoffman, a software engineer from Park Slope, Brooklyn.
The ad is just one of the ways Cabán and her supporters are hoping to keep up her momentum in the final weekend before the election. Cabán spokesman Monica Klein told City & State that the campaign has its own TV ads that will start airing Friday morning. And Cabán will be holding a rally on Jackson Heights on Sunday with Rep. Alexandria Ocasio-Cortez, who is likely to draw a crowd.
Katz, in particular, seems to be taking note. She has brought in a lot of money in the last week, getting 14 donations of more than $1,000 apiece between June 13 and June 18 alone. Those contributions, including $36,000 from the United Federation of Teachers, netted her more than $100,000 in total during the recent six-day period and cemented her as the candidate with the most money left to spend.
But Katz's biggest assist may have come from a fellow candidate, New York City Councilman Rory Lancman, who is expected to drop out of the race and endorse Katz on Friday. That news was first reported by the Queens Daily Eagle on Thursday night, though Katz refused to confirm it when asked at a candidate forum at York College, hosted by City & State and Fwd.us.  
Lancman entered the race in 2018 hoping to be Queens voters' most progressive choice. But he was soon overshadowed by first-time candidate Cabán, who picked up the lion's share of endorsements and support from the progressive movement in Queens and, increasingly, nationwide. Lancman's name will still appear on the ballot, but his expected Katz endorsement would signal to his supporters to vote for Katz instead. Of course, his strategy may already be backfiring. One of Lancman's most prominent endorsers, Queens state Sen. James Sanders, broke from Lancman and backed Cabán Thursday night instead.
Correction: This piece incorrectly stated that Better Prosecutors for New York's Treasurer John Bartos was involved in Politech. He is not. City & State regrets the error. 
Powered By
NEXT STORY: Who needs Andrew Cuomo?