New York City
The Queens district attorney 2019 Democratic primary election results
The Queens district attorney 2019 Democratic primary election results.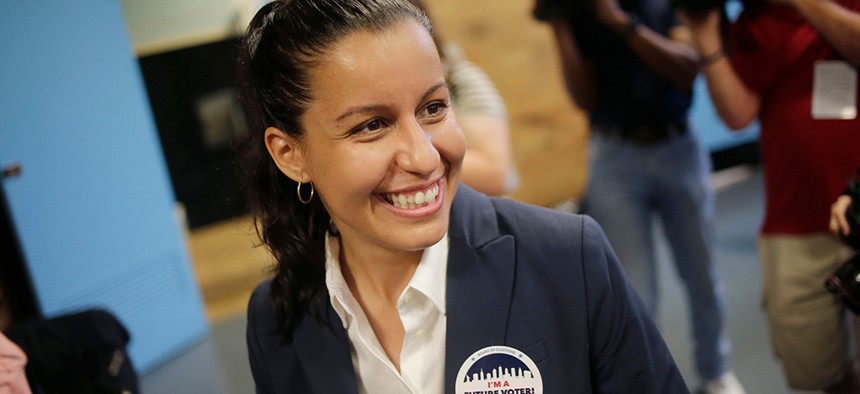 Tiffany Cabán ended the night with a narrow lead over Queens Borough President Melinda Katz, with an advantage of 1,090 votes out of more than 85,000 ballots tallied so far. 
The Democratic battle for the Queens district attorney nomination came to a riveting end on Tuesday evening, with Cabán declaring victory but Katz declining to concede. Despite the six-candidate field, most of the attention had been paid to the battle between Katz, who has significant support from fellow elected officials and major unions, and Cabán, a 31-year-old public defender who has ridden a wave of progressive energy and headline-grabbing endorsements of her own from Rep. Alexandria Ocasio-Cortez and The New York Times.
Also in the running were Gregory Lasak, a former judge who came in third, and attorneys Mina Malik, Betty Lugo and Jose Nieves. 
Here are the latest unofficial results from the New York City Board of Elections. 
Tiffany Cabán: 33,814 votes, 39.57%
Melinda Katz: 32,724 votes, 38.30%
Gregory L. Lasak: 12,377 votes, 14.49%
Mina Quinto Malik: 3,310 votes, 3.87%
* Rory I. Lancman: 1,168 votes, 1.37%
Jose L. Nieves: 1,075 votes, 1.26%
Betty Lugo: 921 votes, 1.08%
With 98.58% of scanners reported.
* New York City Councilman Rory Lancman dropped out of the race, but he remains on the ballot. 
Powered By
NEXT STORY: How ranked-choice voting would change New York City campaigns