Andrew Cuomo
Cuomo's never-ending civil war
City & State put together a comprehensive list of all of Gov. Andrew Cuomo's frenemies over the years.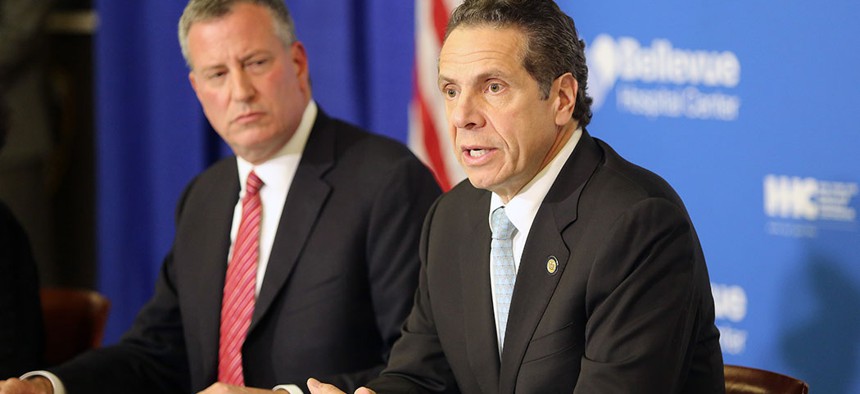 If there's one thing that hasn't changed for Gov. Andrew Cuomo throughout his many years in state government, it's this: There is always a fight to be had with fellow Democrats. 
The most famous example of this habit is the governor's ongoing feud with New York City Mayor Bill de Blasio, which Cuomo reignited with a scorching July 12 Daily News op-ed that slammed the mayor's progressive accomplishments – or lack thereof. While this feud has been, more or less, ongoing for six years, de Blasio is by no means the only inhabitant of Cuomo's political doghouse.
In the early days, Cuomo threw elbows on behalf of his father, former Gov. Mario Cuomo. Later, the younger Cuomo clashed with other rising New York Democrats as he made his way to the top of state government, in part at the expense of elected leaders like then-Assemblyman Michael Gianaris and then-Gov. Eliot Spitzer. By the time that Cuomo reached the governor's mansion, other Democrats entered his sights: state Comptroller Thomas DiNapoli, state Attorney General Eric Schneiderman and, off and on, the state's labor unions. New York City Mayor Bill de Blasio became the governor's prime target when he took office a few years later.
More recently, state Senate Democrats have suffered Cuomo's wrath for their role in scuttling the Amazon HQ2 deal. Clashes over fundraising and the size of the state budget hardly improved relations, even though they did ultimately agree on a spending package.
One might assume that conflict is bad for the legislative process, but it is a feature – not a bug – of the Cuomo approach to governing, insiders say. "There's always some boogeyman in the Democratic Party and that helps him triangulate," one Democratic strategist told City & State. In other words, fighting with members of his own party is one way that the governor keeps lawmakers and other elected officials from ganging up on him.
Some of his rivals have fallen from power. Some continue to vex Cuomo. Others try to lay low. Here is a rundown of the governor's favorite villains over the years – vanquished or not.
Eliot Spitzer (2007-2008)
Who could Andrew Cuomo hate more than someone whose political career so resembles his own? The two did not get off to a great start in 2000 when they both worked for then-Manhattan District Attorney Robert Morgenthau. Cuomo – according to Spitzer – took too much credit for efforts to control handgun sales.
Their relationship did not improve as Spitzer when moved into the Governor's Mansion and Cuomo succeeded Spitzer. As attorney general, Cuomo landed a big political blow when he released a report detailing how Spitzer's staff were using the State Police to surveil political rivals. Cuomo found a tag-team partner in the Legislature, which had its own feud with Spitzer. At one point, Spitzer called Cuomo "the dirtiest, nastiest political player out there."
You would think that the feud would have ended following Spitzer's resignation. But it was briefly reignited last year when Spitzer publicly lamented Cuomo's "Orwellian relationship with fact" in a dispute over education funding. Cuomo responded by unleashing his "bulldog spokesman" on his predecessor: "Eliot Spitzer resigned in disgrace as a liar and lawbreaker," senior adviser Rich Azzopardi told Politico, "and needs to climb back in his hole and stay there."
Thomas DiNapoli (2007-present)
Cuomo has had a tough time with longtime frenemy Thomas DiNapoli. They first clashed when Cuomo was still attorney general. He wanted to put a state retirement fund in the hands of – what else – a board. The state comptroller disagreed.
When Cuomo became governor, the New York Post reported that members of his administration referred to Thomas DiNapoli as as having "chipmunk balls" because he wouldn't help the governor keep spending in check. In 2014, Cuomo took another swipe at DiNapoli by supporting a pilot program for publicly financed elections that conveniently only applied to the comptroller's race. The two have also battled over the comptroller's oversight of state contracts, although they reached a compromise earlier this year.
DiNapoli may be the chief financial officer in the state, but Cuomo has also had no problem undermining DiNapoli and his office when it has helped the governor politically.
"What you're getting in an audit is that person's opinion, right?" Cuomo said in response to a comptroller report critical of an economic development program. "Sometimes I agree, sometimes I disagree, because it is only an opinion."
Eric Schneiderman (2010-2015)
As soon as he became governor, Cuomo began undermining Eric Schneiderman, his successor as attorney general. After declining to endorse Schneiderman in the primary, the governor then established the state Department of Financial Services to rival his old office. It is part of a "zero-sum approach to power" that The New York Times wrote last year has defined his relationships with fellow Democrats like Schneiderman.
By 2014, Team Cuomo was grumbling in the media of how the new attorney general was bumbling the good work of his predecessor. Cuomo would ask others if Schneiderman wore eyeliner. Schneiderman called the governor "Machiavellian." Yet the feud seemed to die down as Cuomo's battle with Bill de Blasio heated up. Ultimately, The New Yorker brought down Schneiderman in a way few expected – and Cuomo wasted no time in joining calls for Schneiderman to resign.
Labor unions (2010-2014)
While the governor now enjoys a good relationship with organized labor, it has not always been this way. Cuomo won his first term on confronting "special interests," which some unions took as a threat. The Civil Service Employees Association and New York State United Teachers didn't endorse him in the 2010 primary. He faced similar problems in 2014, as the Public Employees Federation got behind Zephyr Teachout's campaign and the state AFL-CIO initially stayed on the sidelines.
But Cuomo has learned to love labor, championing a $15 minimum wage and pushing to expand prevailing wages on public works projects. Labors unions also provided key fundraising and logistical support for his latest reelection. However, campaign finance reforms and the permanent property tax cap in the latest state budget have added some new strains to his complicated relationship with organized labor.
Bill de Blasio (2014-2018)
Shortly after Bill de Blasio took office as New York City mayor, Cuomo cut him down to size. Cuomo blocked de Blasio's campaign pledge to raise taxes on millionaires. Other disputes arose on issues as varied as State Police deployments and topless women in Times Square. The feud gathered steam as Cuomo rarely passed up any chance to stick it to de Blasio – from problems at NYCHA to the death of a white-tailed deer.
For de Blasio, there is little he can do to fight back. The state controls the ability of the city to raise taxes, fund education and even increase speed limits. That does not mean that de Blasio has not landed a few political jabs on Cuomo here and there – including a rumored role encouraging Cynthia Nixon to launch a primary challenge against Cuomo in 2018.
However, de Blasio appears to be going along to get along as of late. Cuomo and de Blasio worked together on the Amazon HQ2 deal and congestion pricing. While Cuomo feuded with state Senate Democrats this session, de Blasio laid low and avoided the governor's crosshairs. It appears to be a prudent strategy for de Blasio because he got an extension of mayoral control and more money for the subways in the $175.5 billion budget.
Unfortunately for the mayor, Cuomo does not shirk away from reigniting a feud to make a political point, especially when it comes to playing one of the governor's favorite parlor games in recent years: What makes a true progressive? Cuomo left little doubt who he thinks did not think made the cut in a July 12 Daily News op-ed in which he blasted the city's policies on issues like homelessness and delays in replacing the jails on Rikers Island. "The common denominator of these great failures – Rikers, poor schools, NYCHA – is obvious: poor, powerless minorities and basic civil rights violations," Cuomo wrote. "Addressing them should be the cornerstone of a true progressive agenda, and yet they continue to languish." The timing of the criticism was far from ideal for de Blasio, who has leaned on his progressive accomplishments as mayor during his long-shot presidential bid.
Michael Gianaris (2018-present)
While this rivalry stretches back to at least the 2006 Democratic primary for attorney general, the rocky relationship between Cuomo and state Senate Deputy Majority Leader Michael Gianaris comes down to one word: Amazon.
Cuomo has not gotten over the failed deal to bring Amazon to Long Island City, Queens. Some call it an obsession. Who does he blame more than anyone? State Sen. Michael Gianaris. The longtime Queens lawmaker was an outspoken opponent of the deal, which Cuomo had seen as a triumphal part of his legacy. But it was not to be.
The deal fell apart soon after state Senate Majority Leader Andrea Stewart-Cousins threw a wrench in the approval process by recommending that Gianaris fill an open seat on the Public Authorities Control Board, which had to approve the bulk of the subsidies. After being left out of the secretive negotiation process surrounding the deal, Gianaris played a leading role in scuttling the deal. Cuomo shows no signs about letting up about who he blames for the loss of the project. The new state budget gives him more power over the Public Authorities Control Board, in part to ensure that Cuomo will never have an economic development project Gianaris-ed again.
HONORABLE MENTION
State Sen. Jessica Ramos
The Queens lawmaker sided with Cynthia Nixon in the gubernatorial primary and she has made no secret of her dislike of the governor ever since. The governor sent a warning shot during a recent clash over fundraising – in the form of a "profane rant" by a top lieutenant. If Ramos keeps it up, more attacks might be coming from the Second Floor.
State Sen. James Skoufis
Cuomo knows a thing or two about how a young man makes a name for himself through corruption-fighting investigations. After Skoufis, as incoming chairman of a state Senate oversight committee, did a bit of swashbuckling over the holidays, Cuomo put him on notice. "You can always get into an investigations battle," Cuomo said on WAMC radio in January. For now, Skoufis is laying low, but things could get testy again post-budget.
Assemblyman Andrew Hevesi
Cuomo put his father, former state Comptroller Alan Hevesi, away for corruption back in 2011. The younger Hevesi has thumbed his nose at Cuomo in the past – even calling him a "serial liar," but the Queens lawmaker has good reason to tread lightly moving forward. The governor knows firsthand the ins and outs of avenging a fallen father.
State Sen. Todd Kaminsky
The de facto leader of the "Long Island Six" – the region's newly expanded and empowered contingent of Democratic state senators – got some grief over Amazon. Cuomo said Kaminsky "cowered when he should have shown courage" in response to backlash against the prospective deal. Kaminsky & Co. made sure to vocally support Cuomo's permanent property tax cap during the budget, but they are not out of the woods yet. "He knows they're nervous," said one Democratic strategist. "And they'll probably do what the governor wants on other issues to keep him from attacking them."