New York City
Trump's mob connections
There's a reason why Trump's behavior is so "Mafia-like."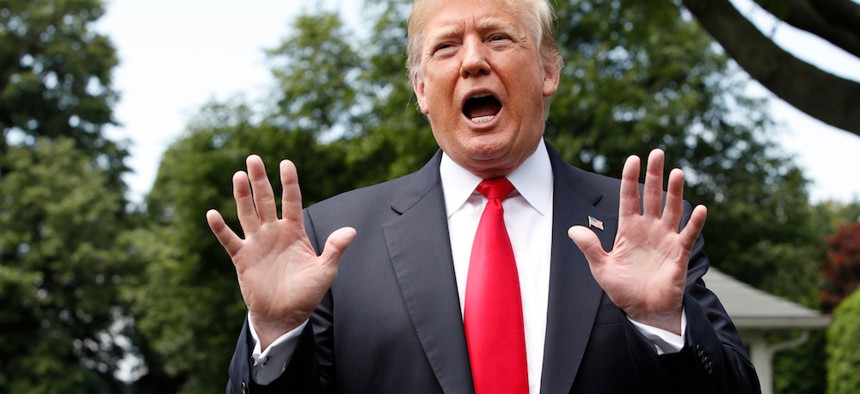 Following the White House's release of the transcript of a phone call between President Donald Trump and Ukrainian President Volodymyr Zelensky, House Intelligence Committee Chairman Rep. Adam Schiff called Trump's pressure on Zelensky to help him smear former Vice-President Joe Biden, "a classic Mafia-like shakedown of a foreign leader."
The comparison was fitting, considering Trump is known to havemultiple ties to mobsters. Trump himself was quoted saying that he was tentative to sign onto participating in the reality show "The Apprentice" due to the number of "mobsters" frequenting his place of work.
"I don't want to have cameras all over my office, dealing with contractors, politicians, mobsters and everyone else I have to deal with in my business," Trump told a panel at the Museum of Television and Radio in Los Angeles, in 2004. "You know, mobsters don't like, as they are talking to me, having cameras all over the room. It would play well on television, but it doesn't play well with them."
Trump's behavior and language have also been likened to that of mobsters by several news outlets, who have noted that his speech is often peppered with terms typically used by members of the mob, like late Gambino family boss John Gotti. The president's former attorney, Michael Cohen, who is currently serving a three-year sentence in federal prison for tax evasion and campaign finance violation, has also remarked that Trump operates "much like a mobster would do," in February, while testifying before the House Oversight and Reform Committee. And Cohen should know – he has alleged mob connections himself. 
Perhaps it's common when working as a major real estate developer and landlord in New York City to brush up against mob-connected figures. The Five Families of New York have historically been influential in the city's construction unions and private waste management companies, for example. Even so, Trump's history of friendly – and sometimes ethically dubious – interactions with mobsters is remarkably long and complex. 
To break it down, we've compiled a list of the president's most notable Mafia connections:
Roy Cohn
Known as one of New York's most ferocious and cold-hearted lawyers, Roy Cohn worked for U.S. Sen. Joseph McCarthy, a slew of New York city mobsters, such as members of the Genovese crime family – and Trump. Cohn became Trump's attorney in the 1970s, and it has been reported that the pair spoke on the phone as frequently as five times per day, while working together. 
Many of Cohn's mob-connected clients also controlled a large portion of New York City's construction unions. Trump employed construction companies run by mafiosos Anthony "Fat Tony" Salerno and Paul Castellano to build his Trump Plaza and Trump Tower apartment buildings. 
House Wreckers Union Local 95
The union, run mainly by the Genovese crime family, hired a large swath of nonunion, undocumented Polish and South Korean demolition workers to work alongside its union members. Trump used Local 95's undocumented workers in 1979 to demolish the Bonwit Teller department store in order to make way for Trump Tower.
Trump denied knowing that he had employed undocumented workers, but was nevertheless fined $325,000 on the grounds of partipacting in a conspiracy to violate a fiduciary duty, in 1991. Though, the case was settled in negotiations and an agreement was sealed – so it's unclear how much of the fine Trump actually paid.
John Staluppi
Trump created his first name-licensing deal with a luxury limo rental company owned by John Staluppi, a "made" member of the Colombo crime family in 1988, according to Newsweek. 
Daniel Sullivan
A large, gregarious man, with a criminal record and ties to the Mafia, Daniel Sullivan began working for Trump as a "labor consultant." Later, the pair operated a drywall manufacturing business together that was connected to a racketeering scheme involving the carpenters' union and the Genovese crime family. 
Sullivan also introduced Trump to Kenneth Shapiro, who worked for Philadelphia mobster Nicodemo "Little Nicky" Scarfo as their financier and agent, which he and Trump entered into an Atlantic City land-leasing deal with. 
After Trump was advised that Sullivan would hurt his ability to secure a casino license, by the New Jersey's Gaming Enforcement agency, Trump cut ties with Sullivan – though, the two still kept in contact. Trump later offered Sullivan the position of chief labor negotiator at his organization, according to his former "consultant."
Michael Cohen & Felix Sater
Cohen's uncle, Morton Levine, ran Brooklyn social club El Caribe, which was frequented by members of Italian-American and Russian-American organized crime families in the 1970s and 1980s. Leaders of the Russian mob, Evsei Agron and Marat Balagula, were known for using the club as their personal office and handled their "business" there for years. 
Cohen also has close ties with Felix Sater, a Russian-born investor, connected to both the New York and Russian mafia, whom Cohen has known since childhood. Sater's father was also "a reputed capo in the Mogilevich organized crime syndicate," Talking Points Memo reported in 2018. Despite his mob connections, Sater is also said to have been an informant for the Federal Bureau of Investigations and an asset for the Central Intelligence Agency. 
Once a stockbroker, Sater lost his license in the 1990s for participating in a mob-linked plot to inflate marginal stocks and unload them onto unsuspecting investors and hiding the profits abroad, The Wall Street Journal reported in 2016. The former broker was convicted of racketeering and sentenced to prison. He also spent time in prison, for slamming the stem of a martini glass into a man's face during a bar fight.
The former attorney worked with Sater on a Trump Tower deal in Moscow, while Trump was on the campaign in 2015.Though, Trump has denied knowing Sater in the past, there is conclusive evidence that he worked for the Trump Organization as a broker for years. In emails to Cohen, Sater boasted about having ties to Russian President Vladamir Putin, saying that he would solidify the real estate deal in Russia that Trump's organization was pursuing with the president's help – and help secure Trump the presidency. There is no evidence that Sater ever delivered on his promises. The Trump Tower Moscow deal eventually fizzled out and since the news of Sater's involvement in Trump's Russia dealings emerged he has practically vanished from the public eye. 
Robert LiButti
Trump denied knowing racehorse trader and high-rolling gambler, Robert LiButti, who is said to have had ties to John Gotti, when probed by the Philadelphia Inquirer in 1991. But LiButti's daughter, Edith Creamer, told Yahoo News in 2016 that is simply not true, and that Trump knew very well who her father was, and that she and her father had both flown with Trump in his helicopter. It was also reported that Trump took an interest in LiButti's daughter, prompting the high-roller to threaten the future president to stay away, or suffer the loss of his, uh, crown jewels, so to speak. Even more damning, there's a video of LiButti and Trump attending the "WrestleMania IV" event together in 1988.
Trump almost bought a $500,000 racehorse from LiButti, but backed out at the last minute, according to Yahoo, and once personally handed the alleged mob affiliate a $350,000 check while he was gambling at a craps table in Trump's casino.
Powered By
NEXT STORY: Milking the school lunch issue