New York City
Is local news doomed?
New York City's biggest papers have slashed their metro staffs. Can reporters still hold politicians accountable?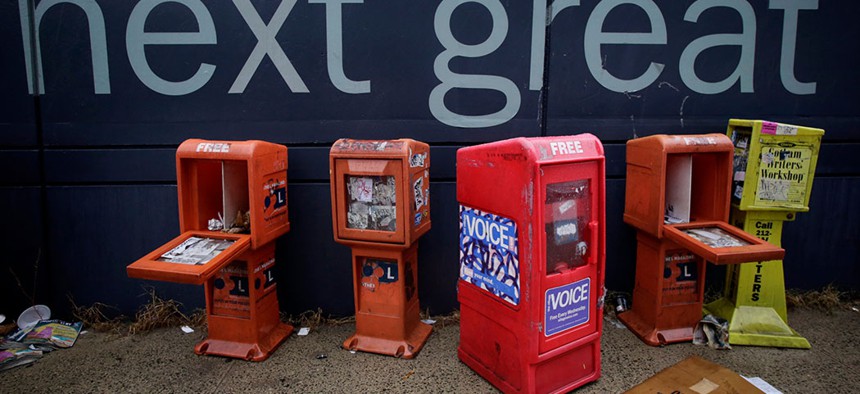 "Who is Alexandria Ocasio-Cortez?" The New York Times posed that question in a headline the morning after Ocasio-Cortez knocked out longtime Rep. Joseph Crowley in a stunning primary victory. For Times readers, it was a good question – she had been mentioned only in passing in New York City's supposed paper of record. 
Before her win, her name had appeared fewer than a handful of times, according to metro deputy editor Dean Chang. In one article, about female candidates who "didn't play it safe," she was the lead example, but appeared nowhere else in the story. A second story featured four Democratic insurgents in New York City, with significantly more discussion about two other long-shot 2018 congressional candidates, Suraj Patel and Adem Bunkeddeko. The paper's Editorial Board criticized Crowley for skipping debates – which the Times skipped, too. Finally, a Times newsletter flagged the race as one to watch on Election Day, with a link to an Intercept story about the faceoff.
"Kind of pisses me off that @nytimes is still asking Who Is Ocasio-Cortez? when it should have covered her campaign," former Times executive editor Jill Abramson tweeted. "Missing her rise akin to not seeing Trump's win coming in 2016." 
Ocasio-Cortez's challenge did garner some early attention from left-wing outfits like The Intercept and millennial-focused sites like Mic and Refinery29, and some local Queens publications had covered the race. But none have the audience or influence of New York City's largest daily newspapers. 
Nor was the Times alone in giving the congressional contest short shrift. The Daily News' archive shows only one news article about Ocasio-Cortez, covering her cross-endorsement with gubernatorial candidate Cynthia Nixon. The New York Post also wrote a single pre-election story about her, when a Democratic club snubbed Crowley. Neither of the city's two big tabloids bothered to speak to Ocasio-Cortez.
"The ability to really dig into longer stories, that's really been hobbled." - Tom Robbins, longtime New York City journalist
The coverage of the race – or, rather, the lack thereof – illustrates in stark detail the depletion of New York City's newsrooms. Years ago, the rise of classified ad websites like Craigslist eroded revenue that was once the lifeblood of local newspapers, not only in New York but nationwide. The Great Recession hastened the downsizing and outright closures of papers, while publishers scrambling to sell more digital ads confronted the growing dominance of Google and Facebook. To generate any kind of significant revenue, newspapers have chased clicks with national and entertainment news, leaving local reporting on the chopping block. With fewer reporters at fewer outlets, stories fall through the cracks – like the upstart campaign of a political unknown against one of the most powerful members of Congress. 
And it's not just elections. Key functions of local government are getting less scrutiny, even in New York City, the nation's media capital. "The ability to really dig into longer stories, that's really been hobbled," said Tom Robbins, a longtime New York City journalist who spent years at The Village Voice, which shut down in 2018. "We certainly get good stuff still … but it's few and far between."
There are also fewer follow-up stories, the ones that explore why something happened and what can be done to address it. "A lot of our news organizations do a great job on first- and second-day stories," said Jere Hester, founding editor of The City, a nonprofit news site that launched in April. "But in a lot of cases, sticking with it is a challenge just because of resources." 
Trying to pick up the slack in the wake of the endless rounds of cutbacks at the city's big dailies are a fragmented hodgepodge of neighborhood weeklies, local blogs, trade publications, insider-oriented outlets and nonprofits like The City – and it might not be enough. 
On July 23, 2018, the summer interns at the Daily News got a special treat: The newspaper paid for them to attend a matinee showing of the new "Jurassic World" movie. When they returned to the office, they discovered that the editorial staff had been slashed in half after a sale to national newspaper publisher Tronc, since renamed Tribune Publishing. The tabloid was hemorrhaging money at the time – it was purchased at the cost of $1 and assuming its liabilities. It was just the latest hit to New York City's local newsrooms.
A few years earlier in 2015, the Daily News had shut down its borough bureaus after staff had dwindled there for years. At their height, the bureaus had an army of about 45 journalists hitting the city streets outside Manhattan. By the time the bureaus shuttered, only about 10 reporters collectively staffed the three in Queens, Brooklyn and the Bronx. 
The string of closures began at least two decades earlier, in 1995, when Newsday ceased publishing its city edition, New York Newsday. For a brief time, New York Newsday invigorated local reporting as a third daily tabloid competing with the Daily News and the Post. Though critically acclaimed, the paper never turned a profit. 
On July 23, 2018, the summer interns at the Daily News were treated to a matinee showing of "Jurassic World." When they returned to the office, they discovered that the editorial staff had been slashed in half.
In 2008, the short-lived New York Sun shuttered its print publication after only six years. When it began publishing in 2002, it was the first new broadsheet paper in the city in decades, launching at a time when print was on the decline. The paper was founded as a more conservative answer to the Times, but itsrobust local coverage andability to get scoops earned it a place of respect in the media marketplace. 
The Times in 2008 folded its stand-alone Metro section into the newspaper's A section, and in 2016 announced that it would further reduce its metro coverage, choosing to post fewer day-to-day stories. Instead, it would focus on the most consequential stories, and those that could appeal to its growing national and international audience. In 2001, the Metro Desk had a staff of 85. By 2017, that number had been halved, to 42. The Wall Street Journal has reduced local coverage too, shuttering its Greater New York section in 2016 – just six years after it launched – due to loss in ad revenue.
Another blow in 2016 came when the New York Observer, whose Politicker blog had once been a must-read in political circles, halted its print publication. The salmon-pink weekly, owned by Jared Kushner, saw its demise a few days after Donald Trump – Kushner's father-in-law – won the presidential election. 
The New York Post has had its share of downsizing, too, and it still loses money – in 2013, the estimate was that it lost $110 million a year. Although the paper is subsidized by billionaire Rubert Murdoch, combining conservative opinions with scoops on unscrupulous politicians, the Post has never been known for its presence in the outer boroughs, focusing most of its coverage on the city's power centers in Manhattan.
The hyperlocal news site DNAinfo helped fill some of the gaps starting in 2009, but it lasted less than a decade. It was the passion project of billionaire Joe Ricketts, who kept the site running with a community reporting staff of over 30 journalists, even though it reportedly never turned a profit. Then in 2017, Ricketts announced that he was shuttering DNAinfo and the recently acquired Gothamist. This was not long after the two sites voted to unionize. Although Gothamist was later bought by the public radio station WNYC and began publishing again as a nonprofit, DNAinfo remained closed.
"We had a jillion beats. Now basically, the only beats are education and transportation." - Stuart Marques, former Daily News managing editor
Yet another blow came in 2018, when The Village Voice shut down. The storied alternative weekly delivered in-depth analysis, investigative reporting and independent-minded journalism that held politicians and government accountable. The Voice had already ended its print product the year before.
Stuart Marques, former managing editor at the Daily News who was fired in 2011 during one of many rounds of layoffs, said that repeated downsizing has taken its toll. "We covered a labor beat, we covered the Health + Hospitals beat, there was a transit reporter, there was an education reporter, there was a NYCHA reporter – we had a jillion beats," Marques said. "Now basically, the only beats are education and transportation, and that's true at most of the other papers, too." 
What that means is that entire city agencies can operate without the kind of regular scrutiny they received in the past. And when stories are written about them, they are rarely reported by journalists with the deep, institutional knowledge that comes with focusing on just one area for years. Although reporters still write about major developments or public scandals at, say, the city's municipal hospital system, beat reporters would have had the time and knowledge for deep-dive investigations. "I think the weakness tends to be with the issue-oriented stories," said Paul Moses, a former New York Newsday reporter and Newsday city editor. He noted the mayor and City Hall are still heavily covered since every major news organization – including broadcast – still staffs reporters in City Hall's press room. But even that is tougher to do, when bureaus consist of one or two reporters.
One of the biggest scandals to mar New York Mayor Bill de Blasio's legacy was the 2016 sale of a former nursing facility for AIDS patients called Rivington House in Manhattan. Newspaper reporting and government investigations exposed questionable transactions and mismanagement in a land deal that resulted in the development of luxury apartments at the property. The Wall Street Journal reported on the sale when it officially closed at the end of February in 2016, then broke the news of a city comptroller investigation into the deal in March. Things snowballed from there. 
But the Lower East Side news blog the Lo Down in December of 2015 first reported on what was at the heart of the investigations: The city had inexplicably lifted a deed restriction that would have forced Rivington House to remain a nursing home. This paved the way for a lucrative deal between a for-profit health care provider – Allure Group, which bought the shuttered nursing home in 2014 with promises to reopen it – and luxury apartment developers. 
Community weeklies, blogs like the Lo Down and hyperlocal news outlets like Patch or the now-defunct DNAinfo at times play a pivotal role in the larger news ecosystem in New York City. "News media is kind of a food chain," Moses said. "They're the ones that are closest to the neighborhoods, and they do find important stories that need to be discussed citywide." 
But like the bigger papers, community weeklies and other smaller news sites have struggled to remain profitable. Many have been sold, spurring the consolidation of a growing number of once independent papers. A dwindling number of companies own local news outlets, with fewer unique stories produced when content is shared across publications. 
Of course, consolidation can at times save papers from closing shop altogether. For example, the Brooklyn Paper would likely have shuttered had it not been bought by News Corp. in 2009, according to former editor Gersh Kuntzman. 
Another local media company, Schneps Media, has been acquiring struggling publications right and left, and now owns several dozen newspapers in the five boroughs, giving it the largest portfolio of city papers with a presence in every borough except Staten Island. 
The company recently bought the free tabloid amNewYork, its first citywide acquisition, then declined to retain a majority of the staff and instead replaced them with local reporters from the papers it already owned. Gothamist recently reported that Schneps is too cozy in its coverage of some of its clients and public officials. Josh Schneps, the company's CEO, denied the accusations made in the Gothamist story, calling it the complaints of one disgruntled employee and asserted that his company had been hiring new reporters, although he could name only one new amNewYork staffer. 
Some other local publishers argue that Schneps has a business model that works, with a focus on digital and events. And something must be working, as the company has managed to continue growing with a sizeable reporting staff in each borough, despite consolidation and downsizing after it makes acquisitions. 
Jeanne Straus, owner and publisher of another local media company, Straus News, which owns a handful of Manhattan weekly newspapers, said it's always better to have someone with roots in the community in charge of local media. "We should all be so thankful that Schneps bought (amNewYork) instead of Digital First," Straus told City & State. "They're the people that just gobbled up Gannett, and they are, in my view, like the Darth Vader of our business." 
New York City's local media is in flux as reporters, editors and publishers figure out how to navigate a rapidly changing news landscape and stay afloat while providing critical coverage. The Times' 2016 decision to scale back its metro section meant publishing fewer stories, but focusing on enterprise reporting with high impact. Then-metro editor Wendell Jamieson intended to publish more stories with national or international interest that would appeal to an ever-growing audience outside the five boroughs. His model was expanded by his successor, Clifford Levy, who continued to focus on fewer incremental reports and more high-impact stories, including through a new investigative unit for the Metro Desk. 
The newspaper has put out impressive high-impact stories, like a deep dive into individual murders in a South Bronx police precinct, and an investigation into the taxi medallion industry after a series of cab driver suicides that led to City Council hearings and new legislation. But many lamented the pivot by the Times, which once jokingly offered use of its expansive archives to The Wall Street Journal when that paper first launched its short-lived Greater New York section in 2010.
Nonprofit outlets are also attempting to fill in the gaps. Among them are the transportation-focused Streetsblog and the education policy website Chalkbeat, which have presences outside of New York City alone, as well as in-depth policy-oriented outlets like City Limits and Gotham Gazette.
The City, which launched in April, is experimenting with the nonprofit model with a news site focused entirely on New York City and its boroughs. Founding editor Jere Hester said that the purpose of The City is to fill the gap in local news coverage, particularly after DNAinfo's demise in 2017. The site has already had an impact on local politics, both on a large and small scale. One early story uncovered misuse of community board funds in Brooklyn. The story got picked up by other outlets and directly led to an investigation by the de Blasio administration. The City also has broken ground covering ethics violations by de Blasio donors.
Like the Times, The City reports on local stories that editors feel have the greatest impact, rather than writing up every single community board meeting or covering general interest events. It encourages other outlets to republish its work, and its editorial staff is heartened to see when its coverage is picked up and expanded on by other publications. "The way I like to put it is that I feel that we are in a post-competition age in local news," Hester told City & State. "We are here to support everyone – profit, nonprofit and whatever hybrid or new model comes down the line. For us, it's all about getting the local news out there."
Even if such an idealistic approach is successful, it highlights another challenge facing the city's press corps. Whereas at one time newspapers once had large enough staffs that someone reading just the Daily News or the Times could get a wide range of stories, coverage is now fragmented among many smaller, niche outlets that cannot singlehandedly fill the void. The average news consumer is not going to rely on more than a few outlets for what could once have been covered by a big newspaper with an army of reporters. "We do have lots of digital outlets that are beginning to meet some of the gap, but it's still vast," Robbins said.
"We are in a post-competition age in local news. We are here to support everyone - profit, nonprofit, and whatever hybrid or new model comes down the line." - The City founding editor Jere Hester
Even when a story gets covered in a smaller or niche outlet, it will likely not have the same political impact if it's not in the Times, the Journal or the Daily News. The reach of other outlets is more limited, and reliant on larger publications to pick up the story. It's hard to imagine that the New York City Housing Authority's lead paint scandal would have had such an impact – from the resignation of several city officials to the launch of a federal investigation – had it not been spearheaded by a legacy paper like the Daily News.
It also comes down to the matter of resources; smaller operations simply do not have the money or manpower to afford consistent investigative reporting. "When The New York Times puts all of its resources into a story, you can't beat that," Marques said. "But nobody else is really doing that to any great degree because it takes resources and it takes commitment and it takes money."
Bernard Stein, the former editor of the Pulitzer Prize-winning Riverdale Press, put it more bluntly. He was asked in 2017 whether community weeklies and other hyperlocal news outlets are filling the gaps left by the major dailies. "They aren't," he said at the time.
Even under Hester's ideal "post-competition" model, reporters and editors will still be left with tough decisions about what they have the time and bandwidth to cover. This is true for the Daily News, which still has print pages to fill every day, and the Times, which must decide which stories are big enough or important enough to pursue – as well as local papers like the Brooklyn Daily Eagle, which is trying to do a little of both. Ned Berke, editor of the Eagle, said those decisions never come easy. "We don't get to do every story the way we want because we try to be somewhere in between The City and Brooklyn Paper and Bklyner and even the Daily News," Berke said. "So that does require a certain volume." 
Ultimately, New York City, like so many other municipalities across the nation, is in a tough spot when it comes to local news. Loss of papers and staff have taken its toll on the city, even as the remaining outlets continue trying to churn out the stories necessary to keep local government accountable. "There's still so much hunger – probably more so now – for news, for stories, for information," said Adam Nichols, New York City managing editor at Patch. "The need is very high for what we do. The question is how to provide that – that's the puzzle."
Correction: An earlier version of this post incorrectly stated that Schneps Media had fired a majority of the amNewYork staff. The company declined to retain a majority of the staff. 
Powered By
NEXT STORY: Trump's impeachment, de Blasio homelessness plan, new subway cops