New York City
Black and Hispanic residents targeted for jaywalking in NYC
A new report suggests that the New York Police Department is disproportionately ticketing people of color for the minor infraction.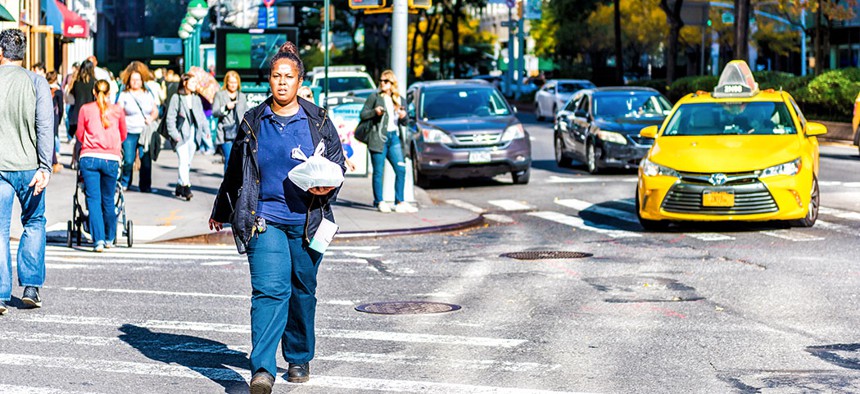 You'd be hard pressed to find a New York City resident who doesn't jaywalk with confidence and glee. It's such a common occurrence in the city that hardly any tickets are given out for jaywalking – unless you're black or Hispanic, that is. 
Of the 316 summonses issued for jaywalking, between Jan. 1 and Sept. 30, last year, 284 summonses were given to black or Hispanic residents, Streetsblog NYC reports. That's close to 90% of all the summonses issued for jaywalking during that time period. 
Jaywalking summonses also increased considerably, compared to 2018, when just 198 tickets were handed out for the minor infraction – the majority of which were also given to people of color, though the racial breakdown is unclear, according to Streetsblog. In 2017, however, 367 jaywalking tickets were issued, 297 of which were doled out to black and Hispanic residents. 
"This is a disgusting and indefensible statistic," Anthony Posada, an attorney at the Legal Aid Society, told Streetsblog. "This speaks volumes to how NYPD officers choose to spend their time and what orders they receive from their superiors, and the mere fact that the NYPD still spends resources on enforcing jaywalking is mystifying. It makes clear that the overall agenda of the institution is to keep communities of color in check at all times."
City Hall and the New York Police Department have yet to comment on the disproportionate number of people of color being written jaywalking tickets.
Correction: An earlier version of this story incorrectly stated that no jaywalking summonses were given out in Brooklyn or Staten Island. They were issued in all five boroughs.