Andrew Cuomo
Cuomo's executive budget, by the numbers
The governor expects to close the $6.1 billion deficit without tax hikes.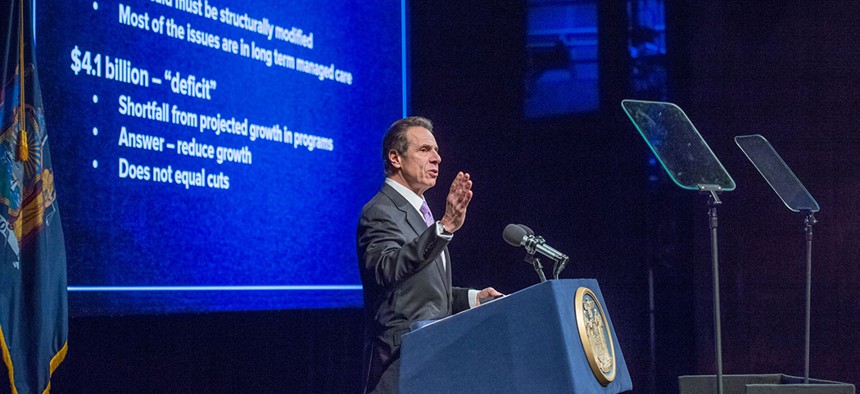 All of New York's state's political class seems to have been holding their breath since Gov. Andrew Cuomo's State of the State address two weeks ago. The governor had a lot of proposals, but how would the state close the $6.1 billion budget gap? Nobody seemed more concerned than New York City Mayor Bill de Blasio. Fearing that Cuomo would propose shifting massive costs onto the city's ledgers, de Blasio released his own preliminary city budget last week. 
Cuomo finally provided some answers on Tuesday, at his fiscal year 2021 executive budget presentation. City & State has more analysis yet to come, but here's a rundown of some of the most important numbers. 
$178 billion: That's Cuomo's proposed total spending in the upcoming budget, a relatively small 1.2% increase over this year's $176 billion budget, and well within Cuomo's oft-stated pledge to keep growth below 2%.
$2.5 billion: Cuomo is once again assembling a so-called Medicaid Redesign Team, which he last did in 2011, with a goal in finding that much annual savings from the state's administration of the federal health care program for low-income New Yorkers. It's likely to be a difficult goal. State Comptroller Tom DiNapoli released a Medicaid audit last week finding ways to save only $800 million.
0: Cuomo promised "zero impact on local governments" from the Medicaid redesign – as long as those city and county governments stayed within a 3% cap on growth. It's yet to be seen whether this will calm local leaders like de Blasio.
$826 million: The planned increase in local education spending, which Cuomo deemed the "largest foundation aid increase of my administration." When Cuomo faced a $10 billion budget deficit in 2011, he actually cut school aid by $2.7 billion. This year, he promised no cuts, and proposed raising education spending to $28.5 billion – the largest line item in the budget.
3%: Despite the deficit, Cuomo hopes to increase both education and Medicaid spending by that much. "I don't think any New Yorker would want to choose between health care and education, and I don't think our government should either," he said. Instead of enacting cuts, Cuomo said he plans to close the budget gap by reducing the rate of growth. 
385,000: The budget presentation wasn't all forward-looking. Like any Cuomo speech, the governor took some time to look back on accomplishments. He said raising the minimum wage to $15 an hour – a law which passed in 2016 and is still being phased in – raised this many New Yorkers out of poverty, including 145,000 children.
$5.9 billion: The amount Cuomo expects to have in the reserves – about $600 million less than in the current year, with the state planning to spend on capital projects some of the money it's received from legal settlements.
$1.8 billion: Could cuts be coming? Beyond Medicaid savings and a boost in expected tax receipts. Cuomo hopes to close the budget gap through this much in "local assistance savings." That means Cuomo will ask for cuts of up to 1% to local grants, but would exclude public assistance and Social Security payments.
$3.2 billion: Cuomo's executive budget is balanced, but at what cost? Even with billions in expected future cost-savings, the state predicts a budget gap this big by fiscal year 2024. 
April 1: The first day of the new fiscal year, when the new budget goes into effect. Cuomo and the Legislature have been good about hitting – or at least, nearly hitting – the budget deadlines in recent years, but a marathon, late-night session is routine at this point.