New York State
How Cuomo is answering New York's $6B question
Cuomo isn't open to the idea of raising taxes to close this year's budget deficit.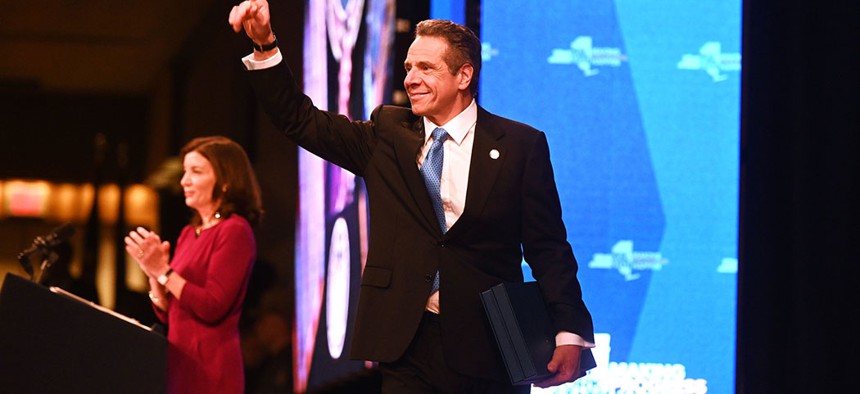 Gov. Andrew Cuomo was not scheduled to present a budget proposal along with his 2020 State of the State address in Albany. But in his own way, the legislative proposals that the three-term governor announced on Wednesday signaled how he wants to pay for his policy proposals – announced with the theme "Making Progress Happen" – in a year when the state faces a $6 billion budget deficit.
The massive shortfall limits the governor's options for the coming year, even if it does not necessarily limit his ability to get things done on his own terms. While the governor did not offer his spending plan alongside his 2020 State of the State address – a departure from recent years – he did hint that his intended methods would include shifting costs to local governments and public authorities, borrowing money through a $3 billion state bonding referendum and convening various groups of experts to study a wide variety of issues of challenges. Their potential price tags would presumably accompany proposals implemented in later years. Raising taxes, he suggested, would not make the cut.
"We didn't raise taxes, and in fact, we have cut tax rates for every New Yorker," Cuomo said of his record as governor. "We reduced middle class taxes to the lowest level since 1947, we have the lowest corporate tax rate since 1968 and we managed the government to a 2% growth rate – lower than past Republican administrations – by running a smarter, more efficient, more effective government."
Much of Cuomo's speech consisted of highlighting the accomplishments of past years, from tackling the state financial difficulties early on to various infrastructure projects built and social justice policies implemented in later years. "We face a $6 billion gap attributable largely to our Medicaid state costs," he said. "Now, thanks to our good work, 95% of the citizens of New York have health care coverage and that is a remarkable achievement. And it's a standard that previous generations could have only dreamed of reaching."
Then Cuomo offered his biggest signal yet of how he planned to solve it. "Six years ago, we froze the cost of Medicaid to local governments," he said. "This year alone, we will spend $4 billion in covering the increase in the local government share." Of that total, Cuomo said $2 billion goes to New York City alone, stoking fears of that city and other localities across the state that the state will simply shift costs to them.
Additionally, the state has already signaled that it will move $2.2 billion in Medicaid spending from the current fiscal year into the next year, which begins after the April 1 state budget deadline. The tactic could presumably be used again moving forward, given how many years he has performed similar budget tricks, according to the Empire Center for Public Policy. Besides shifting billions in Medicaid of spending onto local governments like New York City, Westchester County, Erie County, the governor also suggested that a new Medicaid Redesign Team could tackle the topic of limiting healthcare spending line the one he convened in 2011. "The situation is unsustainable," Cuomo said. "We have restructured Medicaid before with our MRT program, and we are going to have to do it again this year and we will and we can."
Cuomo also made efforts throughout the State of the State to present other proposals as revenue neutral – at least when it comes to the state budget that he is aiming to pass by April 1. A case in point is the $3 billion in new environmental spending he wants to restore natural areas like forests, wetlands and streams across the state. He is proposing to pay for it through a bond act that would appear on the 2020 ballot. Details of the bond act have yet to be released, but this approach would keep the spending out of the state budget. New Yorkers in some form or another would presumably foot the bill through user fees down the road or other indirect expenses.
Cuomo also has ambitions to expand the adoption of electric cars for both public transportation and electric vehicles, which would largely be done by employing public authorities that have their own revenue streams. Upstate and suburban transit authorities would have to fully electrify their fleets by 2040. Electrical utilities would develop the infrastructure necessary for a grid of electric vehicle charging stations with the help of an "initial investment" by the New York Power Authority. Outside the environmental arena, Cuomo is also mobilizing help from public authorities like the Olympic Regional Development Authority, which will oversee a $14 million idea to rebuild a ski lodge in the North Country. His idea to make permanent a state law requiring American-made steel for road and bridge projects would affect the Metropolitan Transportation Authority, the Thruway Authority and the Dormitory Authority of the State of New York and state agencies like the Department of Transportation.
The Battery Park City Authority, meanwhile, is playing a key role in the public education efforts that Cuomo is proposing to battle hate crimes. "We must increase our cultural understanding," he said after announcing that he would direct the authority to develop plans to expand the Museum of Jewish Heritage in lower Manhattan. "To know the history of the Jewish people is to know our mutual love and connection." 
This was just one among a litany of goals that Cuomo proposed reaching through various means with minimal fiscal implications. He wants to pass a state equal rights amendment in the state constitution that would protect people by sex and gender identity. He's aiming to "encourage employers to offer fertility coverage," according to a budget handbook distributed by his office. Cuomo said experts would tackle diverse issues like high-speed rail and cannabis research as part of his new respective proposals to improve state infrastructure and legalize recreational marijuana. The point of all of this appears to be to get as much done – or at least give the appearance of progress – without breaking the bank.  
Ultimately, the strategies that Cuomo will use to overcome the deficit will only become known once he releases his executive budget proposal at a time and date to be determined. Only then will he make clear his plans for local governments or how exactly a plan to cut small business taxes might help companies pay for a new paid sick leave program for their employees. He's even promising to expand a college tuition assistance program that has a mixed record. 
Once state lawmakers have a look at his fiscal plans, their own proposals to solve the deficit can taken into account. Assembly Speaker Carl Heastie suggested to reporters after Cuomo's speech that was still a possibility, although state Senate Majority Leader Andrea Stewart-Cousins emphasized limiting taxes in her own remarks to her colleagues. The governor's comments about education spending offered one last hint at how he intended on dealing with one issue particularly important to lawmakers in both chambers. "Don't play politics with education money," Cuomo suggested in apparent reference to efforts to increase the Foundation Aid for public schools. 
Much remains uncertain at this point in the budget season, but the governor has already given everybody a head's up about where he's headed.