New York City
De Blasio goes local in State of the City address
The mayor made a pivot after his failed presidential bid.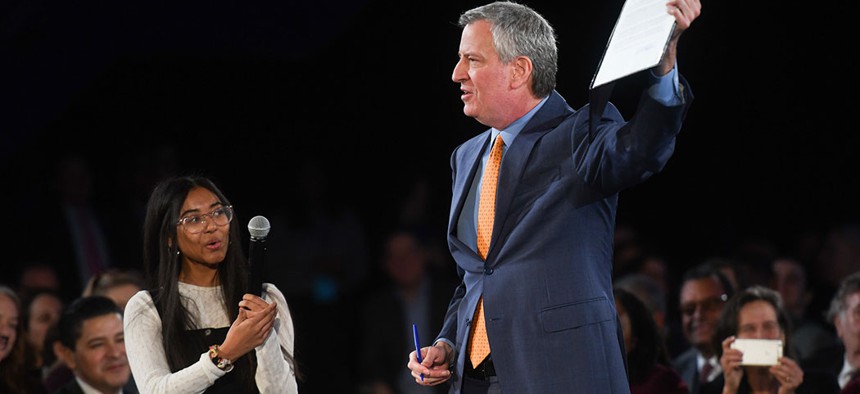 New York City Mayor Bill de Blasio recommitted himself to the city he has led for six years, declaring in his annual State of the City address that the city needs to be saved from a affordability crisis.
"This is a plan to save our city," he said on Thursday. "We have to save ourselves from the forces of greed. We have to save ourselves from laws that no longer serve us."
De Blasio has long been criticized for his national ambitions, which have often drawn his attention away from the five boroughs. That tension came to a head in 2019, when de Blasio mounted a failed four-month presidential campaign that ended with him dropping out of the Democratic field in September, long before any votes were cast.
But de Blasio adopted some campaign tactics for his address, delivered in a temporary theater-in-the-round, surrounded by seats in a hall at the American Museum of Natural History on Manhattan's Upper West Side. De Blasio seemed comfortable, speaking with only sparse notes and largely improvising the address to the room of elected officials and administration figures and allies. The speech, conducted underneath the museum's famed hanging lifesize model of a blue whale, was a far cry from his past addresses, all given in theaters while standing behind podiums. 
The theme – and accompanying hashtag – of #SaveOurCity received a bit of mocking from New York City Comptroller Scott Stringer, a leading 2021 mayoral candidate who quipped to City & State after the speech that "after six years, it's like (de Blasio is) saving our city from himself." But de Blasio showed some humility, acknowledging that he has failed to make serious progress on fighting inequality and unaffordability in the city.
"You can talk about an affordability crisis, but that doesn't even capture the depth of it," de Blasio said. "We thought the tools we'd applied would work … but more and more, this feels like one of those diseases that becomes resistant to antibiotics."
The mayor offered new ideas to correct that, proposing a host of policies aimed at increasing the city's affordability for residents and small business owners. 
Among the proposals was to offer new renters in city-financed buildings the option to forgo paying a lump-sum security deposit, instead paying a monthly fee toward renter security insurance. The mayor also committed to pushing for new laws to expand the policy to all renters. Together with the Wednesday announcement from Gov. Andrew Cuomo's administration that effectively outlawed brokers fees, the average upfront cost to renters looking for new apartments could drop significantly, continuing the state's shift towards more tenant-friendly laws, to the detriment of lenders and developers.
De Blasio also announced he would move to legalize basement apartments and accessory units, a move favored by affordable housing advocates who have been monitoring a pilot program that began last year in East New York, Brooklyn.
For commercial tenants, de Blasio proposed providing free legal representation to small business owners negotiating leases and applying for low-interest loans. Just days after his property tax reform commission released its first report, he proposed creating a "blue ribbon commercial rent control commission" to tackle the tricky issue that supporters claim could keep more beloved mom and pop businesses open in the city. And the mayor proposed investing $500 million of New York City's pension funds in small business. That's a rounding error for the city's $215.5 billion in assets spread across five pension funds, but it could mean a lot more for the small businesses getting the money.
That initiative would pull from the pension funds rather than from the city budget, which seems like a sharp political move from de Blasio, whose preliminary budget introduced last month was nearly devoid of new spending amid an expected increase in Medicaid spending imposed by the state. 
Of course, the mayor will face pushback for a number of his initiatives. He reconfirmed support of a commercial vacancy tax which failed to pass in Albany last year. And Stringer, who manages the city's pension funds, didn't immediately sign on to the mayor's investment plan. "We look forward to discussing the proposal with the mayor and the trustees," Stringer spokeswoman Hazel Crampton-Hays told City & State. 
But de Blasio was able to take some actions on his own. In a theatrical flourish, the mayor brought a young climate activist on stage with him while he signed three executive orders to tackle "the existential threat" of climate change that endangers the city. Immediately, he said, the city would stop the use of plastic bottles on city property, stop building all new fossil fuel infrastructure and move towards making all city vehicles run on electric power by 2040. Those actions, among other proposals aimed at sustainability, earned praise from New York League of Conservation Voters President Julie Tighe. "The mayor presented some really good ideas on confronting the climate crisis," she said after the speech. "It's showing leadership."
That was exactly the tone de Blasio hoped to strike in the speech, as he counted down the time left until he's term-limited out of office at the end of 2021.
"This is not a time to fear, this is a time to fight. … We have two years of urgent work ahead of us," he said. "I'm going to devote myself for the next two years to get all of these things done."
Powered By
NEXT STORY: Photos: Celebrating the leaders who built New York