Donald Trump
Trump bashes sanctuary cities in State of the Union speech
The president mentioned crimes committed by an undocumented immigrant in New York City to make his case.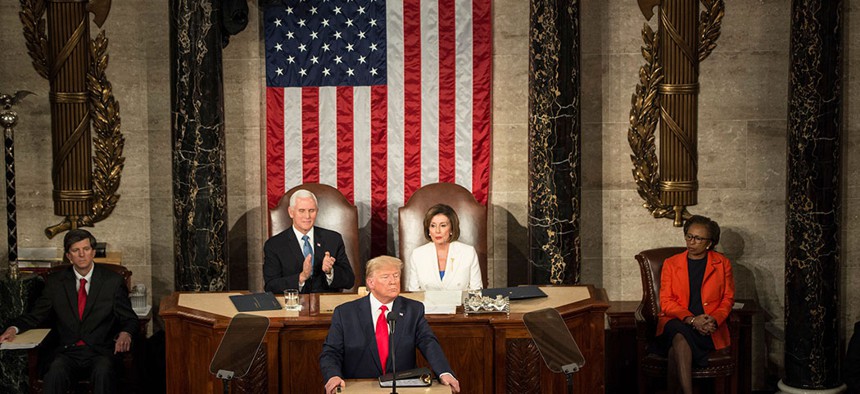 On Tuesday evening, President Donald Trump slammed sanctuary cities in his third State of the Union address.
"Tragically, there are many cities in America where radical politicians have chosen to provide sanctuary for these criminal illegal aliens," said Trump. "In sanctuary cities, local officials order police to release dangerous criminal aliens to prey upon the public, instead of handing them over to ICE to be safely removed."
The president cited a rape and murder committed by an undocumented immigrant in New York City, alleging that if state officials had listened to United States Immigration and Customs Enforcement officials this never would have happened. "The killer had been previously arrested for assault, but under New York's sanctuary policies, he was set free," he said. "If the city had honored ICE's detainer request, his victim would be alive today." 
On Jan. 10, 21-year-old Reeaz Khan was arrested for the rape and murder of 92-year-old Maria Fuertes in Queens. Khan was previously arrested on Nov. 27, 2019, for assaulting his father with a broken coffee cup. Following his November arrest, federal authorities asked the city to hand over Khan for a possible deportation – but the city did not.
On Jan. 13, ICE released a statement lambasting the city for refusing to comply with their request. "In New York City alone, hundreds of arrestees are released each month with pending charges and/or convictions to return back into the communities where they committed their crimes, instead of being transferred into the custody of ICE," Thomas R. Decker, field office director for ICE's Enforcement and Removal office, said in the statement.
Detainer requests are submitted by ICE to keep undocumented immigrants who have committed a crime in custody after their release so ICE agents can pick them up and determine if they should be deported. The city does not honor ICE detainer requests unless an undocumented immigrant has committed a violent or serious offense and the agency has followed all due process requirements.
The New York City Police Department disputed ICE's claim and told The New York Times on Jan. 14 that it did not receive an ICE detainer for Khan after his November arrest. The next day, ICE released a copy of its faxed detainer to the Times which was dated Nov. 27. And on Monday, federal prosecutors sued the city to obtain information regarding two undocumented immigrants (including Khan) who were arrested and released, even though ICE had sent detainer requests for each of them.
Now this incident has become a part of a larger national conversation regarding sanctuary cities, which Trump has railed against since 2016. In his State of the Union speech last year, Trump brought up the street gang MS-13, which originated in El Salvador, suggesting that its presence was rising in New York City. Though experts told the Times that this was not the case.

The president has frequently brought up crimes committed by undocumented immigrants in sanctuary cities to defend his controversial immigration policies, such as his travel bans and creation of migrant detention centers, which have attempted to bar undocumented immigrants from entering the country.