Coronavirus
5 ways New Yorkers can help each other through the pandemic
Donate money, face masks – or even volunteer from home.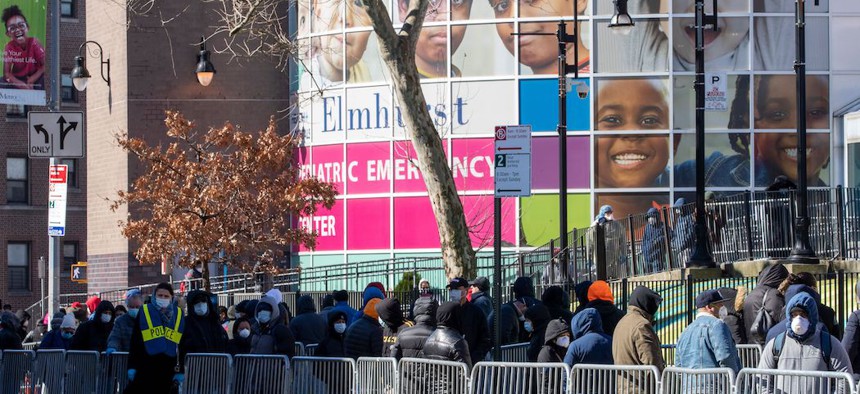 The health care system isn't the only thing under stress during the coronavirus pandemic. 
People throughout the country are losing jobs. Seniors and people with underlying health conditions are increasingly disconnected from their loved ones, as they're stuck at home alone without any way to get groceries or prescriptions. Demands on organizations helping New York's most vulnerable have increased. Here are five ways residents can give back during this unprecedented health crisis.
Donating personal protective equipment
Many hospitals in New York have been running low on personal protective equipment such as face masks, gowns and other medical supplies. The governor has already put out a call for any hospital gear donations. Interested donors or volunteers can reach out directly through this webpage.
Many resources have popped up online identifying which hospitals are in need of certain supplies, with instructions for who to contact and how to send those resources. New York City medical students have also coordinated a system to pick up supplies from those donating surgical masks or N95 respirators. The City has compiled a page of resources describing how New Yorkers can donate needed supplies to hospitals as well. 
Donations of personal protective equipment can also be sent to the Afya Foundation, an organization which collects surplus medical supplies and distributes them to hospitals and health centers in the New York area. 
Donate other resources
Other than personal protective equipment, many organizations are also taking donations for other resources. The Bowery Mission, which helps people facing homelessness and hunger, is looking for certain foods and cleaning supplies amid the outbreak. Outreach teams for the city's homeless like New York City Relief have also reported a need for more hand sanitizer and socks to distribute. Organizations such as Little Flower Children and Family Services of New York, which provides residences for foster youth and people with developmental disabilities, has also asked for hygiene products such as hand sanitizer, soap, body lotion, toothpaste, shampoo, conditioner, deodorant and feminine hygiene products.
Donating money
Nonprofits across New York are already seeing the strain from the coronavirus outbreak. Most have had to cancel major fundraising events while at the same time facing unprecedented demand for their services. 
Food banks and soup kitchens have been particularly strained trying to feed New Yorkers. Organizations such as Food Bank For New York City, New York Common Pantry, Long Island Cares and Feeding Westchester are continuing to provide food assistance. Others, such as Citymeals on Wheels and God's Love We Deliver, bring meals directly to the homes of seniors and those with serious medical needs, respectively. 
Most human services organizations helping vulnerable New Yorkers continue to see a demand for their services. And others, such as arts groups and after-school providers, are offering virtual galleries and activities despite their facilities being closed. Here are some of the organizations that have recently expressed the need for donations: Little Flower Children and Family Services of New York, Alliance for Positive Change, BronxWorks, Time In Children's Arts Initiative, Win, Shine Foundation, Birch Family Services, Ronald McDonald House New York, Big Brothers Big Sisters of New York City and The Museum of Jewish Heritage.
Not sure which nonprofits to donate to? You can donate to a number of community foundations and United Way affiliates throughout New York that have created emergency response funds that will support charities across the state. You can also donate to the Restaurant Workers' Community Foundation, which is giving funding directly to restaurant workers or nonprofits helping such workers and providing zero-interest loans for restaurants. 
But donations can also go toward institutions other than charities. You can buy gift cards and merchandise from your favorite local restaurants to help them stay afloat. Volunteers of America Greater New York is also accepting grocery store gift cards for older adults it works with. GoFundMes have also been created to raise funds for sex workers and cinema workers, among others. 
Volunteering
While people are supposed to stay at home, there are a number of ways people can volunteer in person – if you're healthy and haven't been exposed to the coronavirus – or remotely. Volunteer New York! has created a map of volunteer opportunities – such as driving seniors to medical appointments or distributing food at local pantries – in the Lower Hudson Valley. New York Cares is also offering online orientation sessions for those interested in volunteering during this time, whether it's to help with meal delivery, virtual tutoring for students or phone calls to people who are lonely in hospitals, shetlers and nursing homes. 
Mutual aid groups – informally set up for New Yorkers to help their neighbors with tasks such as grocery deliveries, financial support, translation help or guidance applying for unemployment insurance – have cropped in neighborhoods across New York. A website has been created to streamline assistance and volunteers' requests and to compile links to groups across the five boroughs. 
If you're interested in providing professional volunteer support to nonprofits – such as helping with human resources, finances, public relations or technology – the Taproot Foundation connects interested volunteers to nonprofits in need of help, many of which can be supported remotely.
Other ways to help
The country's blood supply is facing a major shortage, as blood drives across the United States have been canceled. The New York Blood Center and American Red Cross have encouraged healthy people to make an appointment to donate.
Animal shelters have also called on people to take time to adopt or foster pets in light of the coronavirus – which just might be a helpful remedy to social isolation, too.