New York State
Could coronavirus keep candidates off the ballot?
Rep. Jerrold Nadler joins growing calls for reduced petitioning requirements.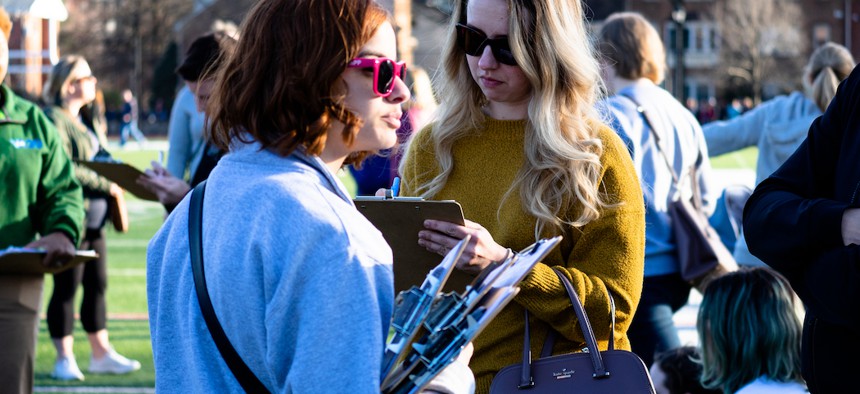 This month in New York, candidates for office and their teams have been knocking on doors, shaking hands and sharing pens and with as many people as they can. It's petitioning season, when candidates need to get residents of their district to sign a sheet saying their name deserves to be on the ballot. 
But it's also coronavirus season, and the petitioning process seems tailor-made to spread germs. 
So in the last few days, candidates have been stuck with a difficult choice: keep petitioning, potentially putting staffers – and vulnerable voters – at risk, or stop petitioning, and risk not making the ballot. 
Many candidates have taken matters into their own hands. Rep. Carolyn Maloney announced on Thursday that she would immediately suspend petitioning, and that she wouldn't challenge any of her opponents' signatures. Michael Weinstock, a Democratic congressional candidate on Long Island, announced Friday that he would stop petitioning too. Same for Jason Salmon, a Democratic state Senate candidate in Brooklyn. 
Since candidates typically have to collect two to three times the minimum amount of signatures in order to withstand a potential challenge, pledges like Maloney's would effectively limit the number of signatures her opponents would need to gather. 
Of course, politics is politics, and nothing can stop an inspired volunteer. Maloney's campaign denied knowledge of it, but a Manhattanite tweeted on Friday that somebody was still gathering signatures for Maloney.
Apart from voluntary steps, some New Yorkers are now calling on Gov. Andrew Cuomo to take official action. "It would be better if there was an edict from on high to either stop the petition process or say, 'Let's reduce the petitions,'" said Lupe Todd-Medina, a Democratic strategist working with candidates trying to get on the Democratic primary ballot in June.
"We're being encouraged by the governor and the mayor to practice social distancing," Todd-Medina added. "To then ask volunteers to put themselves in a situation where they're not practicing social distancing seems hypocritical."
Rep. Jerry Nadler joined dozens of candidates and political organizations at a virtual press conference Friday asking for petitioning requirements to be changed. "I've asked the governor to use his emergency powers to drastically reduce the number of signatures that any candidate needs," said Nadler, who's facing several primary challengers this cycle. "This is the prudent thing to do."
Candidates were able to start collecting signatures on Feb. 25, and all petitions are due by April 2. The signatures required vary by office, from 500 for a state Assembly hopeful to 1,250 for a congressional candidate to 2,000 for a candidate for borough president.
The goal of changing the requirements has united establishment incumbents and upstart insurgents, candidates from across the city and the state and members of both parties. Westchester Republican Party Chairman Doug Colety has called for the requirements to be altered or eliminated, while state Sen. Julia Salazar, a democratic socialist from Brooklyn, tweeted her frustrations, saying, "The requirements should be adjusted to reflect the state of emergency." Nadler and long-time Manhattan Assemblyman Richard Gottfriend joined the virtual press conference on Friday, but so did Shaniyat Chowdhury and Melanie D'Arrigo, who are challenging congressional incumbents – and Nadler's colleagues – in the June primary. 
The candidates may get their wish, but not immediately. At a press conference on Friday, Cuomo said that petitioning was "something we have to address," but didn't elaborate on any plans.
The state Legislature may take action too. Assemblyman Nader Sayegh told the Journal News that he's introducing a bill to reduce the number of required signatures by one third, in counties stricken by the outbreak. Sayegh's district is in Westchester County, which saw some of the state's earliest coronavirus cases and has been hit hard by the outbreak. Colety, the leader of the Westchester Republican Party, called for the state to suspend early voting or go to an all-paper vote, in order to limit the number of voters touching the same screens.
State Sen. James Skoufis also announced that he will introduce a bill on Monday that would postpone New York's April 28 Democratic presidential primary until June 23 – the same day as state and congressional primaries. 
Actions taken to slow the spread of coronavirus may affect elections in other ways, too. New York City Councilman Donovan Richards, a leading candidate in the March 24 special election for Queens borough president, has called on the governor and New York City Mayor Bill de Blasio to postpone that election – although that step has not been taken so far.