New York State
Lawmakers and advocates call on the state to halt evictions
Many argue that evictions during this public health crisis could lead to more people contracting the coronavirus.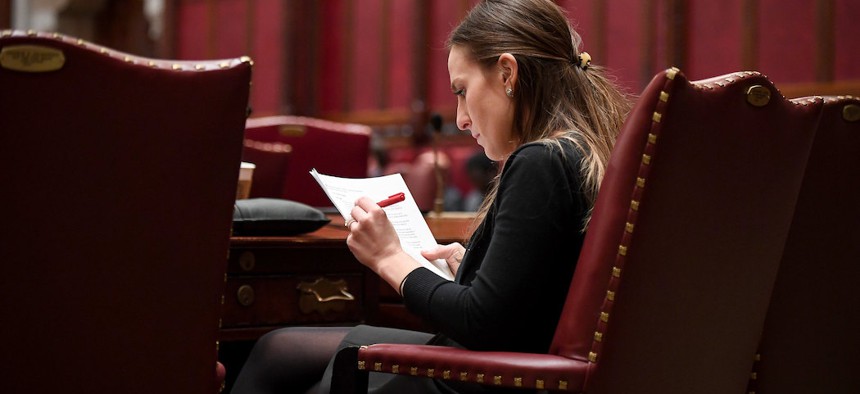 Amidst the coronavirus pandemic, housing advocates and left-leaning lawmakers are calling on the state to halt housing evictions until the outbreak subsides.
On Thursday, 24 state senators, including New York City progressives Sens. Julia Salazar, Michael Giannaris, Alessandra Biaggi, Jessica Ramos and Brad Hoylman, signed a letter addressed to Chief Judge Janet DiFiore, asking that the "New York Courts institute an immediate moratorium on evictions" throughout the state. The letter also cites previous instances, including after the attacks of September 11, 2001 and superstorm Sandy in 2012, when evictions were frozen due to public emergencies.
"Permitting evictions to continue will unnecessarily and unreasonably increase health risks from COVID-19 for New Yorkers," the letter reads. "Many individuals who are evicted from their homes will be forced to live in public spaces, in shelters, or in other temporary and often precarious circumstances – limiting their ability to self-quarantine and increasing their exposure to others."
We just sent this letter signed by 24+ NY State Senators urging the courts to issue a moratorium on evictions immediately.
This is a crucial step to protect vulnerable New Yorkers from choosing between protecting their health & defending their homes during this state of emergency pic.twitter.com/eCv4ehAsI5

— Julia Salazar (@JuliaCarmel__) March 12, 2020
The Housing Justice for All campaign, an alliance of progressive advocacy groups, has also been circulating a petition online that calls for the suspension of evictions in the state, as well as a statewide rent freeze and the freezing of utility shut-offs. "New Yorkers who face homelessness or day-to-day housing insecurity are at a higher risk of being exposed to the virus, becoming ill, and suffering catastrophic health outcomes," the petition said. "Evictions and homelessness significantly worsen the threat posed by COVID-19."
City Council Speaker Corey Johnson and Public Advocate Jumaane Williams have also expressed their support for pausing evictions while the state is still in the midst of a public health crisis. And New York City Mayor Bill de Blasio's administration is currently trying to assess what is within its legal jurisdiction in terms of suspending evictions, since the mayor declared a state of emergency on Thursday. "(We're) in discussions with the court system about what we could do under different kinds of authority," Deputy Mayor Vicki Been told reporters on Thursday. "Where we have the capacity to stop anything, we have."
During an appearance on WYNC's "The Brian Lehrer Show" on Friday morning, de Blasio said that the city is looking into the possibility of halting evictions and encouraged listeners to call 311 if they're currently facing an eviction or having trouble paying their rent. "For everyday people, anyone threatened with eviction should be calling 3-1-1." the mayor said. "And we can provide, in many cases, a free lawyer to stop it. If folks, particularly if they're lower-income, are unable to pay the rent there are times when we can get them some immediate financing, some immediate money to help pay the rent immediately to keep them in their apartment."
De Blasio also said that the city is trying to work with the real estate industry to find a solution that works for everyone. However, landlord groups such as the Community Housing Improvement Program, have asked that decisions regarding the freeze of evictions not be made hastily.
"We simply request that property owners are not asked to bear a disproportionate part of the burden," the Community Housing Improvement Program said in a statement. "Rents pay for property taxes, insurance, mortgages, maintenance, and the salaries of building supers and staff," the organization said in a statement. "Most CHIP members own just a few buildings and they operate as a small business. Missing an entire month of revenue would have a devastating effect on their ability to pay their expenses."
Late Friday afternoon, after this story was initially posted, Gothamist reported, "In a memo released on Friday, Chief Administrative Judge Lawrence Marks wrote: 'Effective immediately, we have imposed a one-week moratorium on evictions in New York City, subject to further extension upon review. Simultaneously, we are directing that until further notice, the New York City Housing Court decline to issue new eviction warrants when a party has not appeared in court.'"
"On top of that ban, some top property owners with the Real Estate Board of New York said they would stay evictions for the next 90 days, with an exception for 'criminal or negligent behavior that jeopardizes the life, health or safety of other residents.' The property owners represent more than 150,000 rental units across the city."