New York City
Do borough presidents actually have any power?
It depends almost entirely on their personality.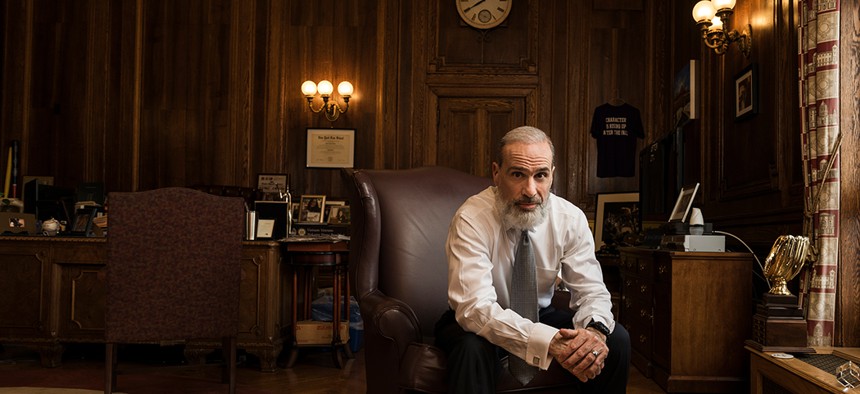 Candidates are duking it out to decide who will be the next leader of Queens in the borough president special election, which had been scheduled for March 24 but was recently postponed indefinitely due to the threat of coronavirus. The races for borough president in Brooklyn and Manhattan are also already ramping up, even though those elections are over a year away. From ambitious politicians' eagerness for the job, it might seem that borough president must be a powerful position with legal authority to make policy. In reality, the opposite is true: It's a largely ceremonial post that, like public advocate, is so appealing to New York City Council members looking for a new job because it offers a platform from which to do little but promote oneself. 
Many voters might still be unclear on what the borough president does. The New York Times recently described the position as "largely powerless." 
One way of understanding the beep's role is that they do have power, but it depends entirely on their personality. 
The enumerated power of borough presidents is fairly limited – they have no actual authority over passing legislation or enforcing laws. Beyond making community board appointments, decisions they make are rarely binding. (And community boards themselves offer only advisory opinions, although council members often follow their guidance on land use questions.) 
Beeps aren't minimayors: they don't have any power over agencies like the NYPD or education department, all of which are administered citywide. The amount of money they dole out is tiny compared to City Hall, although it's arguably generous by discretionary-fund standards. Collectively, borough presidents control 5% of the city's capital budget, a portion that last year amounted to $635 million, split between them based on factors like population. They can distribute that money through capital grants available to city agencies, schools, cultural institutions and nonprofits for a variety of projects like improving infrastructure or renovating schools.
The borough presidency is a significant bully pulpit, which is where the real power lies. That's why personality plays such an important role in what one makes of the job and how residents assess candidates: they are voting for the person who they believe will most vigorously advocate for their interests. 
The position of borough president dates back to 1898, the same year that New York City officially consolidated its five boroughs. The newly revised City Charter established the role in order to give each borough a say in city government. Their power lay in the Board of Estimate, where each borough president had a seat. The mayor, city comptroller and the president of the Board of Aldermen (which later was replaced by the City Council) also had seats. For the next 90 years, the Board of Estimate was the governing body in New York City, a panel of eight officials who made all of the city's most important decisions, and the power of borough presidents was secure.
Everything changed 30 years ago, when the U.S. Supreme Court ruled the Board of Estimate unconstitutional, and it was subsequently eliminated. The change took away borough presidents' key source of power. "Borough presidents were effectively governmentally neutered by the charter of 1989," Doug Muzzio, political science professor at Baruch College, said. A massive New York City Charter revision did away with the Board of Estimate, expanded the City Council, replaced the City Council president with a City Council speaker, created the role of public advocate and made the mayor more powerful. But that doesn't mean that borough presidents aren't still, to a degree, necessary, according to Muzzio. "It was necessary in the sense that boroughs mean something, that you sort of need an intermediate government between the highly centralized New York City government and local government," Muzzio said.
In this way, borough presidents' function today is effectively the same as when the position was first conceived – to represent the interests of individual boroughs in the broader city government, and to think boroughwide rather than by council district. Muzzio described them as "cheerleaders" of sorts. And the best cheerleaders are the ones who are loud and involved, with big personalities. 
Former Brooklyn Borough President Marty Markowitz, who served from 2002 to 2014, is the classic example of a big personality and tireless cheerleader. Known for his constant enthusiastic praise for his borough and his "Leaving Brooklyn? Fuggedaboutit," sign on the Belt Parkway, Markowitz is credited by his supporters with helping to economically revitalize Brooklyn. The borough saw new development during his tenure and the Nets and the Islanders brought professional sports teams back to Brooklyn. "Marty Markowitz was the epitome of what a borough president should be," Carlo Scissura, Markowitz's former chief of staff and current president of the New York Buildings Congress, said. "He was able to use his bully pulpit and his relationships to spearhead projects … that maybe no one thought would happen." Scissura even contended that Markowitz was more powerful as borough president than he was as a member of the state Senate – which is arguably true, since members of the minority party in one of New York's legislative chambers have little ability to influence what gets passed. (Markowitz, a Democrat, served during a time of Republican control.) 
Markowitz's critics, however, contend that he encouraged development of Pacific Park (then known as Atlantic Yards) that benefitted the project's developer – who had donated to a nonprofit Markowitz ran – and not the surrounding community. 
On Staten Island, Borough President Jimmy Oddo is another big personality. Brazen and outspoken, he's long been the voice of the city's forgotten and oft maligned borough. No issue is too small for him to weigh in on – he has strong opinions on potholes – and he acts very much like one might expect a small town mayor to. "I called him up and said 'Jim, you've got to run for this congressional seat," Muzzio recalled telling Oddo, a Republican, when former Rep. Michael Grimm resigned in 2015. "And he just said, 'No, no, no. I want to be borough president.'" 
Today, borough presidents have perhaps the most influence when it comes to land use issues, even if their role is strictly advisory. While the City Council has the final say on zoning, having the support of the borough president is generally very beneficial. Manhattan Borough President Gale Brewer has been very involved with land use during her tenure, and has seen success in fighting against developments she has opposed. Brewer has also called to give borough presidents veto power on rezonings, although two recent charter revision commissions declined to make the change. 
With its limited powers but large megaphone, the job is in many ways what each individual makes of it. "It's all about how you manage the office, what your priorities are," City Comptroller and former Manhattan Borough President Scott Stringer told City & State. "You get to bring your own personality, your own vision."
Powered By
NEXT STORY: Is coronavirus de Blasio's Katrina?