Coronavirus
Is Trump letting New Yorkers die of COVID-19 because it's Democratic?
This isn't the first time Trump has apparently punished his former home for political reasons.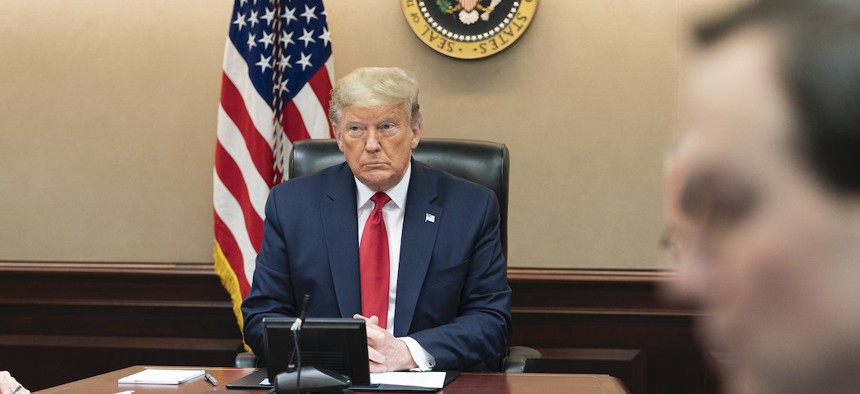 Is President Donald Trump letting New Yorkers die on purpose, to penalize the state for voting for Hillary Clinton in 2016?
Gov. Andrew Cuomo and New York City Mayor Bill de Blasio have been pleading with Trump and the federal government to send New York much needed medical supplies to combat its rampant COVID-19 outbreak.
The president, however, has failed to deliver. Cuomo has said that the state needs 30,000 ventilators to meet the surging demand of patients suffering respiratory distress from the new coronavirus. On Tuesday, Cuomo announced that the Federal Emergency Management Agency would be sending 400 to New York. "What am I going to do with 400 ventilators when I need 30,000?" Cuomo said during a press conference. "You pick the 26,000 people who are going to die because you only sent 400 ventilators."
The federal government has a stockpile of 16,000 ventilators, so it could easily provide the state with more. Manufacturing ventilators also takes time and it's unlikely that factories would be able to produce enough for the state in two weeks, according to Cuomo. Vice President Mike Pence announced that 4,000 additional ventilators will be sent to New York on Tuesday.
Without federal intervention, New York will see an untold number of deaths that could have easily been prevented. "We've tried everything else," Cuomo said on Tuesday. "The only way we can obtain these ventilators is from the federal government. Period."
Articles in New York magazine, The Daily Beast and The New York Times have observed that Trump seems willing to let New Yorkers die. No one can know his motivations, but the president has given clues that his main reason is spite. "It's a two-way street," Trump said on Fox News, Tuesday, referring to the federal government providing aid to combat COVID-19. "They have to treat us well, too." 
The president's cold remark came after Cuomo criticized the federal government for only providing the state with 400 ventilators earlier in the day.
Trump has a history of acting vengefully toward New York, which he's become particularly displeased with since taking office – so much so that he even changed his permanent residence to Florida. 
Under Trump, federal agencies have frequently made sudden decisions harmful to New York. On Feb. 24, the Trump administration canceled an $8 billion health care grant to the state. On Feb. 20, an Army Corps of Engineers study investigating potential coastal flooding protections around New York City came to a sudden end, due to an interruption in federal funding. The termination of this project came six weeks after Trump mocked the study online. On Feb. 5, the Department of Homeland Security announced that all New Yorkers would be barred from applying to Trusted Traveller programs. The department explained that the state's passage of the Green Light Bill, which Trump was opposed to, was why the state's residents were no longer eligible to apply for the programs. And in 2018, the Times reported that Trump pushed Republicans to withdraw funds for the city's Gateway Tunnel project that would create a railway connecting New York to New Jersey. 
As TPM's Josh Marshall pointed out, it's not even clear what exactly New York treating Trump well would mean. Some observers, such as New York's Jonathan Chait, think that Trump views any state that didn't give him its electoral votes in 2016 as deserving of punishment. (Trump also has a well-documented vendetta against California, Chait notes.) 
Despite Trump's apparent lack of interest in his former home state's welfare, Cuomo has continued to thank the president for what he's provided the state with and has been careful to only criticize the federal government, because if you don't speak kindly about the president, it's likely you'll suffer his wrath. "If you're good and respectful to (Trump), he will treat you the same – it's that simple," a senior White House official, told The Daily Beast. "The president has always said that he fights back when he needs to, and the situation with (Cuomo) is no different. If you keep that in mind, their sort of seesaw relationship during (coronavirus) doesn't come as a surprise."
Trump, however, has dismissed Cuomo's complaints, arguing that Cuomo missed an opportunity to order ventilators in 2015. "He had a choice… He refused to order 15,000 ventilators," Trump said.
The president was referencing an article written by ardent Trump supporter and former New York Lt. Gov. Betsy McCaughey, which suggests Cuomo is to blame for the lack of ventilators, since he didn't purchase a mass quantity of them in 2015 – five years prior to the COVID-19 pandemic. McCaughey cited information from a state advisory task-force report that said the state would not have enough ventilators if it suffered a pandemic of the same proportion as the 1918 influenza pandemic. 
"There is no state in the United States that bought ventilators for the 1918 Spanish flu pandemic," Cuomo said during his Wednesday press briefing. "The federal government did not buy ventilators for the 1918 Spanish flu pandemic. Nobody in the world bought ventilators in preparation for a 1918 Spanish flu pandemic."
Many New Yorkers might add that even if the governor were to blame for the state's current ventilator shortage, saying that "it's his fault" isn't a substitute for saving lives.
The president has not entirely ignored the state's need for more hospital beds. Last week, Trump announced that he will be sending the Navy hospital ship USNS Comfort to the state, which has 1,000 hospital beds. However, the ship has yet to set sail for the state.
Under the Defense Production Act, which gives the president the power to expedite the manufacturing of supplies, Trump could ramp up the production of ventilators needed to treat the steadily rising number of seriously ill COVID-19 patients. Trump is ignoring entreaties to do so from governors and senators from affected states and from retired national security officials, perhaps because the U.S. Chamber of Commerce has lobbied against using the law. 
It wouldn't be unfair to assume that Trump is seeking retribution, given his past actions. However, the immediate and devastating impact on New York of this is on a whole different level. "What is the president waiting for, and why is he hoarding – or let's be charitable and say husbanding – his resources?" Jennifer Senior asked in her op-ed for the Times. "Must the death toll in New York prove so calamitous he needs no further proof? Is he trying to make an example of his former home?"