New York State
The final stretch of budget negotiations begins
It's still unclear when New York's spending plan will be finalized.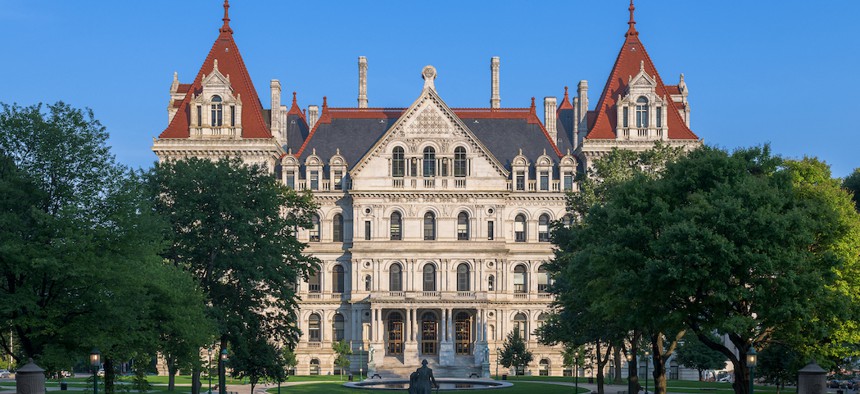 No one knows exactly when the state budget will pass, and state lawmakers say that they have no concrete date yet for voting on the budget ahead of the April 1 budget deadline, whether that involves coming to Albany or not. "We are all waiting," Assemblywoman Rodneyse Bichotte said Thursday morning. 
The state budget shortfall is growing by the day, and lawmakers are running out of time to make their case for a wide range of fiscal and policy priorities like taxes, health care, public schools and criminal justice reforms. And the more legislative leaders wait to call their conferences back to the state Capitol, the more leverage the governor gets in ongoing negotiations.
For now, Gov. Andrew Cuomo says that the state might have to peg funding for local governments, school districts and others based on how revenues perform moving forward. In other words if the state is only get 95 cents for every dollar that is received, then state funding will have to be adjusted accordingly, Cuomo said at a Thursday morning press conference at the state Capitol.
In addition to his other formidable budget powers, the governor will have to issue a message of necessity if lawmakers want to circumvent the three-day waiting period required by the state Constitution for new legislation, including spending measures. The governor used such tactics to full effect last year, and considering the governor's ongoing insistence on passing the full range of his budget proposals, it is likely that he will push lawmakers hard again. 
While Cuomo has argued that new federal legislation will make it impossible for him (because of a provision that constrains him on limiting Medicaid spending) to balance a budget deficit that could now be in excess of $10 billion. Cuomo has said the level of aid in the bill is a "drop in the bucket" for the state. 
However, the passage of a $2 trillion coronavirus stimulus bill will provide the governor and state officials with some clarity on the extent to which the federal government will bail New York out of its dire fiscal straits. House Speaker Nancy Pelosi said at a Thursday morning press conference that the bill will likely pass her chamber on Friday.
While the deficit would give the governer an excuse to reject budget proposals he does not like – a form of political leverage he has arguably enjoyed for months – the ballooning deficit heightens the pressure from lawmakers to raise taxes on the wealthy. Cuomo has said in recent days that will not happen, but he did back proposals like taxing pied-à-terre apartments and stock transfers last year when state revenues were in a relatively strong position.
While some of the political dynamics in Albany remain the same, the coronavirus has reoriented others, according to Christina Greer, an associate professor of political science at Fordham University. "This is an opportunity to have some substantive discussions that have been on the docket for quite some time, but are now being presented in a very different and distinct light," she said. 
That is one reason criminal justice activists are reframing their opposition to amending bail reform as a matter of public health, given the dangers of the coronavirus pandemic that is now spreading in the penal system. Pharmacists have spoken about how they could better mobilize during the pandemic, if only state leaders would help them limit the power of pharmacy benefit managers. Lawmakers have only met a few times this month to pass any bills, but the list of coronavirus-related legislation is growing by the day.
Assuming the governor and the lawmakers hit their deadline, we will all find out in the coming days who is getting what they want in the time of coronavirus – and who ultimately did not play their budget cards effectively.