Coronavirus
All of NY's COVID-19 restrictions
The rules are constantly evolving, but this is a full list of them to date.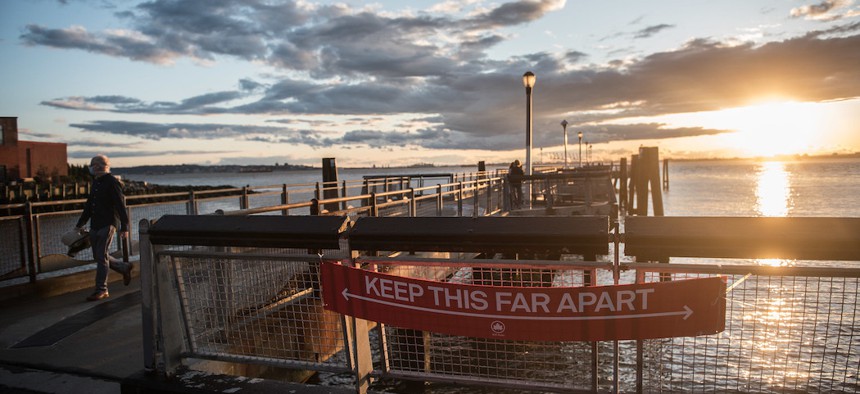 On Monday, New York City Mayor Bill de Blasio announced that fines for improperly social distancing will be doubled, from $500 to $1,000. 
So far, 244 fines have been issued by the NYPD for social distancing violations, most of which were handed out to large groups congregating in public parks and other locations. The city and state have had to contend with the COVID-19 crisis since early March and new restrictions have been continuously enacted throughout the state to help mitigate the virus.
As the state's restrictions grow and evolve, they are becoming more difficult to keep track of, so we compiled a comprehensive list of them to date:
Social distancing 
On March 20, Gov. Andrew Cuomo instated his "New York State on Pause" plan, which closed all nonessential businesses for 90 days. The executive order also banned social gatherings of all kinds and instructed individuals to maintain a six-foot distance between themselves and others. New Yorkers were also encouraged to remain indoors unless they are procuring groceries, medicine or going outside for solitary exercise. The only individuals exempt from these rules are essential workers, which includes those working in food production, pharmacies, health care facilities, shipping and utilities. Cuomo also signed "Matilda's Law," which mandates that anyone over the age of 70 remain home and limit interactions with others, on March 20. 
The governor's "Pause" plan was initially set to last until April 18, but he extended it to April 29 on April 6 and then again: The governor announced on Saturday, April 19, that the state's "Pause" would be extended until May 18.
On Saturday, de Blasio asked city residents to begin texting pictures of people violating social distancing measures to help the city flag where these transgressions are occuring. The mayor also announced that fines for violating social distancing will be doubled up to $1,000. "This is not snitching; this is saving lives," the mayor said. "You gotta do it, if you care about protecting human lives."
Facemasks and coverings are mandatory
On April 15, Cuomo announced that everyone needs to wear a face mask or covering when out in public or in places where proper social distancing cannot be maintained. Interestingly, the governor questioned the effectiveness of wearing a mask everywhere when de Blasio first floated the idea, two weeks prior.
Attending weddings and funerals is not allowed
Loved ones are being barred from attending their own family member's funeral or visitation, though some funeral homes are allowing one or two people to attend a small ceremony. 
Weddings have similarly been banned due to the state's restrictions on gatherings of any size. However, couples looking to wed are now able to get married in a video conference, according to Cuomo.
School closures
Schools closed across the state on March 16, though the city closed its schools a day prior. The state's CUNY and SUNY schools were also closed on March 11, forcing students to resort to remote learning for the remainder of the school year. However, as of March 29, schools were allowed to host free day care services.
Kids across the city are now learning remotely, with the exception of children of essential workers who go to "regional enrichment centers" while their parents are at work. 
School closures throughout the state are expected to end on April 29. De Blasio has said that he would keep the city's schools closed for the remainder of the school year. Cuomo shot back at the mayor, saying he doesn't have the power to open or close schools. But no one really knows for sure if schools will reopen in May, June or even September.
Transportation
New York City's public transit system is up and running, despite cutting back on subway cars on the tracks and buses in the streets. However, nonessential workers are being discouraged from using the transit system unless absolutely necessary. 
Taxis are still available for use, though hardly anyone is riding in them. Ride-hail app services are still available, but pooled rides were banned in the city as of March 17.
The Long Island Rail Road is running at 65% of its typical capacity, with rush-hour services intact for essential workers. And Metro-North is running trains hourly on the Harlem, Hudson, and New Haven lines, as well as adding extra trains at rush hour for essential workers.
Parks and beaches
New York City's beaches will most likely be closed through the summer, as officials fear social distancing measures will not be lifted by the time summer rolls around.
The city's playgrounds were closed on April 1, after many failed to comply with social distancing measures. And its dog parks were also closed on April 6 for the same reason.
City and state parks remain open, though policy officers are now being deployed to New York City parks to ensure individuals are maintaining their distance from one another.
Restaurant closures
Restaurants are no longer allowed to have dine-in service but they can still fulfil delivery and take out orders. And now alcohol can be delivered to your home, as long as you order it with food.