Coronavirus
NY launches probe into nursing homes
The state said supplying private nursing homes with personal protective equipment wasn't its responsibility.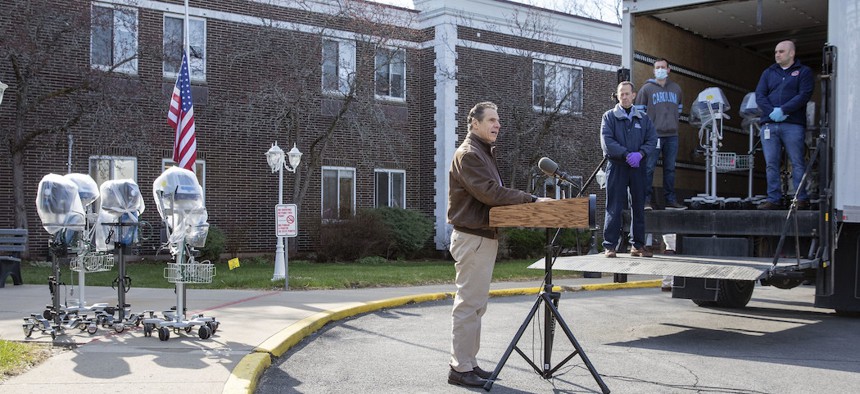 On Thursday, responding to a high number of deaths and reports of lacking personal protective equipment and inadequate safety protocols, New York state officials announced that a probe would be launched into the state's nursing homes. "We're going to undertake an investigation of nursing homes now, to make sure they're following the rules," Gov. Andrew Cuomo said during his coronavirus briefing. "It's going to be a joint Department of Health and (state) attorney general investigation." Any failure to comply with the state's Department of Health protocols discovered during the state's investigation could result in a $10,000 fine per violation or the revocation of a nursing home's operating license. 
The announcement came two days after the governor said it wasn't the state's responsibility to provide private nursing homes with the resources they require. "We have been helping them with more PPE but, again, it's not our job," Cuomo said during his COVID-19 briefing on Wednesday. That comment struck some as cruel, especially because just a month ago, while discussing the importance of keeping the state's vulnerable groups safe, the governor went viral for saying that his "mother is not expendable." 
More nursing home deaths caused by COVID-19 have occured in New York than any other state in the country. As of Thursday, 3,500 of the state's nursing home residents died from the coronavirus. And 58% of the state's nursing home deaths occurred in New York City. The Cobble Hill Health Center, a Brooklyn nursing home, reported that 55 of its residents had succumbed to the virus. However, severalreportshave shownthat some nursing homes may be underrepresenting their COVID-19 deaths, indicating that there may be a significant number of unreported deaths from coronavirus in nursing homes. 
Families of nursing home residents across the state have alleged that workers at nursing home facilities have failed to keep their residents safe from infection. However, the state's nursing homes have argued that they're following proper CDC protocols and the government has failed to help them attain the resources they need. Many nursing homes across the country have failed to get the PPE they need and some nursing home employees did not begin wearing face masks until the COVID-19 outbreak was well underway. 
The state said it has provided nursing homes with a sufficient amount of PPE, though it has not disclosed how much it has supplied. The governor also has expressed confusion over why the virus has been having such a crushing impact on the state's nursing homes. 
"It's either he's lying or they have absolutely no idea what's going on on the ground," Assemblyman Ron Kim told the New York Post."The staff, the families, everyone is telling me there's completely a lack of support and they don't have the necessary PPE to be safe."
Donny Tuchman, center chief executive at the Cobble Hill Health Center in Brooklyn, told The Wall Street Journal that the center spent weeks asking state officials for more PPE. "There is no way for us to prevent the spread under these conditions," Tuchman wrote in an email to state health officials on April 8. "Is there anything more we can do to protect our patients and staff?"
State officials responded to Tuchman's email with instructions on how to ration supplies and to send daily requests for supplies to New York City's Office of Emergency Management.
There have also been complaints that long-term care facilities aren't doing enough to keep their infected residents isolated. Some families have also complained that their loved one's long-term care facilities failed to communicate that they had become infected with COVID-19. If any resident has contracted the coronavirus, nursing homes in New York are required to notify their family as well as other residents' families within 24 hours. 
Separating infected residents has become more difficult for nursing homes, due to state protocols that have forced them to accept infected residents back into their facility after being in the hospital – a policy was initiated by the state's health department on March 25. "No resident shall be denied readmission or admission to the (nursing home) solely based on a confirmed or suspected diagnosis of COVID-19," Newsday reported.
"Cuomo has blood on his hands. He really does. There's no way to sugarcoat this," a health executive at a Queens nursing home told the Post. "Why in the world would you be sending coronavirus patients to a nursing home, where the most vulnerable population to this disease resides?"
The governor was unaware of this state mandate on Monday, but has been defending the protocol ever since he was brought up to speed. He has also said that the state's rules stipulate that facilities should only be allowed to take in residents if they have the ability to care for them. 
But some New York lawmakers aren't buying it and want the governor to acknowledge his failure to keep the state's nursing home residents safe. "Instead of accountability for errors, so we can learn and move forward, he instead says protecting the people who he knows are most vulnerable — who are losing their lives in unsafe conditions — is not his job," New York City Public Advocate Jumaane Williams told the Post on Wednesday.
Some families have also complained that their loved one's long-term care facilities have failed to communicate with families when the resident was sick. Nursing homes in the state are required to notify a resident's family of any COVID-19 cases at their facility within 24 hours, if any resident has contracted the virus. 
The elderly and individuals with pre-existing conditions are among the populations most vulnerable to severe cases of COVID-19, which the state has been aware of since its outbreak began. The U.S.'s first nursing home outbreak, in Kirkland, Washington, killed 37 people. Data has shown that about one in five COVID-19 deaths across the country have occured in a nursing home or other long-term care facility. 
Dr. Anthony Fauci, director of the National Institutes of Health's National Institute of Allergy and Infectious Diseases, warned the country that the elderly and individuals with pre-existing conditions were most at-risk a month ago. "It's so clear that the overwhelming weight of serious disease and mortality is on those who are elderly and those with a serious comorbidity: heart disease, chronic lung disease, diabetes, obesity, respiratory difficulties," Fauci told the American Medical Association in early March. He said there are exceptions but that "if you look at the weight of the data, the risk group is very, very clear."
Nursing homes and long-term care facilities also tend to be full of confined spaces and can easily become crowded, creating an ideal environment for the virus to spread. The work done at nursing homes, such as changing diapers and helping residents in and out of bed, also allows the virus to spread quickly, since it's impossible to social distance while performing these tasks. The workers who tend to work at long-term care facilities are often overworked and underpaid, which can put the elderly or immunocompromised at serious risks due to their elongated exposure to potentially infected individuals. The state doesn't have any regulations pertaining to the minimum number of employees needed to work at long-term care facilities, which has resulted in them being very short-staffed.
"They're death pits," Betsy McCaughey, former lieutenant governor of New York who founded the Committee to Reduce Infection Deaths, told The New York Times. "These nursing homes are already overwhelmed. They're crowded and they're understaffed. One Covid-positive patient in a nursing home produces carnage."