Coronavirus
NYC still needs federal funding
Without an infusion of cash and medical supplies, the city doesn't stand a chance at returning to normal.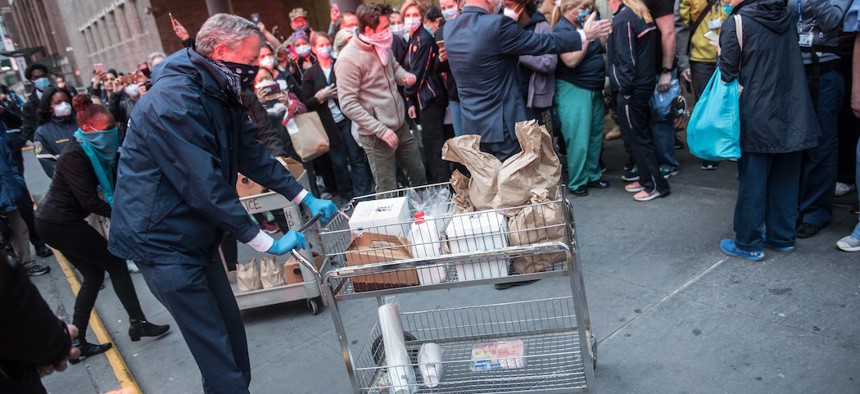 On Tuesday, New York City Mayor Bill de Blasio announced that the city will be purchasing 50,000 tests per week from Indiana starting on April 20. Local labs will also begin manufacturing 50,000 tests per week for the city in May.
While this would represent progress, the city would still need federal assistance to actually create a sustainable testing infrastructure. During a press conference on Monday, the mayor said "the kind of level of testing we would need – really widespread – the federal government is the only place where we could get the impact we need."
New York City Councilman Mark Levine told City & State that hundreds of thousands of people would need to be tested each day in order to contain the virus. "That (wide-scale testing) is going to require a huge infusion of resources from the federal government and most importantly assistance in securing the materials (needed) for the testing kits," he said.
The city and state have consistently asked President Donald Trump to supply New York with the funds and resources it needs to contain the COVID-19 outbreak by invoking the Defense Production Act. This would allow the president to direct certain factories to produce valuable resources needed for testing, such as swabs, testing chemicals and personal protective equipment. There's currently a nationwide shortage of testing supplies as well as a backlog of tests that have yet to be processed – making the need for federal intervention paramount.
The Food and Drug Administration could also help the city by loosening restrictions that are preventing more private labs from conducting COVID-19 tests, according to Levine. In South Korea, when tests were most needed, medical regulators relaxed their rules so more tests could be produced and processed by private labs.
More medical workers would also be needed to conduct COVID-19 tests in the city. But the city's pool of medical workers continues to dwindle as more and more workers contract the virus from infected patients. De Blasio has already warned that 45,000 workers may be needed to treat COVID-19 patients by the end of April. "There needs to be billions (in the next federal stimulus package) for staffing testing centers, building out testing centers and potentially even for hiring staff for contact tracing," Levine said.
However, the city will need more than testing supplies to begin lifting social distancing measures, Dr. Syra Madad, an expert on pathogens at New York City Health + Hospitals, told City & State during its webinar on the city's coronavirus response on Tuesday. Other factors that need to be considered, according to Madad, are "the number of hospital admissions, people in (the) ICU and things like that."