Bipartisan effort for federal funding approaches expiration date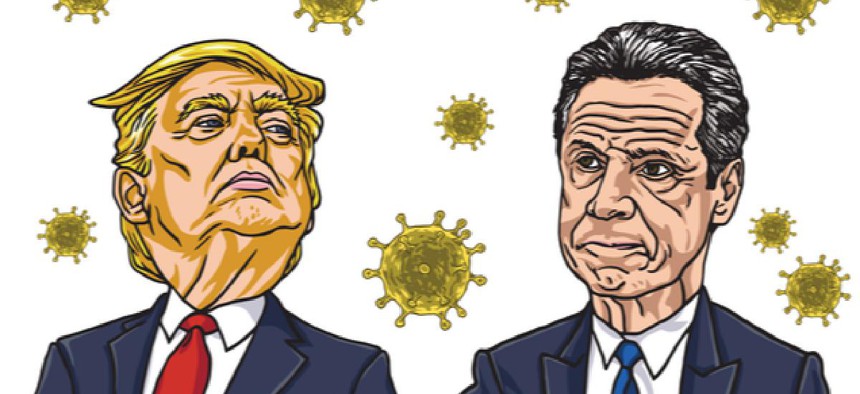 President Donald Trump dropped another sign over the weekend that he intends to renege on his promise to get Congress to approve billions in new federal funding to help New York avoid drastic budget cuts to education, health care and local governments.
There will be no deal on another federal stimulus package until next month, White House economic advisor Larry Kudrow told reporters on Friday. His comments come as the president has suggested that it would be "unfair" for the Democratic-led states to get more aid. Republican congressional leaders are hardly pushing for negotiations to move faster despite efforts from a bipartisan group of New York elected officials.
"This week, Washington is going to be considering additional legislation that is essential to what we're all trying to accomplish here," Gov. Andrew Cuomo told reporters at a Sunday press conference in Albany. "The economic impact is beyond anything any state can deal with." 
The governor is hardly alone in hoping Trump and congressional Republicans will abandon their stated opposition to giving the state more federal aid. House Speaker Nancy Pelosi might be thinking big when it comes to securing hundreds of billions in aid for states and localities, but it appears federal aid will not arrive before New Yorkers get a glimpse of the "bleak" fiscal future that Cuomo says will become reality if the state does not get the $35 billion in aid he says the state needs this year alone.
The Cuomo administration is expected to detail sweeping state budget cuts on May 15. While a future federal stimulus bill could mitigate some cuts in the end, the chances of getting that before the state begins reopening its economy later in the month are slim. 
The bipartisan truce that has defined the crisis in New York is coming to an end as the president moves to redefine what success means when thousands of people are dying each day. Assembly Republicans began calling Saturday for new limits on the emergency powers they helped the governor get at the beginning of March. "The initial emergency response need has passed," GOP state Sen. Tom O'Mara said later that day. "The Legislature has to re-engage and check this autocratic undemocratic control."
The state Legislature will have 10 days to present its own plans for dealing with a state budget shortfall after the state Division of Budget releases details on state budget cuts mid-month. As GOP lawmakers push for a reopening of the state economy, both Cuomo's newfound popularity with Republicans and emergency powers make the president more important than ever for New York Republicans. Their votes do not count for much in the state Legislature, but the president has offered them some unexpected political leverage in the past on issues like taxes, immigration and cash bail. 
The president's ability to hurt Cuomo politically, however, has been tempered in recent weeks by the governor's popularity among GOP voters and the need for Republican lawmakers to play nice with him during the pandemic. Even Trump has used Cuomo for political gain.
But political alliances are only good as long as they are useful. Republicans are supporting the funding push for now, but Trump and congressional leaders like U.S. Senate Majority Leader Mitch McConnell are still standing in the way. That has put them at odds with some New York Republicans in recent weeks – Trump has shown that he will tolerate only so much dissent from within the party. 
While he is not currently blasting Cuomo on Twitter like before, Trump appears to be doing what he can to thwart the governor's top political priority – securing the all-important federal funding. With the president and governor clearly at odds over the federal stimulus bill and their respective approaches to reopening the economy, there is mounting pressure on Republicans to choose a side as the 2020 elections heat up – an ominous sign for prospects of federal aid anytime soon.