Campaigns & Elections
Chaos reigns in the pandemic primary
Confused poll workers are handing out the wrong ballots and others forced to vote in person.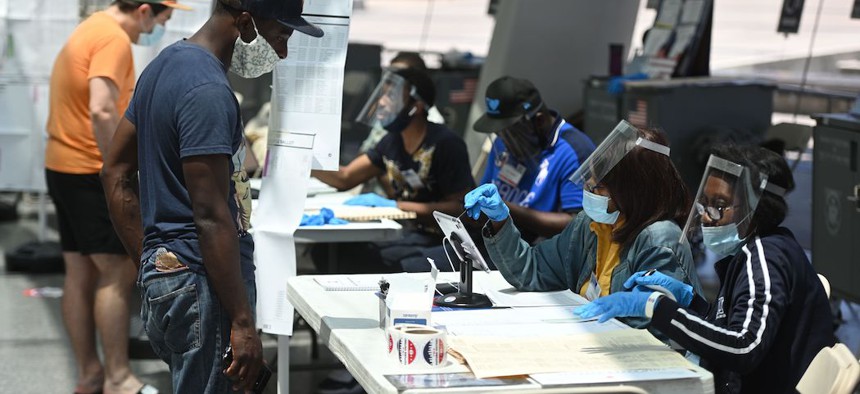 Electoral disaster in the June 23 primary was widely anticipated – even beyond the usual Board of Election errors, to which New York City residents have become accustomed. 
And now the BOE has lived up to expectations. On Tuesday, reports poured in from around New York City of confusion at the polls, with voters receiving only a presidential primary ballot or only one for local and congressional races. Before polls opened, voters across the city and throughout the state said they hadn't received their absentee ballots, despite applying weeks ago, forcing many to vote in person despite the still present risk of COVID-19. Those who wouldn't go to the polls because they are at higher risk of severe complications from COVID-19 were simply disenfranchised. Welcome to the pandemic primary. 
As soon as polls opened Tuesday morning – or failed to do so on time – reports on Twitter emerged of problems at poll sites. Because the Democratic presidential primary was originally scheduled for a different election day in April, candidates appeared on a different ballot than the one for the regularly scheduled June 23 state and congressional primaries. The dual ballots sowed confusion. Many New Yorkers said they were given only one ballot, and sometimes needed to fight with poll workers to get the other one. This even happened to congressional candidate Paperboy Prince, who said they were originally denied the ballot with their own name on it. (Prince uses "they" as their preferred personal pronoun.)
THEY ARE CHEATING ALREADY AT THE POLLS!!! I WENT TO MY POLLING LOCATIONS IN NYC AND THEY ONLY HAD OPTIONS FOR PRESIDENT!! NO LOCAL OFFICES! THE INCUMBENTS CHOOSE POLL WORKERS... NONE OF THEM KNEW WHAT A BALLOT SHOULD LOOK LIKE! I LITERALLY HAD TO MAKE A FUSS TO VOTE!!

— Paperboy Prince for Congress Vote June 23rd (@PaperboyPrince) June 23, 2020
.@BOENYC what's up with some of your poll workers telling folks there's no Presidential primary and and only giving one sheet of the 2 sheets for the ballot?

— Catalina Cruz, Esq. (@CatalinaCruzNY) June 23, 2020
Part of the confusion may arise from the fact that normally, poll workers have only one ballot they are responsible to give to each voter. In Nassau County, poll sites were split up by election, rather than election district, meaning voters went to two different tables clearly labeled for their two ballots. In New York City, poll sites were split up by election district as usual, meaning that anyone eligible to vote in both presidential and local primaries would need to know poll workers were supposed to give them two ballots when they checked in.
Multiple polling sites across AD 50 are not giving voters both ballots. Hearing numerous accounts of registered Democrats only receiving their presidential ballot. What's up @BOENYC?

— Kristina Naplatarski (@kristina_nap) June 23, 2020
The city Board of Elections said on Twitter at about 2 p.m. on Election Day that a message had been sent to remind all poll workers to give both the presidential and local ballots to registered Democrats.
In several reported instances, some Democratic voters reportedly received presidential primary ballots for the Serve America Movement Party. 
Upwards of 1.7 million people across the state applied for absentee ballots to avoid voting in person due to the pandemic, including over 700,000 in New York City alone. But by Sunday, thousands of people across the state still had not received their absentee ballot. Local boards of elections generally said they sent out the overwhelming majority of ballots requested, but by their own description often did so as late as Thursday. 
The failures by the boards, as well as from state leaders who did little to ensure people actually received their ballots, has resulted in widespread voter suppression of people who are immunocompromised, disabled or out of state. 
This ain't good, @BOENYC: it's never taken me longer than 5 mins to vote in nyc. I went in at 6:10, there was no one, and it took me 40 minutes to vote. I was only there because I never got my absentee ballot.

— Laurie Ann Cedilnik (@cedilnik) June 23, 2020
@BOENYC I requested my ballot weeks ago and I have yet to receive it. I can see my neighbors ballots have arrived. I indicated that I'm disabled, so absentee is my only option. Why wasn't mine sent? What's the status? Feels like ableist voter suppression. Please advise.

— 0000s51 (@0000s51) June 23, 2020
I never got my absentee ballot from @BOENYC. And I'm not going to the polls in person because I want to keep vulnerable people in my life safe. That means my vote won't be counted this election. I guess voting by mail actually doesn't work. #NYCVotes

— Erik Piepenburg (@erikpiepenburg) June 23, 2020
The issue is not limited to New York City. Nassau County resident Kacie Candela told City & State that she never received an absentee ballot, even after confirming with the Nassau Board of Elections her ballot had been mailed on June 6 to the correct address. "I plan to go vote this afternoon, but if the line is too long I may not be able to vote," Candela said, citing concerns about COVID-19.
Brooklyn congressional candidate Isiah James reported that at at least one polling station, voters were given misprinted ballots that did not contain the congressional race. He's running against incumbent Rep. Yvette Clarke. James said the voter who reported the mistake needed to wait over an hour while poll workers searched for the correct ballots. Several hours later, the city Board of Elections said it confirmed that all ballots at the poll site in question – PS 22 – had the congressional primary on them.
Meanwhile, Assembly Member Victor Pichardo reported on Twitter that he and his family received the ballot for the wrong Assembly District. Also in the Bronx, a Twitter user said poll workers at PS 107 couldn't find the ballots.
Went to vote with my family at my polling place at Bailey Senior Center in the Bronx at 20/86 and was initially given the wrong ballot designated for the 78th AD. @BOENYC. Please Triple check your ballots to make sure you got the right one

— Victor Pichardo (@Vpichardo86) June 23, 2020
Hey @BOENYC my partner is trying to vote at PS 107 and the staff are saying they can't find the BALLOTS?!

(1695 Seward Ave, The Bronx, NY 10473)

— Smart. Loving. United. Tough. (@bigbronxenergy) June 23, 2020
Adding to the confusion is that some poll sites in New York City were closed because of the pandemic. Brooklyn district leader candidate Samy Nemir-Olivares was alerting voters in his district that some polls sites, including his own, were moved because they were located in places like senior centers.
Reminder: Several poll sites across the City are closed due to Covid-19.

Check where you should vote at: https://t.co/kdQuPtoE0w

Here's the list of the sites closed in Williamsburg and Bushwick- within Assembly District 53. pic.twitter.com/SEQA6vM6n4

— Samy Nemir-Olivares (@Samynemir) June 23, 2020
Please note that due to COVID-19 there were some emergency poll site changes. A mailing was sent to all voters affected but we ask all voters to check https://t.co/mvc1ZR8Nz3 before heading to vote.

Polls are open tomorrow, June 23 from 6am-9pm. pic.twitter.com/IsBblnzOsk

— NYCBoardOfElections (@BOENYC) June 22, 2020
Some locations also seemed to be struggling with staffing. According to the Brooklyn Paper, poll workers at PS 261 in Boerum Hill were attempting to recruit voters with any election administration experience to help out.
However, it could be worse. In the city of Louisville, Kentucky, another state holding primaries today, only one poll site is open for all 600,000 residents. Kentucky, like New York, expanded absentee voting in light of the pandemic, leading for far fewer in-person polling places across the state. Luckily, that did not happen in New York, where the vast majority of poll sites remain open on Election Day.
The day before, Assemblywoman Rodneyse Bichotte raised concerns about poll sites opening in time since the subways are closed overnight and don't reopen until 5 a.m., the time poll workers need to show up. She called on the governor to open the subways early, which he did not. Even the city Board of Elections Commissioner Fred Umane expressed concern workers wouldn't arrive in time, even with ride-hail provided as an option. According to the Washington Post, the City Island School polling place in the Bronx did not open until nearly 9 a.m. – three hours late – because of the closed subways and lack of transportation options.
7:40 AM, @BOENYC rep finally shows up (in a Lyft) pic.twitter.com/hanMXvqU3h

— Lauren D Nye (@LaurenDNye) June 23, 2020
A sliver of hope among the chaos are the school board and budget votes that took place across the state on June 9. In those elections, voters were directly mailed absentee ballots, which increased voter participation many times over. 
It seems that may be the case for the pandemic primary as well, in which over ten times more people requested to vote by mail compared to 2016. Of course, not everyone who requested a ballot received in time, or is even guaranteed to actually use it. But the numbers indicate that the 2020 primary joint presidential, congressional and local primaries are poised to have amuch higher than expected turnout, despite the many problems that have arisen and amid concerns the pandemic might depress turnout. Though voters must still be prepared for the downside of expanded mail-in voting – waiting a week or more to find out the results of hotly contested races.