Campaigns & Elections
Is police money the new real estate money?
There are more and more sources of campaign cash that are frowned upon for progressive candidates.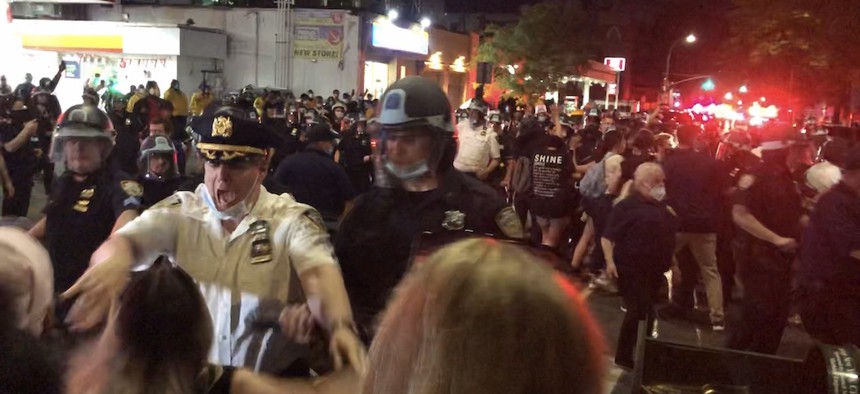 Brittney Spears said it best: "Don't you know that you're toxic?" 
There are a lot of people, organizations and causes whose campaign donations are politically toxic to Democrats in New York – and the list keeps growing. Donations from police unions are the newest addition to that list. 
After the death of George Floyd at the hands of a Minneapolis police officer, protests erupted across the nation and across the state. Protesters demanded an end to biased policing and called for legislative changes like the repeal of section 50-a of the state Civil Rights Law, which prevents the public release of police disciplinary records. But the protests have also called attention to politicians who have accepted campaign donations from police groups, such as police union political action committees, and some on the left have begun pressuring lawmakers to return the money and pledge to accept no more. So far, at least 12 state legislators have publicly donated some or all of those contributions to causes like bail funds and mutual aid groups, including Assemblywoman Aravella Simotas and state Sen. Michael Gianaris.
Although criminal justice reform is on the agenda for many Democratic legislators, most still accept money from police groups that generally oppose those changes. After all, they are the party of organized labor, and law enforcement unions are unions. About 50 Democratic state legislators have accepted donations from police, corrections or court officer unions, including Assembly Speaker Carl Heastie, state Sens. Diane Savino and Andrew Gounardes and Queens District Attorney Melinda Katz, according to a spreadsheet created by progressive activist Aaron Fernando.
But with the recent protests once again placing police brutality on the front page, police money has become controversial in the way that donations from powerful business interests have long been on the left. 
Here are some of the main groups of contributions that left-leaning candidates are increasingly expected to avoid: 
Real estate money
Taking money from the real estate industry, particularly from developers, is a big no-no for New York Democrats, especially those downstate. That means no money from trade associations like the Real Estate Board of New York and associated political action committees. Generally, that also means not accepting donations from people employees or owners of major developers and corporate landlords like Related Companies, Blackstone Group and Brookfield Properties. Many Democratic candidates have foregone such donations in recent election cycles. Depending on how strict any particular candidate is, that can extend to accepting any donation from a donor who works in the real estate business, including brokers. Sitting lawmakers have vowed not to accept real estate money, including state Sens. Michael Gianaris, Jessica Ramos and Zellnor Myrie and Assemblywoman Yuh-Line Niou, although some have still accepted such donations in some cases unknowingly. City Council Speaker Corey Johnson and City Councilman Jimmy Van Bramer are some of candidates at the New York City level who also have sworn off real estate dollars. 
Corporate money
No one likes a politician being beholden to big business, so accepting corporate donations has fallen out of vogue. Candidates for Congress, like Rep. Alexandria Ocasio-Cortez and U.S. Sen. Kirsten Gillibrand, during her presidential campaign, pledged they would not accept money from corporate PACs. Prior to 2019, in New York state elections, businesses and corporations could give unlimited money to candidates through something called the "LLC loophole." Big companies could form any number of limited liability companies and each could give separately. Technically, LLCs counted as people, greatly increasing the contribution limit, and were considered separate entities, allowing the companies that formed them to skirt campaign finance rules. Many Democrats benefited from the practice, including Gov. Andrew Cuomo and state Attorney General Letitia James, but they still called for it to end. Since the state Legislature closed the loophole after Democrats got control of the state Senate in 2019, "corporate" money is far less part of the local conversation. Donations categorized as such are often from local business, not shadowy shell companies.
Charter school money
The issue of charter schools is not one that has a simple ideological or partisan divide. Generally speaking, Republicans and some moderate Democrats tend to be more friendly to charter school interests and liberal Democrats usually align themselves more with public schools and teachers unions that oppose expanding charter schools. When the state Senate flipped blue, it certainly created a much more hostile environment. But it hasn't reached a boiling point yet where Democrats have stopped, or pledged to stop, taking money from the charter school industry and its donors. Both the state Senate and the Assembly Democratic Conference campaign accounts still take in large sums, as has state Sen. Michael Gianaris, a vocal progressive and leader in his chamber.
Lobbyist money
Lobbyists play a big role in lawmaking in New York and Washington, so it makes sense that they would want to contribute to candidates. But not all Democrats like the optics of taking their cash – one doesn't want the appearance of engaging in pay-for-play. Many 2020 presidential candidates, including New York City Mayor Bill de Blasio, swore off the stuff before their campaigns fizzled and they dropped out. More locally, however, lobbyists are not uncommon on Democratic lawmakers' campaign financial disclosure forms. Although some left-wing candidates, like Assembly candidate Zohran Mamdani – who lumps it in with corporate cash – and state Senate candidate Jabari Brisport, have pledged not to take it.
Gun money
This one is a no brainer. Democrats, let alone New York Democrats, just don't accept money from the NRA or the rest of the gun lobby – not that they're being offered much of it anyway, given their nearly universal support for stricter gun control. 
Wall Street money
Wall Street may be one of the main driving forces behind New York's economy, but that doesn't mean that it looks good for Democrats to accept money from the CEOs of Goldman Sachs or JPMorgan Chase. That hasn't stopped top Democratic candidates on the national stage from being bankrolled by high-earning Democratic donors from the finance industry, but they're falling out of fashion as more progressive candidates opt for grassroot campaigns funded by small donations from average people. Then-Rep. Joseph Crowley received criticism from the left during his 2018 primary against then-candidate Alexandria Ocasio-Cortez for his reliance on Wall Street donors to bankroll his campaign. U.S. Sen. Charles Schumer has also faced criticism for his ties to Wall Street and its Democratic donors.
Tobacco, pharmaceutical and fossil fuel companies
Taking money from these industries is frowned upon among liberal Democrats, but tends to play out more in congressional and national campaigns. The influence of these companies specifically in the state or city of New York is less, although not non-existent. The placement of a new natural gas pipeline, for example, has been a heated debate topic and fiercely opposed by Democrats. Many sitting lawmakers and candidates have signed the No Fossil Fuels Pledge.
Powered By
NEXT STORY: Protests continue to rock New York and lawmakers respond