Campaigns & Elections
The long wait for New York City election results
The Board of Elections has set its timeline to finally start counting absentee ballots.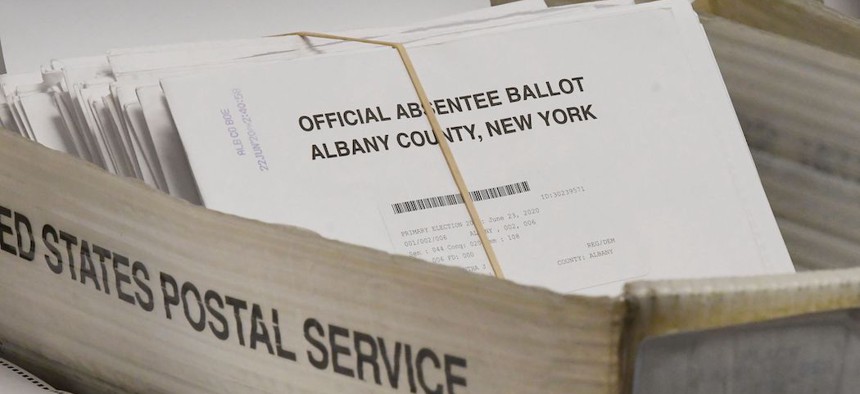 Since the coronavirus pandemic has forced New Yorkers to stay at home, the state decided to allow anyone to vote via absentee ballot. But that transition came with lots of challenges, as people didn't get their absentee ballots mailed back in time for their votes to count in the June 23 primary. That problem was spurred in part by the New York City Board of Elections being flooded with requests for more than 700,000 absentee ballots. For comparison, only 23,775 absentee and military ballots were filed during the 2016 presidential primary.
The glut of absentee ballots also means that election results are still pending because so many votes continue to come in by mail. City & State takes a look at when these ballots will be counted and what it means for finding out which candidates have emerged victorious.
When will absentee ballots start to get counted?
The New York City Board of Elections is legally required to start counting absentee ballots by July 1, but that won't happen because of the immense number of absentee ballots. The vote counting will begin on Staten Island on July 6, with the remaining boroughs beginning their counts on July 8.
This slowdown is happening in part because ballots need to be processed before they can be counted, which involves checking information like whether ballots have been signed and dated, and if a voter who mailed an absentee ballot also voted in person.
"Normally, there are few enough absentee ballots that staff at the board can go through them and make a determination of validity, and be ready the next day to set up the count," said Sarah Steiner, an election lawyer who used to chair the Election Law Committee of the New York City Bar Association. "But I don't think that's going to happen here."
What absentee ballots will be counted?
Absentee ballots must have been postmarked by Election Day, June 23, to be counted. They also must be received by the Board of Elections within a week, so any ballots that arrive after June 30 will not be counted.
When will we know who won these primary races?
Finalizing New York City's primary election results are contingent on the speed with which the Board of Elections can count absentee ballots – a process that must be done by hand. 
"If we have to sacrifice speed for accuracy, we will always err on the side of accuracy and not give into the pressure to speed things up," Michael Ryan, executive director of the city Board of Elections, said on Wednesday.
Steiner estimated it could take two to three weeks for the results to be finalized. Certain races could also be officially confirmed earlier if the agency decides to release results on a rolling basis.
"The Board of Elections itself generally will not publicly update numbers until they're ready to certify for the whole city," said Leo Glickman, an election lawyer and partner at Stoll, Glickman & Bellina LLP, though he noted that campaigns may still informally share unofficial results from overseeing the count.
In some cases, the process may be even more drawn out if there are further legal challenges contesting the results. 
Could we see lawsuits disputing the results?
It's likely that more candidates than usual will be filing lawsuits related to absentee ballots. Usually, absentee ballots constitute such a small portion of the vote that even in many tight races, it may not be worth the effort to contest them, Glickman said.
But there are several competitive primaries this year that could hypothetically be flipped by the remaining absentee ballots. For example, the leading candidate in Assembly District 79 in the Bronx is only leading by 240 votes right now, while nearly 2,000 absentee ballots in the district remain to be counted. This means there is a greater incentive for candidates to monitor the counting process.
Candidates only have until July 6 to decide whether they wish to pursue a lawsuit, however, which means they'll have to decide before the process of counting most absentee ballots has begun. 
"I think there is going to be a lot of lawsuits, but I think in a lot of cases, they're going to end up as insurance policies in case you're one of those cases that comes out very close," Glickman said.
This year's legal challenges will look different than the one in the Queens district attorney race last year. Because that race was close, it triggered a mandatory recount of all votes. The main issue this year only relates to counting absentee ballots.
In some cases, litigation may likely be resolved based on the outcome of the absentee ballot count. If some races turn out to be close, those are more likely to see drawn out disputes on whether certain ballots should be counted.
Steiner anticipates that whether absentee ballots were mailed and received in time to be counted may be a big issue in this year's lawsuits. There also could be a greater number of absentee ballots that weren't postmarked this year because the post office will sometimes omit them on mail with prepaid postage, she said. This is the first year that absentee ballots have been issued with prepaid postage.
Powered By
NEXT STORY: How do you enforce a quarantine?