New York City
The organizing behind New York City's protests
Many different groups are responsible for protests against racism and police brutality.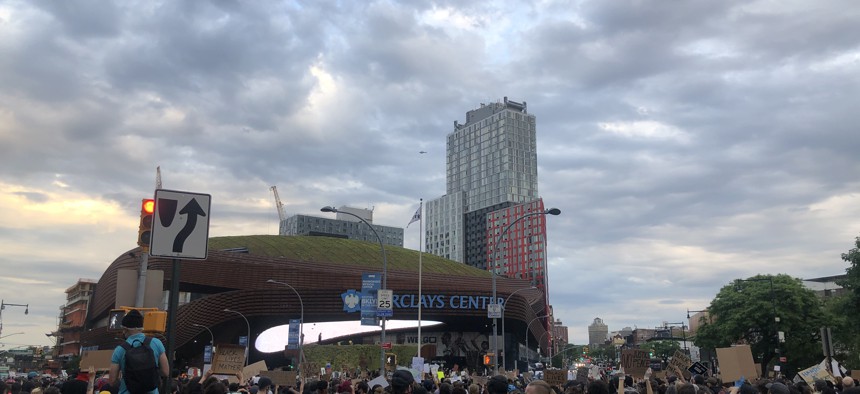 When a New Yorker steps outside these days, there's a good chance a rally, vigil or march against systemic racism and police brutality is happening nearby. New York City has seen daily and nightly protests in the aftermath of the police killing of George Floyd in Minneapolis, especially in some predominantly black and Latino neighborhoods and in much of lower Manhattan and neighborhoods near Downtown Brooklyn. 
That might lead one to wonder who is organizing these events, bringing hundreds or even thousands of New Yorkers into the streets and marching across bridges all around the city simultaneously. It's an impressive feat, especially for a movement with no high-profile individual leader. 
But there is no one person, or even any one group, responsible. Welcome to a new era in activism, in which diffuse social networks can organize and absorb information about when and where to show up through osmosis. 
Activist organizations, community members and neighborhood groups from across the five boroughs have been loosely coordinating or independently organizing action for the last week. In the past week, only one protest – a June 2 rally and march in Bryant Park – seems to have been officially organized by Black Lives Matter of Greater New York, the local chapter of the national group. While most, if not all, of the other actions are part of the same overarching movement, their organizers are not specifically related to the official Black Lives Matter group. 
For example, a rally at the Barclays Center in Brooklyn on May 29, the second day of action, was organized by an artist-led community group called the Freedom Arts Movement. 
The decentralization is at least partially by design. The Black Lives Matter movement was founded in 2013 as a leaderless grassroots movement. That contrasts with historical movements that often featured charismatic leaders like Martin Luther King Jr. and groups like his Southern Christian Leadership Conference during the Civil Rights era. 
According to Zein Murib, an assistant professor of political science at Fordham University, civil rights leaders had a specific policy goal – ending legal segregation – and had specific leaders who mobilized to get it done. The Black Lives Matter movement is different. "The goals, rather than being targeted towards specific laws, are ones that bubble up from the grassroots level," Murib said. "There's not a formal policy of police brutality, per se, but the existence of the police authorizes police brutality. I think that's why we see a much more diffuse movement."
But what's happening in New York right now would better be described as lower-case "black lives matter" protests.
On June 1, community members in Astoria, Queens informally organized a vigil for George Floyd. It featured no set list of speakers, and no activist or community group was involved in its planning. And on May 30, simultaneous events were planned across four boroughs, organized by a handful of progressive and left-wing groups including the People's Power Assemblies, the Party for Socialism and Liberation, Flatbush for Equality in Brooklyn and Cuir Kitchen Brigade in Queens.
Not every organizer has the same goals for their events. James Johnson, a Southeast Queens community activist and founder of the group Opportunities for Southeast Queens Millennials, organized a rally in Hollis on June 3 expressly for young members of the neighborhood to be heard and to listen to others on the issue of racism and police brutality. "You have some other communities that are having outsiders influence what is going on as far as what a protest (looks) like," Johnson told City & State before the event began. "Every individual that's going to be here today are going to be from the community.
Johnson was adamant his rally would be peaceful, to "change the narrative." Clashes with police, vandalism and looting like have been seen in parts of Brooklyn remain a concern, particularly in black communities like Hollis that are most affected by the very issues being protested. Flyers for the May 29 rally in front of the Barclays Center told protesters "prepare to escalate" – and the protest did escalate, with a burning police car and clashes with officers. 
In contrast, "We'll police our own selves," Johnson said. Police arrived 30 minutes before the start of the rally nonetheless. It concluded without incident.
Although Johnson's rally was focused on his community and its specific needs, that's not to say that none of these groups are coordinating with each other. Timothy Hunter, a senior member with the activist group Strategy for Black Lives, which organized a June 2 rally at Foley Square in Manhattan, said that his group communicates with others to maximize the impact of protests. "Other groups also meet up at these organizing events and connect with each other," Hunter said. "There's a lot of groups, and I'm sure some people don't know the names of all of them," he said, but if an event is from a trusted group, others will promote it.
While critics may say a lack of singular leadership could muddy the messaging around specific goals, a democratization in the power structure also makes a movement harder to delegitimize or eradicate while broadening a base of support. New York is seeing that now as broad coalitions of groups take advantage of the moment to get messages to those in power. "Different people are protesting for different things, and they're forming allyships," Fordham political science professor Christina Greer said. "We're all coming together because we're feeling like the state has failed us." That unity helps strengthen demands for the broad, structural change protesters seek from those in power. "No, there's no direct leadership. No, there's no specific message. But I think at a certain point in time, the key demands will be distilled to the top," Greer said.
Thanks to social media, where much of organizing happens, these often disparate groups and the rallies they organize are reaching wider audiences than before, while helping create a sense of unity between related, but often unconnected, action across the five boroughs. Groups create events on Facebook and share information on Twitter and Instagram. "Social media lowers the costs for participation," Murib said. "It makes it easier to learn about a protest that's happening and to participate in lots of different ways."
One Instagram page in particular, @justiceforgeorgefloydnyc, has become a community posting board for events throughout the greater metropolitan area. With 109,000 followers, the anonymous page offers a central point of entry into this decentralized conglomeration of protests. And in the process, it often divorces any particular rally from its original organizer. Posts with dates and times of protests – that also get shared by other users and can be found in neighborhood subreddits – often don't include information on the people behind them, only adding to the decentralized nature of the protest movement. 
The Instagram account itself holds a degree of sway. The page initially featured a June 2 protest to take place in Fort Totten Park in Queens. It later posted that the organizer had canceled the event due to concerns over police presence. But the message had already gotten out, and according to QNS, about 50 to 60 people still showed up and marched through Bayside.
At the same time, there is a degree of spontaneity to some of the protests, particularly those in the evening, that are somewhat reminiscent of the Stonewall Uprising for gay rights in 1969. Those protests were not explicitly planned in advance, but for days after the initial police raid, members of the LGBTQ community showed up in Greenwich Village to express their anger and frustration with the status quo. Today, the ongoing protests in Brooklyn that begin at the Barclays Center are similar. Even when no organization has planned a rally or march, protesters arrive about the same time each day at the site and march through Downtown Brooklyn. 
And once protesters begin marching, organized rallies become much more fluid, as different groups meet up with each other, or some may get split up. Social media plays a unique role here as well. "Social media sustains protests," Murib said. "I was following very closely some people who were tweeting what was effectively a police scanner – the police are moving this way, so the movement needs to go this way." 
In New York's recent history, the longest sustained protest that comes to mind is Occupy Wall Street in 2011, but what's happening today is arguably different. In 2011, demonstrators stayed in one spot in Lower Manhattan for weeks, whereas in the past week events have been happening every day all over the city. And years of continued injustice and inaction by those in power combined with a pandemic that has disproportionately affected communities of color has created an unprecedented environment in which this decentralized group of organizers keep the protests going. "I don't see this letting up until justice is served," Hunter said. "People are tired of justice not being served."
Powered By
NEXT STORY: Even black lawmakers get pepper-sprayed