New York State
The push to remove racist statues in New York
Recent protests have sparked renewed interest in what to do about some of the state's problematic monuments.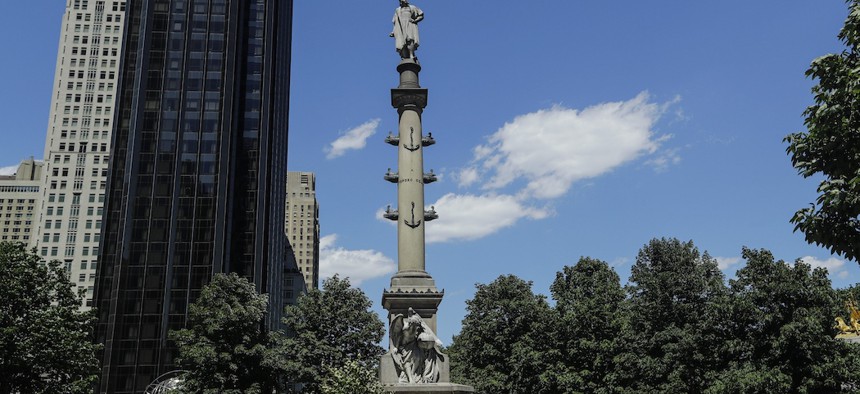 In a handful of states, statues that reflect the history of racism in the U.S. are being toppled and removed from public spaces in light of the ongoing protests against systemic racism and police brutality.
This has sparked a renewed interest in removing several statues of figures that represent white supremacy throughout New York. Albany Mayor Kathy Sheehan has already ordered a statue of Philip Schuyler, who was a U.S. senator, a general during the American Revolution and owned 17 slaves, to be removed from outside of Albany City Hall, an issue that was raised by the city's diversity officer last year. An online petition is circulating to rename Columbus Circle and have the statue of Christopher Columbus removed from the plaza.
On Thursday, Gov. Andrew Cuomo again defended Columbus statues in the state by saying they are a point of Italian American pride. "I understand the feelings about Christopher Columbus and some of his acts, which nobody would support, but the statue has come to represent and signify appreciation for the Italian American contribution to New York," Cuomo said at a press conference. "For that reason, I support it."
This isn't the first time that New Yorkers have called on lawmakers to reconsider some of its problematic monuments. Last year, Cuomo dismissed calls to remove the Columbus Circle statue and rename the plaza. He also criticized New York City first lady Chirlane McCray for not building a statue of Mother Frances Cabrini.
In 2018, McCray announced that the city would be installing new statues of women and people of color to create greater diversity in statue representation throughout the city. The first lady created the She Built NYC campaign, which asked city residents to nominate female historical figures that had a major impact on New York to have statues made in their honor.
Mother Cabrini received more nominations than anyone else, but McCray decided to have statues made of Rep. Shirley Chisholm, Billie Holiday, Helen Rodríguez Trías, Elizabeth Jennings Graham, Katherine Walker, Marsha P. Johnson and Sylvia Rivera. This infuriated many Italian Americans and Cuomo stepped in and said the state would spend $750,000 to have a statue of Mother Cabrini erected in the city. The statue scandal also led to the resignation of city Department of Cultural Affairs Commissioner Tom Finkelpearl, who reportedly felt he was being forced to take the fall for the first lady's misstep.
The city and state have been debating what to do about its more contentious monuments and statues for years. In 2017, de Blasio created a commission to review the city's monuments commemorating problematic historical figures. However, the commission only recommended removing a single statue of Dr. J. Marion Sims.
Sims, known as the "father of gynecology," practiced in the 1800s and performed experiments on enslaved black women without their consent and without using anesthesia. His Central Park statue was put into storage at Brooklyn's Green-Wood Cemetery.
Correction: An earlier version of this story incorrectly stated the destination for the Dr. J. Marion Sims statue after it was removed from Central Park.
New York State Case Studies
Powered By
NEXT STORY: 50-a repealed and a second week of protests