Campaigns & Elections
Shaun Donovan outraises rest of NYC mayoral field combined
Coronavirus limits fundraising for citywide offices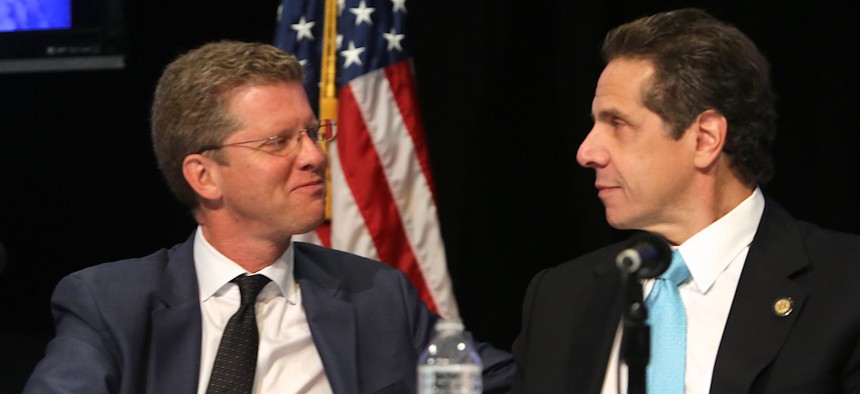 Fundraising for the New York City mayoral race fell sharply in the last six months as candidates dealt with the coronavirus pandemic – but it didn't seem to slow down former federal Office and Management and Budget Director Shaun Donovan, who managed to outraise the rest of the field combined.
In the latest six-month campaign finance filing period, from January 12 until July 11, Donovan – who, under President Barack Obama, also served as secretary of Housing and Urban Development and previously was New York City Mayor Michael Bloomberg's commissioner of Housing Preservation and Development – raised $662,000. All together, the other 11 candidates currently running raised about $594,000. Donovan announced his campaign in February, so this was his first fundraising filing, when candidates typically put up some of their strongest numbers. Donovan brought in donations from national political figures, including former U.S. Transportation Secretary Anthony Foxx, who is now an executive at Lyft, and former White House Press Secretary Jay Carney, who is now an executive at Amazon.
While some mayoral candidates like New York City Council Speaker Corey Johnson and former nonprofit executive Dianne Morales have been focusing on small-dollar donations, Donovan is relying on wealthy, large donors. Donovan's average donation is $1,171, compared to Johnson's average of $159 and Morales' $83. Even Brooklyn Borough President Eric Adams, who by most measures is leading the field in cumulative fundraising, has an average donation of $423, less than half that of Donovan. New York City Comptroller Scott Stringer, another top contender, has an average donation of $367. 
Other than Donovan, Adams brought in the most money among mayoral candidates in the last six months, reporting $261,000 in donations. With 11 months to go before the expected June 2021 Democratic primary, Adams has more than $2.1 million on hand. His current fundraising should also qualify him for an additional $5.1 million in public matching funds. The New York City Campaign Finance Board plans to start doling out funds in December. Despite his strong fundraising period, Donovan expects to qualify for a comparatively measly $212,000 in matching funds because his donations are only matched up to the first $175 and only if they come from within New York City. 
Stringer raised just $120,000 in the last period. Like Adams, it was his lowest six-month period since fundraising for this cycle began in January 2018. Stringer has $2.3 million in his campaign account, and expects at this point to qualify for an additional $3.8 million in matching funds. 
Johnson raised about $70,000, his weakest period since announcing his campaign. He has $635,000 on hand and he could qualify for an additional $4.9 million in matching funds. Other candidates in the race include Morales, who raised $95,000 and has $107,000 on hand, and former New York City Veterans' Services Commissioner Loree Sutton, who raised $41,000, but has reported spending more than she's brought, leaving her campaign with a negative balance of $4,000. Six other candidates have filed to run for mayor so far, but aren't expected to have much of an impact on the race. 
Other candidates that are rumored to be considering mayoral campaigns, such as former counsel to New York City Mayor Bill de Blasio Maya Wiley and former New York City Council Speaker Christine Quinn, have not filed campaigns with the Campaign Finance Board. 
With Stringer term-limited out of his current office and planning to run for mayor, some political players also have their eye on the Comptroller position. State Sen. Brian Benjamin leads the field there, with $386,000 on hand. The Manhattan Democrat outraised many mayoral candidates in the last six months, bringing in $197,000 – even as he runs for reelection to the state Legislature at the same time. New York City Council Member Brad Lander isn't far behind Benjamin. He brought in $181,000 during this period and has $357,000 on hand. But Lander expects to bring in some $2.7 million in matching funds, compared to Benjamin's $1.2 million. Queens Assembly Member David Weprin raised $65,000 in the last six months and has $144,000 on hand, with an expected $532,000 in matching funds coming in. And while state Sen. Kevin Parker has talked about running for comptroller for months, he only started raising money in July. He's raised just $3,418 so far, including $2,000 from Taxpayers for an Affordable NY, a political action committee associated with the Real Estate Board of New York.
All of the candidates may have some new donors to pursue for the next cycle. City Council Member Helen Rosenthal, who was expected to be a top competitor for the post, announced this month she was no longer running for comptroller.
And politicians will be hoping that, as the primary draws closer, relaxed health regulations will allow them to bring in big money at in-person fundraising events once again. "I had a birthday event the last week of the filing," Lander explained to City & State. "I rightly projected that fewer people would buy tickets for a really cool sounding Zoom than last year when we had an event in the shuffleboard club in Gowanus with food and drink."
Powered By
NEXT STORY: AOC vs. Andrew Cuomo