Campaigns & Elections
The insurgent wave that wasn't
More challengers ran against NY congressional Democrats, but only one won.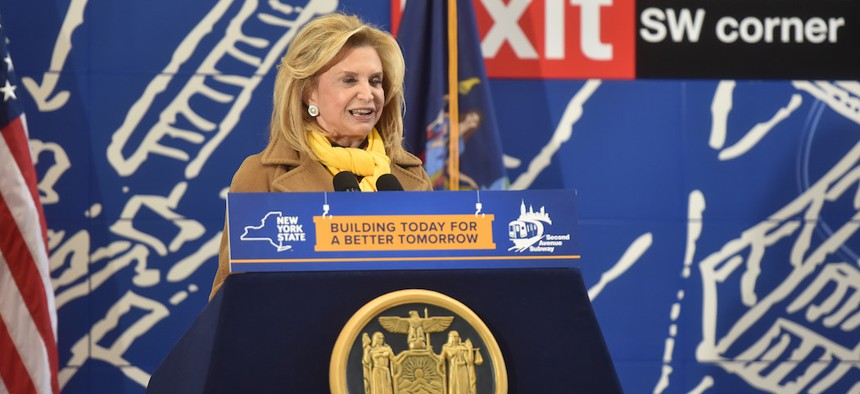 As absentee ballots were tallied for year's primaries, the number of Democratic Assembly incumbents who were toppled by challengers grew to historic proportions. A total of seven insurgents, most first-time candidates running from the left, were victorious – a remarkable shift from recent decades, in which Assembly members have rarely lost a reelection bid. 
The same can't be said about Congress. Both the number of insurgent congressional campaigns and the attention paid to them increased this year, but that did not translate into a wave of victories for challengers. In the June primary, 19 Democrats in New York's House delegation were up for reelection –the other two retired, leaving their seats open. Of those 19, only eight didn't face challengers. 
Despite that unusually large number of high-profile primary challenges to Democrats, only one incumbent ultimately lost his seat. Rep. Eliot Engel, a white man in a majority-minority Bronx/Westchester district, was the lone loser, succumbing to Jamaal Bowman, a Black middle-school principal and member of the Democratic Socialists of America. And while progressive Mondaire Jones in the lower Hudson Valley is likely on his way to the House of Representatives, he won an open seat. 
It was the first time a majority of incumbents had primaries in at least a decade. In 2010, only one Democratic incumbent – then-Rep. Gary Ackerman of Queens – had a primary, one he won with an overwhelming majority. 
2012 saw the number of challenges increase to five out of 19 Democratic incumbents having to fend off opponents. None of the challengers won. All the incumbents won again in 2014, when four out of 19 incumbents faced insurgents, and again in 2016 when five out of 16 were challenged.
In the past decade, only two New York congressional candidates who have challenged sitting members in the Democratic primary have won, Bowman and Rep. Alexandria Ocasio-Cortez, who beat then-Rep. Joseph Crowley in a Bronx-Queens district in 2018. That year, hers was one of only five primary races among New York congressional Democrats. Inspired by her success and the wave of progressive upset victors in the state Senate that year, more than twice as many congressional challengers threw their hat in the ring this time. 
In most cases, this year's congressional primaries were not particularly close in June. Rep. Carolyn Maloney's rematch against Suraj Patel was the closest race in which the incumbent won, with a near tie after election night. But Maloney pulled ahead by a 3,700 vote margin after all the votes were counted, according to her campaign. However, while Maloney declared victory, Patel has not yet conceded. (In this and every other New York City 2020 primary race, the city Board of Elections has not yet officially certified the elections and final vote tallies are not available, only unofficial election night returns.) 
The race for Maloney's seat is one example of why more insurgent candidates don't necessarily lead to more insurgent victories. The progressive, anti-establishment vote got split among Maloney's opponents, mostly between Patel, who received nearly 39% of the vote on election night, and democratic socialist Lauren Ashcraft, who got about 13%. In the past decade, Maloney's only other challenger in the Manhattan/Brooklyn/Queens district was Peter Lindner, who got less than 10% in 2016. 
Patel may have been a victim of his own success in 2018, when he surprised observers by garnering 40%. That, and challenger Adem Bunkeddeko's 47% against Brooklyn Rep. Yvette Clarke, inspired both of them to run again and also drew in other challengers to those races. Like with Maloney, the race for Clarke's seat attracted more candidates in 2020, including democratic socialist Isiah James and socially conservative New York City Council Member Chaim Deutsch. Clarke came out of election night with over 60%, more than enough to have overpowered a single opponent if every vote against her went to a single candidate. But Bunkeddeko may have been hurt by splitting progressive momentum with James. And the entrance of Deustch may have caused left-leaning voters who supported Bunkeddeko in 2018 to coalesce around Clarke to head off the threat of a Deutsch victory. 
Both Clarke and Maloney may have also campaigned harder this year given the surprising strength of the 2018 challenges.
Nonetheless, if the trend of more challengers continues, the number of unseated incumbents may increase simply because more people are running serious campaigns against them. If 2020 is any indication, incumbents who are used to remaining in office with no serious challenge to their position may soon face regular primaries from younger candidates. 
Rep. Grace Meng faced her first primary since winning office in 2012, against two challengers, including demotratic socialist Melquiades Gagarin. Rep. Jerrold Nadler had only one other primary challenger in the past decade – a race he won with 90% of the vote 2016 – before he faced off against two candidates in June. He ultimately won with 60% to Lindsay Boylan's 24% and Jonathan Herzog's 12% after election night.
Prior to 2018, now-Rep. Adriano Espaillat put up the toughest primary challenges in the last few election cycles, in his attempts to unseat to then-Rep. Charles Rangel in 2012 and 2014. But, unlike the more recent candidates, he was already serving in the Assembly. The district Espaillat sought to represent (and eventually won in 2016) was also changing from majority-Black to majority-Latino, giving him a natural base of support.
The emerging trend of serious congressional primary challenges from political newcomers is unprecedented in recent New York history. 
However, the insurgency wave still seems largely contained to downstate. Rep. Joseph Morelle was the only sitting Democratic member of Congress north of Westchester to have a primary. He faced democratic socialist Robin Wilt and won 68% to 32%.  
But if the state Senate in 2018 and the Assembly in 2020, combined with the sudden spike in the number of congressional primary races, are any indication, it may only be a matter of time before New York starts seeing a lot more turnover in its congressional delegation. 
Update: This post has been updated to reflect the final results of Rep. Joseph Morelle's race.
Correction: This post originally misstated the certification status of elections outside of New York City.