Campaigns & Elections
The scramble to fix New York's election issues before November
New legislation would address some, but not all, of the issues that caused many June 23 primary ballots to get disqualified.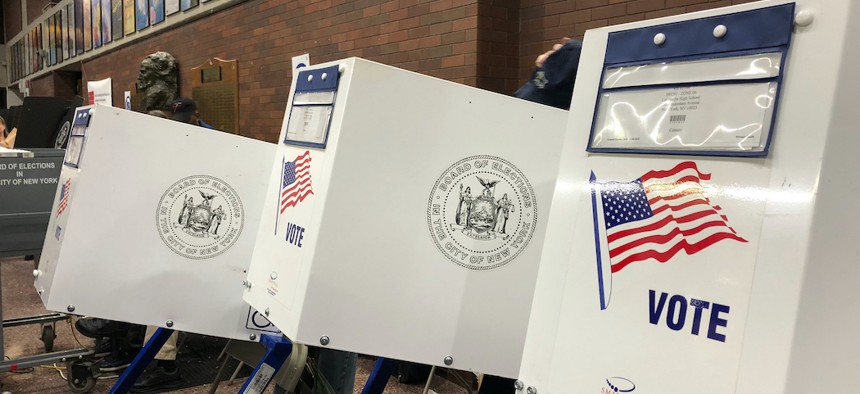 COVID-19 deserves some of the blame for the disenfranchisement of a large chunk of the state electorate during last month's primary elections – but not all. While the realities of the pandemic did lead to an exponential increase in absentee voting, a combination of antiquated election laws, a lack of funding, and other issues led to the ultimate disqualification of one out of every five votes – a significantly higher rate than in past elections in New York, which has notoriously strict ballot verification rules – as local officials continue counting votes more than a month later.
Some people had their votes tossed because their signatures appeared different than before, or there was no postmark on the envelopes in which they were sent. Many people did not even receive a ballot from their local election boards until after Election Day.
There are just three months left to address such issues before the November election – and local boards of election would have to begin implementing many changes as soon as possible. Given the political stakes, local, state and federal officials have plenty of motivation to get moving sooner rather than later. 
"New York's rejection rate for absentee ballots is alarmingly high," said Danielle Lang, the co-director of voting rights and redistricting at the Campaign Legal Center, which is representing the League of Women Voters in an ongoing lawsuit against the state Board of Elections. "The lack of notice to voters and an opportunity to fix errors must be resolved with urgency."
A package of bills making its way through the state Legislature this week includes a number of relevant changes. While some of the legislation appears to support the broader cause of improving state election laws – for example, by codifying in state law (rather than through an executive order) that people can vote absentee out of fear of contracting the coronavirus – only a few would deal with the specific issues that arose during the June 23 primary in a way that would ensure fewer people are disenfranchised in November. (Early voting in upstate cities would also get a boost under a third bill that is expected to pass the Assembly on Thursday after passing the state Senate Wednesday.)
The legislative changes moving through the state Senate and Assembly this week roughly fall into two categories. The first deals with reducing the ways that a ballot can be disqualified. One bill requires absentee ballots without postmarks to be counted as long as they are received by election officials within one day of Election Day. Another bill requires local election officials to notify voters of any disqualifying issues with their ballots, which could then be fixed.
Other changes aim to make it easier to vote absentee. A different bill removes a state rule that only allows 30 days for the application process. "The hope is that most people apply for the absentee ballot early so that the process can start," said state Senate Elections Committee Chair Zellnor Myrie. "And you (will not) have this logjam at the post office and then subsequently at the board of elections." 
One issue notably missing from the legislative agenda this week: proposals to ensure that local boards of election have the additional funding, staff and resources to deal with the expected surge in absentee voting. State lawmakers will be examining such issues at an Aug. 11 hearing, which will offer more insight into the effects of different issues like postmarks and understaffing at boards of election, but there is little chance of them acting to increase taxes or otherwise compel the governor to devote additional resources at a time when there is a statewide struggle to cope with large budget deficits caused by the pandemic. "If you think that that's gonna make a difference by Election Day, you're barking up the wrong tree," Assembly Elections Committee Chair Charles Lavine said. "The federal government is the only hope."
There is some hope that Democrats and Republicans will strike a deal in the upcoming weeks on a federal stimulus package that would include additional money to support state election efforts. Such funding might end up being closer to the $400 million that some Republicans support rather than the full $3.6 billion that House Democrats approved weeks ago, according to The Hill, but a little help from the feds could go a long way toward mitigating many of the problems that afflicted absentee voting in New York and other states.
If the federal government moves fast enough, then state lawmakers might even have time to act on any of the various legislative proposals that might come up following the upcoming hearing. Given the stakes of the upcoming election and all the various ways that COVID-19 has disrupted the political process, there is always a chance that state lawmakers might have to reconvene one more time this summer or fall to make sure that as many votes as possible get counted in November. "There's never a wrong time for us to do the right thing," Myrie said. "We are coming up against one of the most important elections of our lifetime."