New York State
Trump's census order could hurt NY even if ruled unconstitutional
A drawn-out legal battle determining whether undocumented immigrants shouldn't be considered while allocating congressional districts could create confusion for officials and residents.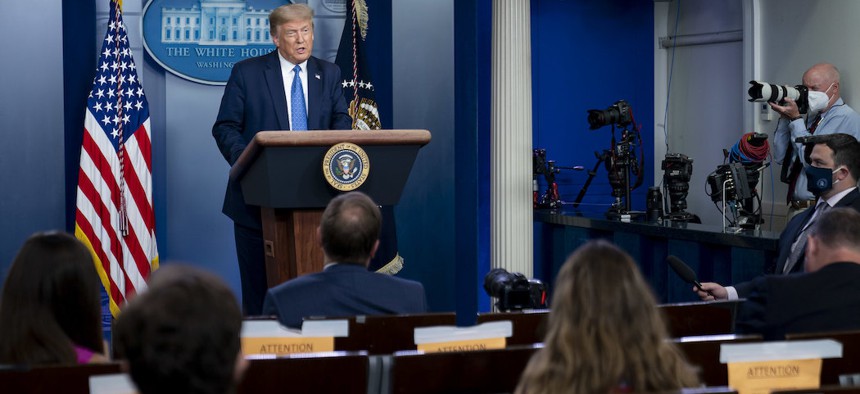 The census has become one of President Donald Trump's favorite political cudgels – and the latest way he has decided to wield it is by signing a presidential memorandum to exclude undocumented immigrants from being counted while determining congressional representation based on the 2020 Census.
The action is almost certainly unconstitutional. The 14th Amendment explicitly states that representatives will be apportioned by "counting the whole number of persons in each state," which the courts have long interpreted to mean the count of every single person in the state, including undocumented immigrants. The American Civil Liberties Union has promised to sue over the order – a move certain to be replicated by other groups opposed to the move.
"It's unprecedented," said Jeffrey Wice, an expert in redistricting and the census. "It's illogical. It's highly legally suspect and just throws chaos and confusion into the picture, because we've never had a Democratic or Republican White House try to do these things at the 11th hour in clear violation of the Constitution." 
Given that Trump's previous attempt to include a citizenship question on the census forms failed, it's also impossible to get a precise number of undocumented immigrants to subtract from the decennial count. "The Commerce Department will have to use estimates and guesstimates based on uneven administrative records to figure that out," Wice said. "No one thinks it could be done accurately."
If the action did somehow pass legal muster, it could certainly have dire implications for New York's political representation given the comparatively high number of undocumented immigrants present in the state. Around 725,000 unauthorized immigrants were estimated to live in the state as of 2016, according to the Pew Research Center, out of New York's population of 19 million. A severe undercount could land New York in the worst-case scenario of losing two congressional seats.
Trump's latest gambit could succeed in further complicating the census process – which has already been hamstrung by the coronavirus pandemic – just a few months from the presidential election and the finalizing of the census count. If the litigation around the decision continues beyond 2020, Wice said, it is possible that Trump could announce his own plan for dividing congressional seats among the states – only to later have that decision overruled in court. 
Such a move would also make it difficult to figure out the timeline for New York's redistricting process. New York state legislators are currently in the process of potentially voting on a constitutional amendment to change the upcoming redistricting schedule to take into account the delayed census data. 
There is also ongoing concern that the current news cycle will make undocumented immigrants even more reluctant to fill out their census forms. Although the memo doesn't explicitly state that undocumented residents shouldn't be counted, census officials fear that many potential respondents may get that impression.
This is of particular concern since New York is still lagging behind its response rate from 2010. The state's response rate is currently about 58% – almost seven percentage points below its rate during the 2010 count and below the current national average, where New York currently ranks 38th. 
"When you have, as it is, a community that is scared to be counted for understandable reasons and it's just put another barrier to counting those communities," said Meeta Anand, a 2020 Census senior fellow at the New York Immigration Coalition, "and now they're being told they don't even count. And why would they risk it – if it's not going to even be used?"
The timing of the announcement also comes as efforts to conduct more aggressive outreach in New York City are ramping up before the census count reaches its second phase of following up with non-respondents starting Aug. 11. While outreach efforts were ongoing throughout the lockdown via text-banking, phone-banking and digital ads, city officials and nonprofit partners are now taking advantage of reopening to engage in more in-person activity. 
To that end, New York City is hosting a "Census Week of Action" next week tied to various outreach activities, which will involve a mix of social media and digital engagement, as well as in-person outreach at parks, playgrounds and other busy areas. Plans to do door-knocking in areas with poorer response rates are also being revived.
"The door-knocking can't start soon enough," NYC Census 2020 Director Julie Menin said. "We really need that."
And though the president's announcement certainly hurts census outreach efforts, Anand said, it also presents an opportunity to highlight the importance of the census. 
"Maybe this refocus of attention will allow us to get that response rate up and really communicate that they should be counted," she said. "And if people are really objecting to this behavior, there's a really simple action we can do to counteract it, which is to make sure everyone gets counted."